Apparently, positive pregnancy tests are an item some will pay for. Why? We don't know -- but one Buffalo woman is taking advantage of the burgeoning market on Craigslist.
Her ad, originally posted earlier this month, offers positive pregnancy tests for a bargain rate of $25 (scroll to see the ad). According to the posting, the seller was receiving such a high volume of requests for her to pee on a stick after she announced her bun in the oven that she figured she'd sell them for profit. The ad reads:

Yes, you saw that right! I am selling positive pregnancy tests! Ever since I became pregnant, I have been asked numerous times for a positive test, so I decided to start charging for it! I will take the test the same day you want to pick it up! I dont care what you use it for, not my business! ;)

I am always near my phone, so just send an e-mail!
What do you think the buyers are using these positive tests for? Mean-spirited pranks on their female friends? Some kinky sexual experience? An extra piece of "art" for their apartment wall? Your guess is as good as ours.
LOOK: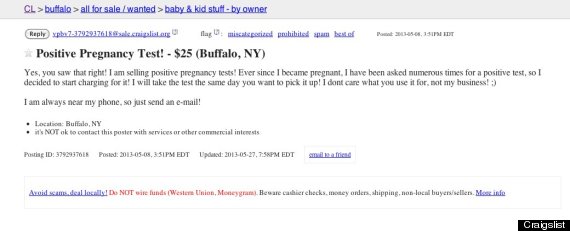 [H/T The Gloss]
Also on HuffPost:
Loading Slideshow
Photo ID Required

No Fred impersonators please.

Free Industrial Sized Wooden Spool

What would be the logistics of having sex on a spool? Wouldn't it roll?

Free Urn

This Urn must be pretty durable if the only thing destroyed in the fall was poor Dino (R.I.P.).

Free Trampoline

Doesn't it technically belong to this posters' neighbors at this point?

Free Kool Aid Costume

We're so bummed that this prank didn't work. It involved so much planning and so little measuring.

Free Keyboard

Maybe it could be used as a keyboard prop for a student film set in 1999.

Not Seaworthy

We never thought about all the amazing ways you could use a canoe.

Free Chronicles Of Riddick DVD

We wonder if seven years later this is still by this guys' tree.

Free VCR With Porno Video Stuck In It

"Awesome" is a good adjective for any porn really.

Free Dog House

So, if we got this the first thing we would do is wash it, right?

Free Cello

This should really say "two free half cellos."

Free Bar Of Yugoslavian Soap

Sharing soap sounds like the beginning of a "Contagion"-like movie.

Free Hot Tub

This seems like a problem for duct tape.

Free Magnum Condoms

A super chic person deserves these condoms.

Free Stuffed Walrus Head

It's nice to be able to stop by whenever.

Free Downed Weather Balloon

What are the bones? No!!!

Ugly Mean Cat

Lou just needs a good home.

Free Playschool Talking Barbeque

Why it's never a good idea to buy toys with sound effects.

Free Mini Donkey

We really hope these two kids worked it out.

Free Toilet

It's sort of annoying that this person wants the action figure back.

Free Stump

This would go for like $500 at Anthropologie.

Free Boxspring

The last little tip really feels warranted.

Free Piano For Catapult Artisan

If you were catapulting it out, why would it be aimed at all near the apartment?

Free 9 Packets Of Regular Flavor Quaker Instant Oatmeal

This isn't that funny, but we just want to advertise how terrible regular flavored oatmeal is.

Free Couch

We kind of want to save this couch.

Free Kung-Fu Gerbil

We really appreciate that this poster didn't feel the need to go back and change the original post once he realized his error.