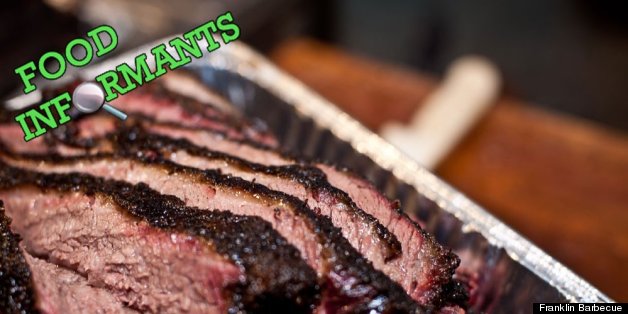 Food Informants is a week-in-the-life series profiling fascinating people in the food world. We hope it will give you a first-hand look at the many different corners of the food industry. Know someone who would make a great Food Informant? Tell us why.
Aaron and his wife Stacy debuted Franklin BBQ in late 2009 on an East Austin parking lot. From the walk-up window of a travel trailer turned brisket stand, patrons quickly noticed the Franklins were selling the best barbecue around. By spring, the line of admirers snaked around the block, and the press followed. In less than two years, the duo could count contributors from The Washington Post, Texas Monthly, and Cooking Channel among a growing chorus hailing Franklin among America's BBQ elite—mentioned in the breath as Smitty's, Kreuz's and other stalwart temples to the holy craft of smoked meat that line the Central Texas brisket belt. In the summer of 2010, Bon Appetit hailed Franklin BBQ as the best in America.
Aaron and Stacy quickly outgrew their trailer, and moved their operation to a brick and mortar location in March of 2011. And despite the new digs and every reasonable effort to increase production, Franklin BBQ's line is as long as ever, and the restaurant has sold out of brisket every day of its existence.
Read about how Aaron churns out so much (delicious) meat while balancing the various needs of a small business (hint: a lot of espresso!).
Monday, May 13: Restaurant is closed today.
7:24am: Let dog out, turn on espresso machine.
8:45am: Pick up sheet metal, get materials for new smoker. Do some emailing while at red lights.
10am: Meeting with guy about some stuff.
10:45am: Lunch with Stacy (tacos).
11:50am: Arrive at workshop for a day of welding*.
*Things that happened in no particular order: Finished new metal soda machine table, fabricated parts for bbq smoker, had long talk with meat supplier about pork butts, put out a very small fire (literally), fixed fuel tank on forklift, finally got my plasma cutter to work properly AND saw the "Texas Monthly Top 50 BBQ JOINTS" cover!!!
4:45pm: Left the shop for home.
5pm: Cleaned out the garage in preparation for a "Lone Star Beer" Jambo pit that is being delivered.
6:30pm: Celebrated a friend's birthday at Contigo, drank a Zoe (American pale lager) from Austin brewery Hops and Grain. Ate grilled broccoli, smoked shitake mushrooms and pot roast.
9:30pm: Got home and to bed...early morning tomorrow.
Tuesday, May 14
1:34am: "Time to make the donuts." Wake up, put on clothes, brush teeth, start truck and drive to work.
1:48am: Arrive at work, go through briskets. Turn on warmers. Install new "doohickeys" on Muchacho (one of our five smokers). Start fires.
2:16am: First espresso. We have a two group Linea La Marzocco here at the restaurant. Make rub for ribs. Sharpen knife. Trim tons of ribs.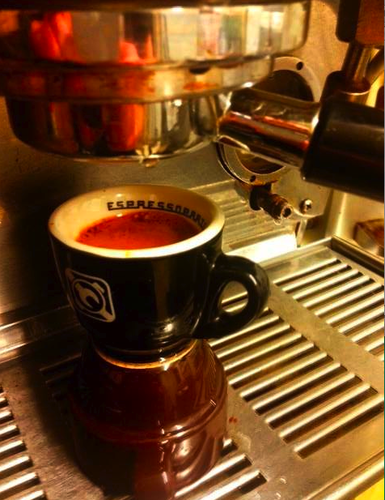 3:34am: Put ribs on "Rusty" (one of our five smokers).
3:43am: Put ribs on "Muchacho." Get fires stable. Prep turkeys, clean kitchen.
4:30am: Second espresso -- starting to get really hungry...it's Tuesday! I'll probably have time to eat something.
5:15am: Start fire in #1 (smoker) for turkeys, start the beans.
5:35am: First delivery of the day arrives. Check in order, put away items. Flip ribs, put on the turkeys, organize refrigerators. Wrap ribs, sauce ribs, cook ribs more, tend to the fire(s), make a to do list for the day, prep front of house for service.
7:34am: Espresso #3, tending fires, running between pits.
9:11am: First round of ribs come off to rest.
10am: Last round of ribs come off the smoker. Drive to give Stacy a spare key to her car, she locked her keys inside.
10:59am: Open door for service. Walk around and chat with customers, bus some tables, watch everything. Ribs look NICE!
11:30am: Make a packing list for Dallas trip later this week. Make meat orders for tomorrow's delivery.
12:42pm: Leave work for home. Take shower. OOPS! I fell asleep for a bit.
1:36pm: Leave home for local PBS station. Shoot a short video about fundraising. Head to restaurant supply store for some supplies.
4:52pm: Back home to meet the gentleman dropping off the Jambo pit. Feed dog.
4:30pm: Finally get to eat first meal. P-Terry's hamburger.
5:15pm: Play with dog, hang out with Stacy, go to dinner with the wife. Ate Italian at Enoteca, grabbed an ice cream cone one the way home. Went to small grocery store Wheatsville COOP for some lunch items for Stacy.
9:01pm: Return home.
9:06pm: Off to bed.
Wednesday, May 15
1:34am: YUP! Donuts again...
1:54am: Arrive at work.
2:02am: First espresso. RIBS. RIBS. RIBS.
3:49am: All fires are roaring and it begins to rain! Mostly working with large pieces of wood that are kind of wet.
4:18am: Second espresso. Flipped, wrapped, sauced, cooked, turkeyed, beaned, fired, shoveled, ate granola.
7:42am: Third espresso.
11:00am: Open the door, let in the line of customers, hang out for lunch.
1:30pm: Make orders, finalize list for Dallas.
3:30pm: Drive to get a pallet of our bottled sauce. Two hours worth of driving with traffic.
5:30pm: Lunch!!! at Shoal Creek Saloon. Large bowl of duck gumbo and fried shrimp plate. Two Abita beers.
6:15pm: HOME. Finally make it through an entire episode of Game of Thrones without falling asleep. Start packing for Dallas. We will be cooking alongside some great bbq joints from Dallas. The party is to celebrate Daniel Vaughn's new book, The Prophets of Smoked Meat.
Thursday, May 16
7:06am: Wake up! No early shift today.
8:15am: Arrive at work. Have espresso start getting things together for tomorrow's event in Dallas. Need to leave at noon to get to Dallas and get the pit/get briskets on.
9:15am: Starting to wonder where Fio is (only other guy that cuts meat at lunch).
9:16am: Look at schedule. CRAP! I am scheduled to work lunch, not Fio! HMMMM, a real pickle...
9:17am: Pack like crazy.
10:05am: Preorders have started to arrive. Cut meats for preorders.
10:51am: Drink water, potty break, get ready for three to four hours of nonstop slicing.
10:59am: Open the front door, the first customers in line today arrived at 8am.
Noon: Texas Monthly announces their Top 50 BBQ JOINTS in Texas list...General Manager/Friend Benji comes up to share the news...not only are we in the top 50, but we are #1!!!!! This is the most amazing thing that could ever happen to a Texas BBQ joint. This issue only comes out every five years. The next five people in line eat for free! Although, they have no idea why. I try my best to keep my composure, but my shaky hand and goose bumps are a dead give away that something really, really big has just happened.
Cut meat until 2:56pm. Whew that was a long one.
2:57pm-3:40pm: Scramble like crazy to get out of town. Eat a few bites of lasagna that a customer graciously brought to us.
4:45pm: Finally leave Austin at the worst possible time (TRAFFIC), and about five hours late. Sit in traffic for a good while...more traffic, construction, stop in Waco for a bite to eat...fuel the truck...back on the road.
8pm: While driving, Stacy brings up the point that she found a boning knife on the kitchen floor at home that the dog had chewed on (she likes the rubbery handles). Apparently, I did not notice the knife being missing when I grabbed the others knives off the counter. A 12" serrated slicer will not work very well for trimming briskets, nor will a pocket knife.
8:45pm: Stacy finds a Sur La Table close to downtown Dallas that closes at 9pm. We squeak in just before closing, buy a knife and get to the house we have rented.
9:05pm: Justin shows up the the house we have rented, towing "Lurlene." He and his wife, Diane, own Pecan Lodge BBQ in Dallas, and are kind to let us borrow their smoker Lurlene. Chat with Justin for a few minutes. Unpack the truck, start trimming briskets, fire up Lurlene.
12:46am: Briskets are now on. FINALLY! Don't know what I would do without Justin's help. Big thanks! Play with the fire for a while...trying to figure out a new cooker.
Sleep a bit, in 30 minute intervals...ate Pop Tarts from a near by gas station. Had a Pellegrino and two beers. Not a great food day.
Watch the sunrise. Still up, just realized that I forgot to grind the coffee beans before we left Austin. I do have beans, but they are now of no use to me. This long day/night just got a lot sleepier.
Friday, May 17
8:30am: Starting to realize that the briskets are a lot farther behind than I had hoped. Trying to push the temps as hard as possible without burning anything. Continue to watch food closely as time tuns out!
10am: Stacy drives to find coffee, and brings me a double espresso.
Next five hours: Keep trying to get these briskets done.
4pm: Two briskets are ready to be pulled off. The others will have to stay on the smoker.
4:15pm: Wheels up! Seven briskets still cooking. Smoke pouring out of the cooker while we drive down the interstate. This is not ideal :) (Maybe illegal?)
5:45pm: Arrive at the event...get cooker situated next to our serving area. Build up the fire, pull off four more briskets. Leave three on to finish cooking.
6pm: Start serving. People are nice, and excited about the brisket. Daniel's book looks great.
9pm: Serve until it is all gone.
9:30pm: Pick up late night tacos on the way back to rented house.
Saturday, May 18
9am: Wake up. Really excited to have the day off. The event is over, got some sleep! Feeling good and guilty for not being at the restaurant.
9:15am: Check in with work. The AC at work is on the fritz and the grease trap is also having issues. Food looks good and the line is long...Benji has already taken care of all the problems. Whew. Go grab an espresso at the Pearl Cup and do some light shopping.
11:30am: Meet with a guy about some stuff at Cane Rosso, say hi to everyone (I did a guest cook night there last fall), eat awesome pizza, head back to rental house for a nap. Leisurely day! Later I go grab a snow cone at Aunt Stelle's in Oak Cliff, it has been in operations since 1962. Watch a documentary on David Klein (the jelly belly guy). Get ready for dinner with Justin and Diane. They are also in the Texas Monthly top four BBQ joint in Texas, along with Snow's and Louis Mueller. Congrats to them!
7:30pm: Great meal at Marquee Grill. Had a butter poached " bone in ribeye" and shared many desserts.
Sunday, May 19
9:15am: Another day of sleeping in. This is very rare, and very nice. Pack up, load out.
10:15am: Arrive at Pecan Lodge for BBQ. I have been here once, but Stacy has never been. The line is already pretty long. We are excited to hang out, it is neat to see the other side of a bbq line!
11:45am: Eat awesome BBQ + banana pudding! They piled SO much food on our tray. Beef rib, brisket, fried chicken, pork ribs, pork shoulder, sausage, greens, mac and cheese.
12:30pm: Leave Dallas.
4:30pm: Driving back, Stacy and I stop for a tour of Inner Space Caverns outside of Georgetown, Texas. I have always wanted to stop, and glad to finally go inside the cave. Many neato stalactites and stalagmites.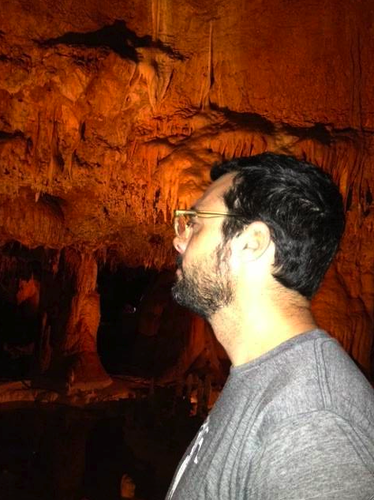 6:30pm: We are home! Go get the dog from Benji's house. Start making a to-do list for Monday. Lots of lost time to make up for. What's for dinner?
See more Food Informants below: