The Swedish architecture firm Belatchew Arkitekter devised a bizarre new plan for updating one of Stockholm's tallest buildings. They have proposed adding thousands of large, hairlike straws to the exterior of the Söder Torn tower to harness wind energy. The innovative -- yet entirely strange -- idea could amount to the world's first ever "Strawscraper" if it ever comes to fruition.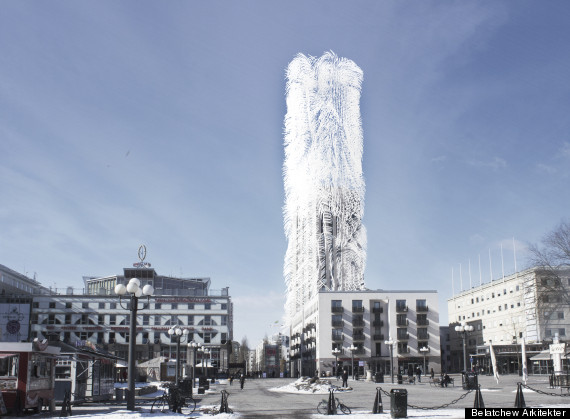 "By using piezoelectric technology a large number of thin straws can produce electricity merely through small movements generated by the wind," Belatchew Arkitekter writes in a press release for their creation. "The result is a new kind of wind power plant that opens up possibilities of how buildings can produce energy."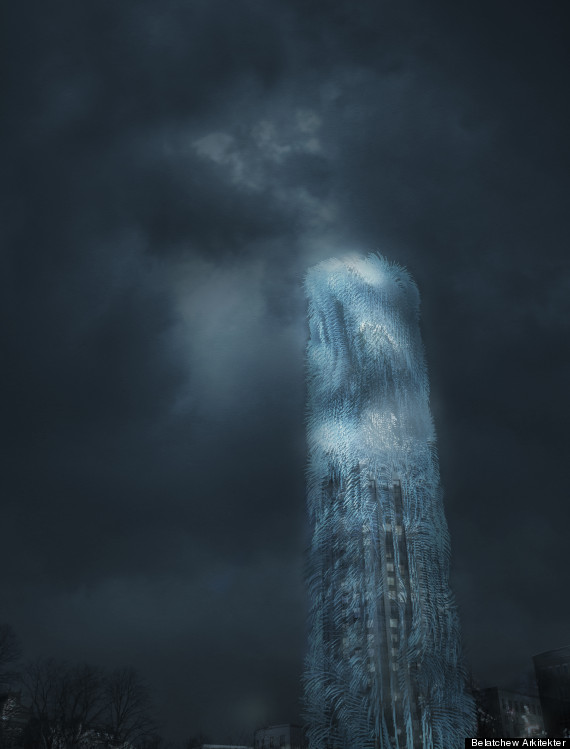 The fancy straws -- composed of "composite material with piezoelectric properties that can turn motion into electrical energy" -- would certainly give the Söder Torn a new, eye-catching facade. It would also expand the building's current 24-story height to a whopping 40 stories. The extra 16 flights were written into the building's original design; alas the project ended up stopping short in 1997.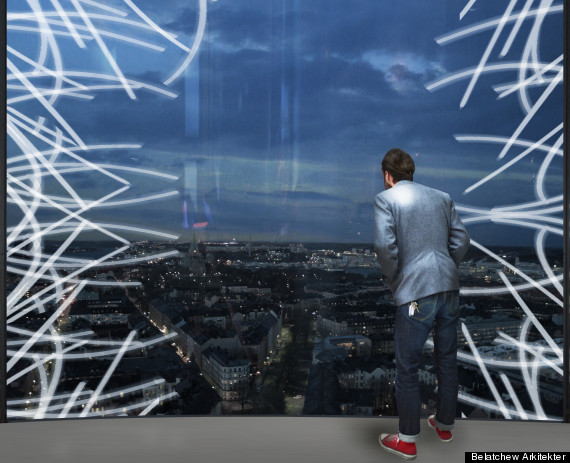 You can read more about the glorious "Strawscaper" here. For more crazy architecture, check out the slideshow below.
Bizarchitecture: The 10 Craziest Buildings In The World
This sweet little stone house tucked away in the Portugal mountains is rumored to be inspired by the Flinstones! If only watching cartoons turned out so well for the rest of us...

This postmodern beauty located just north of Madrid, Spain was made to symbolize an apple, an urban area bound by streets on all sides. This is a vertical apple.

The Netherlands Cube houses are innovative cubic living structures tilted at a 45 degree angle. His designs are meant to represent a forest, with each cube serving as a tree.

With its staircases, power conduits and water pipes on the outside, this is probably the most avant-garde insurance institution you will ever see. Built in 1978, this building was the first in the UK to build glass elevators.

This Dubai luxury hotel, the 2nd tallest hotel in the world, is designed to mimic the sail of a ship and exists on an artificial island. It is misleadingly often referred to as a 7-star hotel, though technically the scale ends at 5-star. The building, often criticized for a less-than-tasteful interior, has been dubbed a "triumph of money over practicality."

This Beijing Opera House is colloquially called 'The Bird's Egg,' and measuring in at 12,000 square meters in size, we would not want to see that bird. The whole dome is surrounded by an artificial lake. It cost about $504 million to construct.

The UK's Eden Project is as ecofriendly as it is beautiful. Home to the biggest greenhouse in the world, the Project also contains two giant biodomes which house thousands of diverse plant species from around the world.

This contemporary art center was built in Austria in 2003. The exterior façade is called BIX, a combination of "Big" and "pixels." Its acrylic glass skin becomes a vehicle for communication, an oversized urban screen, home to many art exhibits.

This Australia shell-shaped house was created by topographical mathematicians. In mathematics a 'klein bottle' is a surface on which left and right cannot be consistently defined; it is a surface without boundary. The house, like a work of origami, folds into itself to become one continuous volume.

This funky fresh New Zealand building really is a public toilet. With an interior just as celebratory, who needs a newspaper?!

Somewhere in Texas, "A condemned house in Houston, Texas was sucked into a small wormhole; its wooden facade slowly slurped though another dimension and spit out into an alley behind the backyard." Cool.