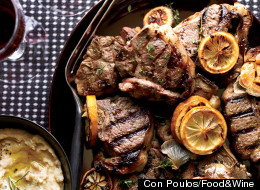 The summer is made for grilling, and lots of it. With Memorial Day weekend just behind us, we can finally get excited about sinking into grilling season. By that we mean eating every possible meal off the grill. We're not talking about eating hamburgers and hot dogs all summer long -- though those are great too -- but bringing just about every dish we make inside the kitchen to the great outdoors.
In case you didn't know, you can make almost anything on the grill. Salads taste way better when grilled first. Steaks, lamb chops and fish make so much more sense on the grill. And desserts get a little more interesting when charred. If you don't own a grill, now just might be the right time to invest.
Want to read more from HuffPost Taste? Follow us on Twitter, Facebook, Pinterest and Tumblr.
Get the Skirt Steak with Chimichurri Sauce recipe by Adam Rapaport via Food52

Get the Grilled Artichokes recipe by Simply Recipes

Get the Grilled Beef and Mushroom Burger recipe from Simply Recipes

Get the Shrimp-Boil Kebabs recipe from Bev Cooks

Get the Barbecued Pork Shoulder on a Gas Grill recipe by Simply Recipes

Get the Herbed Beef Skewers with Horseradish Cream recipe from Food52

Get the Grilled Corn with Bacon Butter and Cotija Cheese recipe by How Sweet It Is

Get the Chicken al Mattone with Thyme Pesto recipe by Waverly by Food52

Get the Grilled Romaine Lettuce recipe by Simply Recipes

Get the Fat Doug Burgers recipe by Pass the Sushi

Get the Grilled Peaches and Ginger Ice Cream recipe by A Spicy Perspective

Get the Grilled Shrimp and Corn with Creamy Lime Vinaigrette recipe by A Spicy Perspective

Get the Szechuan Lambypops With Cilantro Chimichurri recipe by savorthis via Food52

Get the Pork Spiedini with Mushrooms and Bruschetta recipe

Get the Whiskey Burgers recipe by Pass the Sushi

Get the Porterhouse Steaks with Compound Butter recipe by A Spicy Perspective

Get the Grilled Steak Tacos with Avocado Salsa recipe

Get the Hanger Steak and Chimichurri Sauce recipe by A Spicy Perspective

Get the Barbecued Chicken on the Grill recipe by Simply Recipes

Get the Pimento Cheeseburger recipe by Annie's Eats

Get the Grilled Tuna Kebabs recipe from Simply Recipes

Get the Grilled Salmon Salad with Fresh Strawberries recipe by Annie's Eats

Get the Barbecue Chicken Burgers recipe by Annie's Eats

Get the Grilled Pizza recipe by Annie's Eats

Get the Spicy Lamb Shish Kebabs recipe

Get the Barbeque Pork Ribs with Magic Dust recipe by Foodiecrush

Get the Chinese Grilled Shrimp Recipe from Steamy Kitchen

Get the Grilled Rib-Eye Steaks with Roasted Rosemary Potatoes recipe

Get the Burgers with Sautéed Mushrooms, Arugula and Dijon Aioli recipe by How Sweet It Is

Get the Grilled Niçoise Tuna Steaks recipe

Get the Grilled Shrimp Skewers over White Bean Salad recipe

Get the Grilled Watermelon Salad recipe by Verses from my Kitchen

Get the Grilled Trout with Lemon-Caper Mayonnaise recipe

Get the Salsa Verde Burgers with Fontina, Watermelon and Basil recipe by A Spicy Perspective

Get the Grilled Beef Tenderloin Skewers with Red-Miso Glaze recipe

Get the Turkey Burgers with Spicy Pickle Sauce recipe

Get the Grilled Rump Roast Steaks with Balsamic Arugula recipe

Get the Veggie Burgers with Pomegranate Ketchup recipe

Get the Yogurt-Marinated Lamb Kebabs with Lemon Butter recipe

Get the Grilled Chile Pork Chops with Tortilla-Tomatillo Salsa recipe

Get the Greek Lamb Kebob, Grilled Eggplant and Hummus on Crusty Bread Sticks

Get the Soba Noodles with Grilled Shrimp and Cilantro recipe

Get the Grilled Steaks with Onion Sauce and Onion Relish recipe

Get the Marsala Burgers recipe by Annie's Eats

Get the Grilled Tomato-and-Scallion Salad recipe

Get the Bite-Size Bulgogi Burgers recipe

Get the Spiced Leg of Lamb on the Grill recipe by asabnis via Food52

Get the Grilled Lamb Chops with Roasted Garlic recipe

Get the Mixed Berry Hobo Packs with Grilled Pound Cake recipe

Get the Simple Grilled Calamari recipe from Steamy Kitchen

Get the Grilled Glazed-Salmon Sandwiches with Bacon recipe

Get the Grilled Chicken Skewers with Hummus-Yogurt Sauce recipe

Get the Grilled Tandoori-Style Chicken Drumsticks recipe

Get the Beef-and-Lamb Burgers with Cheddar and Caper Remoulade recipe

Get the Spice-Rubbed Grilled Pork Chops with Red Cabbage Slaw recipe

Get the Grilled Salmon with Melted Tomatoes recipe

Get the Grilled-Chicken Tacos recipe

Get the Lemon-Stuffed Grilled Branzino recipe

Get the Grilled Tofu Steaks with Piquillo Salsa Verde recipe

Get the Grilled Pork Tenderloins with Vegetable Curry recipe

Get the Middle Eastern-Inspired Chicken with Tahini Sauce recipe

Get the Tuna Nicoise Burgers recipe

Get the Grilled Honey Miso Wings recipe by Steamy Kitchen

Get the Grilled Acorn Squash with Cilantro Mojo recipe

Get the recipe Eight-Spice Spatchcock Chicken

Get the Sausages with Tomato Relish and Melon Salsa recipe

Get the Ginger, Soy and Whiskey Grilled Chicken recipe by Steamy Kitchen

Get the Char-Grilled Corn Parcels Stuffed with Soft Garlic And Ginger Chicken recipe

Get the Skirt Steak with Paprika Butter recipe

Get the Steak and Potato Kebabs with Creamy Cilantro Sauce recipe

Get the Pesto-Topped Grilled Summer Squash recipe

Get the Peri Peri Chicken recipe by Macheesmo

Get the Kung Pao Chicken Skewers recipe by A Spicy Perspective

Get the Harissa Chicken with Green-Chile-and-Tomato Salad recipe

Get the Grilled Mustard-Maple Chicken recipe by A Spicy Perspective

Get the Grilled Thai Chicken Satay recipe by A Spicy Perspective

Get the Chicken Grilled Under a Brick recipe

Get the Garlic Scape Beef Satay with Garlic Scape Satay Dip recipe from Food52

Get the Red Chile Marinated Grilled Chicken recipe by Simply Recipes

Get the Green Chile Cheeseburgers recipe from The Perfect Pantry

Get the Grilled Pineapple and Corn Salsa recipe by Bev Cooks

Get the Grilled Asian Steak Salad recipe by Bev Cooks

Get the Middle Eastern lamb Skewers recipe

Get the Grilled Chicken Skewers with Hummus-Yogurt Sauce recipe

Get the Grilled Branzino with Rosemary Vinaigrette recipe by Simply Recipes

Get the Smoky Paprika Shrimp Skewers recipe from Simply Recipes

Get the Beer and Sriracha Marinated Beef Skewers with Green Chile Sauce recipe from Food52

Get the Tex-Mex Bacon Cheeseburger recipe by Pass The Sushi

Get the Cheese-Stuffed Grilled Peppers recipe

Get the Sausage Mixed Grill recipe

Get the Japanese Chicken Meatballs recipe

Get the Cheddar BLT Burgers with Tarragon Russian Dressing

Get the Grilled Chicken Kabob Salad recipe

Tofu is coated with a spiced-sugar mixture and then grilled. This makes a nice crust -- and gives great flavor. Serve with a tangy cabbage slaw to balance out the sweetness. Get the Sweet and Spicy Grilled Tofu with Cabbage-Carrot Slaw recipe

Get the Bacon Burgers on Brioche Buns recipe

Get the Herb-Marinated Chicken Skewers with Harissa recipe

Get the Italian-Sausage Burgers with Garlicky Spinach recipe

Get the Grilled Chili Marinated Skirt Steak recipe

Get the Chimichurri-Style Burgers recipe

Get the Moroccan Beef Skewers with Yogurt and Couscous recipe