Andrea Sanderlin, Suburban Mom, Allegedly Ran Massive Marijuana Growing Operation (PHOTO)
A mom from an upscale New York suburb faces narcotics charges after DEA agents raided a New York City warehouse that officials allege was the cornerstone of her "sophisticated operation to grow and process marijuana."
Andrea Sanderlin, 45, was arrested May 29 following a May 20 raid in which federal investigators seized about 2,800 pot plants, "large quantities of dried marijuana," and "lighting, irrigation and ventilation systems" from a Maspeth, Queens building, according to documents obtained by the Smoking Gun.
"The warehouse was filled with over $3 million worth of hydroponic marijuana and the organization covertly produced nearly 3,000 marijuana plants," DEA Special Agent Brian Crowell told ABC News.
A suit filed in U.S. District Court charges that Sanderlin, who was known to witnesses as "Andi," ran the operation through a front business called "Fantastic Enterprises." Investigation into the marijuana growing ring began in April, when a confidential witness told authorities that "Andi" had been growing large amounts of illegal cannabis in Maspeth, Queens.
(Story continues below)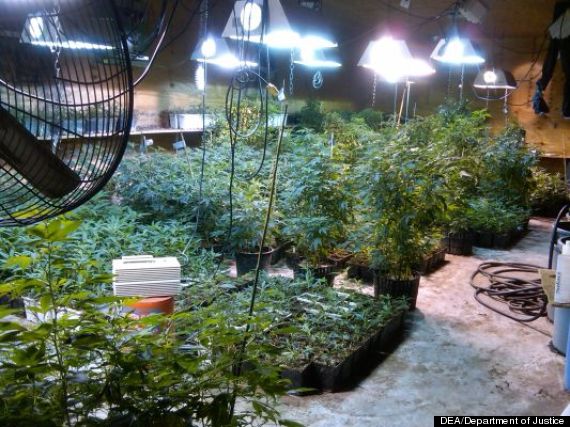 The documents note that the Queens location, as well as another alleged grow house in the Bronx, both had run up extremely high electricity bills -- in one instance, $9,000 worth of power in a single month -- and that payments to the utility company had been made in cash, behavior that investigators described as "consistent with narcotics activity."
Large amounts of cash totaling nearly $14,000 were reportedly found at Sanderlin's Scarsdale, N.Y., home during the investigation, and in the possession of the woman's nanny.
According to the New York Post, Sanderlin has pleaded not guilty to alleged conspiracy to manufacture and distribute marijuana, a charge that carries a minimum sentence of 10 years in prison if she is convicted.
In a statement, Sanderlin's lawyer described his client as a "full-time mother and... an equestrian," adding that he is seeking to get her released from the Brooklyn detention center where she is currently being held so she can be with her two young daughters.
Some media outlets have drawn comparisons between Sanderlin and Nancy Botwin, the protagonist from the television series "Weeds," a suburban mom who led a double life as a marijuana merchant. But as the New York Daily News notes, unlike the fictional character, "Sanderlin will need more than a script writer to get her out of this jam."