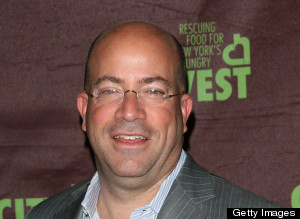 You guys haven't gone that route. Instead, you went out and got another gimmicky visionary to reimagine your entire business -- Jeff Zucker, the guy who turned NBC into a barren hellscape of forgotten dreams and peacock corpses. Salon's Alex Pareene offered the essential "future predictions based on past performance" assessment:
The best-case scenario is that Zucker's reign is a glorious and hilarious catastrophe -- as it became at NBC -- presenting us with so many plot lines for Season 4 of "The Newsroom," (this seems to be what some of the "this is a good hire" arguments secretly boil down to), but everyone should be clear on this point: You don't hire Jeff Zucker if you want to create a more credible news organization. You hire him for gimmickry and "buzz" and you do so with the understanding that it could all blow up in everyone's face and essentially destroy your entire organization. One of Zucker's first moves was to sign up Jake Tapper to anchor an hour-long news program, rescuing him from the bowels of ABC News, where he was chronically under-utilized. Tapper's brief interregnum running ABC's "This Week" was one of the few times the show was decent television. He experimented with the format, sought out new voices, established a partnership with fact-checking, and generally went at the task with a tinkerer's glee.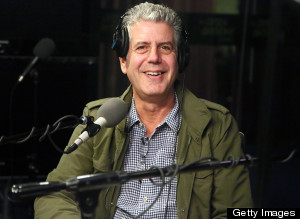 So while his show will report "through the prism of food," it's clear that Bourdain will likely continue to do what he does best -- bring dignity to the ordinary lives of ordinary people. That's a really good ethos to turn loose in a news organization.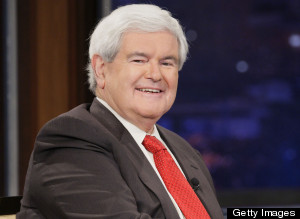 Yet, according to reports, this is exactly what your network is doing. Dylan Byers says you guys are "in talks" with political gimmick-monger Newt Gingrich and Obama campaign dark-artist Stephanie Cutter -- two people stupendously ill-suited to provide clarity to the important issues of the day, because their whole objective in life is to slather the discourse in pointless, partisan mystification. (It has recently been reported that Cutter has been hired to help big banks elude government regulations, so it will be great to know that the "liberal" perspective of "Crossfire" will be thoroughly vetted by Bank of America prior to broadcast.) According to recent news, Cutter -- along with former Romney aide-de-camp Kevin Madden -- are being hustled onto CNN's airwaves to serve as contributors. We're already bored, because we already know exactly what these two are going to say. We even realize what you guys apparently don't -- Cutter and Madden speak for establishment political parties, not authentic liberals or conservatives. They are both walking press releases, and a waste of time. Morgan's Organ. Surely we can all sit back and recognize that this Piers Morgan experiment -- it is not working. Viewers have fled the sight of the shallow, callow, thin-skinned British import in droves. Yes, his ratings are up, but they literally had nowhere else to go after a dismal winter in which his show "sank to a 2013 low in the prime 25-54 demographic with just 87,000 viewers," placing him slightly ahead of most televised stool samples.
While it's admittedly amusing, the rant is a perfect example of how Morgan makes everything about Piers. The host notably does not lecture the chair about either its limited understanding of the human reproductive systems or the misogynist underpinnings of the idea of sorting rapes by their supposed "legitimacy." Instead, the issue is Akin inconveniencing Morgan; the congressman cancelled at "the last possible minute," making him a "gutless little twerp." Even in his follow-up interview with Democratic Rep. Jan Schakowsky (D-Ill.), Morgan shies away from the substantive issues raised, asking Schakowskym, Akin "bailed on us. What do you think is going on here?"
MORGAN: How many gun murders were there in America last year? Do you know?

JONES: There were about 11,458, and about 74 percent of those were gang-related, gang-bangers shooting each other. You get three-and-a-half to four thousand --

MORGAN: Okay. That wasn't --

JONES: How many people died from infections in hospitals? 197,000.

MORGAN: So let me just ask you a second question.

MORGAN: How many gun murders were there in Britain last year?

JONES: How many great white sharks --

JONES: kill people every year but they're scared to swim?

MORGAN: Right. How many gun murders were there in Britain?

JONES: A very low amount and I already went over those statistics.
BEN SHAPIRO, EDITOR BREITBART.COM: You know, honestly Piers, you have kind of been a bully on this issue, because what you do, and I've seen it repeatedly on your show. I watch your show. And I've seen it repeatedly. What you tend to do is you tend to demonize people who differ from you politically by standing on the graves of the children of Sandy Hook saying they don't seem to care enough about the dead kids. If they cared more about the dead kids, they would agree with you on policy. I think we can have a rational, political conversation about balancing rights and risks and rewards of all of these different policies, but I don't think that what we need to do is demonize people on the other side as being unfeeling about what happened at Sandy Hook.

MORGAN: How dare you accuse me of standing on the graves of the children that died there. How dare you.

SHAPIRO: I've seen you do it repeatedly, Piers.

MORGAN: Like I say, how dare you.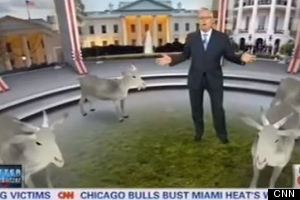 And look: we know we've banged on and on about the holograms. But you have to understand that nothing reveals your lack of taste in choices as the continuing usage of these idiotic image-projections, which were born into mockery and have not gotten better since. Perhaps you've missed this, but no one in the media business considers them to be an innovation. No one is rushing to imitate them. If anything, your competitors are relieved that on the average day, you'll surround your on-air talent with animated goats, or force them to stand there with a gigantic North Korean missile protruding from his crotch.
As far as "making choices" goes, every time you guys choose to do this nonsense, you are opting to fill the screen with something that represents the null set of utility -- it is just money and manpower set afire in full view of the public. Boiled down to the essence, these "holograms" are nothing more than gigantic data-visualizations, and you guys need to understand that your competitors are doing a lot more with data visualizations these days than creating these substandard animations. Hell, print media are doing more with data than you guys. At some point, maybe the people who are forced to create this substance-free visual slurry should be given the opportunity to do something useful with their lives. In the meanwhile, your bankrupt choices remain fodder for GIF-mockery.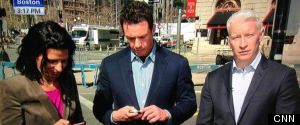 Lord, here's a sight you should never see, multiple members of your available on-air talent, on live television, staring into their cellphones, hoping against hope that the answer to what they are looking for will soon appear in the black mirror, to guide their next thought or statement. You guys understand what message this sends, right? Because it reads as, "We are not ready for what's about to happen next." No one wants to see this happen on their screen. It communicates a certain unsteadiness. There's no way to trust what anyone is going to say next, once they've looked up from whatever text message they are receiving. The city was already a welter of uncertainty. Your duty is to not add to it.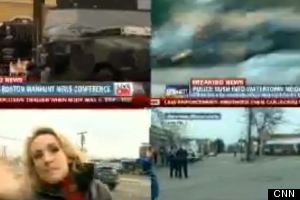 So much of your Boston coverage was like this. There were repeated moments where your reporters in the field, trapped in quad boxes on the screen, have to wave frantically for the attention of producers. There was no reason to subject the viewers to that. Unless of course, you were hoping to send the message that no one had a plan to move seamlessly from spot to spot, in an orderly fashion.
As events unfolded in Boston, and then in Texas, and as they continue to unfold at this very moment in both places, CNN has been there for our audience in every possible way -– on television, online and on our mobile platforms. As Wolf would say, that was true for our audiences here in the United States and around the world. For journalists like each of us, these are the times that define what we do and why we do it. All of you, across every division of CNN Worldwide, have done exceptional work. And when we made a mistake, we moved quickly to acknowledge it and correct it.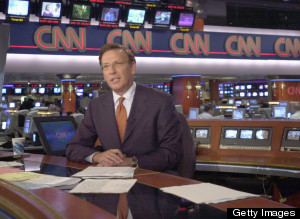 One can only conclude that Zucker didn't actually watch what was unfolding on his television. If he was, I strongly recommend he go back through CNN's storied archives to check out his network's coverage of Hurricane Katrina. Better yet, his network's performance on Sept. 11, 2001, in which Aaron Brown, thrown by tragedy onto the air for the first time, conducted coverage with steadiness and certainty, as those behind the scenes made sure that the network's coverage looked as seamless and as sure as could be managed under the circumstances. That was a display of solid fundamentals, into which you could place an on-air anchor who never imagined he'd be working that day, covering one of the most searingly sad days in American life.
GRAPHIC WARNING: Boston Marathon explosion
SUBSCRIBE AND FOLLOW
Get top stories and blog posts emailed to me each day. Newsletters may offer personalized content or advertisements.
Learn more