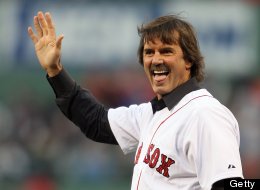 By Matt Yoder, Awful Announcing
The Red Sox destroyed the Rangers 17-5 last night in a game that devolved to the point where Rangers OF David Murphy took the mound and began striking out Red Sox.
After the game mercifully concluded after 3 hours and 10 minutes, Sox analyst Dennis Eckersley got caught with a hot mic going to break asking "we gotta recap this sh*t?!"
Such is the nature of a lengthy baseball blowout that was decided after just the 2nd inning. Not even the team's winning analyst wants to stick around and relive the inanity. Eck was ready to call it a night.