Six orphaned Shih Tzu puppies from South Carolina have found an unconventional home with a family of Florida pit bulls.
According to WFLA, Kimberleigh Kernon, founder of Pasco County's Saving Grace Animal Rescue, recently rescued a young pit bull named Nena who'd lost six of her eight puppies and was left heartbroken with a surplus of milk.
Kernon thought the best way to help Nena cope would be to pair her with puppies who were in need of a mother.
Story continues after photo.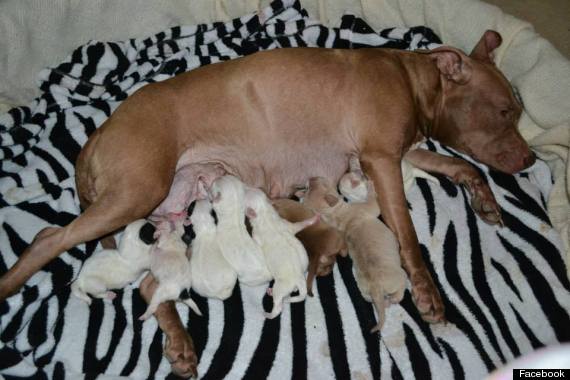 "It just so happened that night that someone sent me a Facebook link that there were orphans in South Carolina whose mother had gotten hit by a car," Kernon told WFLA.
The days-old Shih Tzu-poodle mix pups were transported to Florida. Nena now nurses them alongside her own two babies, and will care for them until they are ready to be put up for adoption.
Story continues after photo.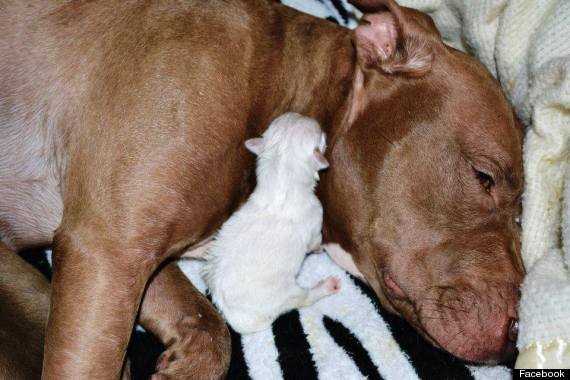 This is just one of many instances of canine moms adopting orphans. An Indiana dog named Bertha who lost her puppies shortly after the Oklahoma tornadoes become a foster parent for a motherless litter.
For more photos of Nena and her puppies, check out Saving Grace Animal Rescue's Facebook page.
Also on HuffPost:
Loading Slideshow
Mom Cat Adopts Red Panda Cubs

<a href="http://news.bbc.co.uk/2/hi/europe/7498895.stm" target="_hplink">According to BBC News</a>, a Dutch zookeeper's cat adopted two baby red pandas after the cubs were rejected by their mother. The cat -- which had just given birth to a litter of her own kittens -- nursed the panda cubs alongside her own babies, giving them a chance of survival. The red panda is an endangered species that lives in Himalayan regions in China, Bhutan, Nepal, India, and Burma.

Mom Cat Adopts Squirrel, Teaches It To Purr

A rescued mother cat named Emmy adopted an animal in need of its own -- a baby squirrel named Rocky who fell out of a tree, <a href="http://www.huffingtonpost.com/2010/09/10/cat-adopts-squirrel-teach_n_712377.html" target="_hplink">The Huffington Post reports. </a> After Rocky was rescued by Emmy's owners and included in her litter, the mother cat immediately took to the little guy and cared for him as if he were one of her own. Incredibly, after being nursed back to health by his new mom, Rocky learned how to purr, just like the other kittens.

Golden Retriever Mom Adopts Three Bengal Tigers

Isabella, a golden retriever, adopted three white bengal tiger cubs after their mother abandoned them at a rural Kansas zoo, <a href="http://today.msnbc.msn.com/id/31541834/ns/today-today_pets_and_animals/t/tigers-say-bye-mom-dog-raised-them/#.T6BZGcRYvMA" target="_hplink">MSNBC reports.</a> The white bengal tigers thrived on Isabella's milk and grew into strong adults.

Cat Adopts Baby Raccoon

It was love at first sight for a mother cat and baby raccoon that -- by a stroke of serendipity -- were placed together in the same cage at the Jonesboro Animal Control, <a href="http://www.huffingtonpost.com/2012/04/03/mother-cat-jj-adopts-baby_n_1400863.html#s839858&title=Cat_Adopts_Three" target="_hplink">The Huffington Post reports. </a> Last month, a 10-month-old cat named J.J. arrived at the shelter in Jonesboro, Ark., with two tiny kittens in tow. On the very same day, a 2-week-old baby raccoon -- now called 'Bandit' -- was rescued by an Animal Control officer. The raccoon was having trouble eating and so, the officer placed it next to J.J., hoping that the mother cat would take to the little animal. J.J.'s maternal instincts quickly kicked in and she immediately started nursing and cleaning the little fellow, <a href="http://www.journalgazette.net/article/20120403/BLOGS22/120409885" target="_hplink">Associated Press reports.</a>

Cat Adopts Wolf-Cub

A wolf-cub in a Siberian zoo was adopted by a cat after it was rejected by its mother and was on the brink of death, <a href="http://www.youtube.com/watch?v=kWR_mLFo1-k" target="_hplink">RT News reports.</a>

Dog Adopts Farrow Of Wild Boat Piglets

A French bulldog named Baby has adopted six orphaned wild boar piglets after finding them in a forest near Berlin,<a href="http://www.youtube.com/watch?v=MO9FBW8Dlus" target="_hplink"> ITN News reports.</a>

Rescue Dog Adopts Baby Raccoon

"She's his momma," said veterinarian Dr. Kelly Hogan, referring to Sasha -- the rescue dog who adopted an orphaned baby raccoon. <a href="http://www.foxillinois.com/news/top-stories/Dog-rescues-baby-raccoon--121633389.html" target="_hplink">Fox News reports</a> that after Sasha was saved from the brink of death by a local rescue group, the dog soon returned the favor when she took in a baby raccoon that was brought to the same shelter, nursing it back to health and treating it as her own.

Cat Adopts Three Puppies

<a href="http://www.youtube.com/watch?feature=player_embedded&v=iUaHLdzSgpo" target="_hplink">According to U-Zoo</a>, a cat took it upon herself to nurse and protect three puppies after they lost their mom.