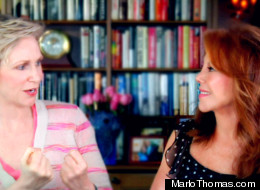 When Jane Lynch joined me on this episode of Mondays With Marlo, she shared her feelings on vulnerable groups and bullying.
Though Jane stayed under the bully radar while in school, she was always scared of becoming the next target. Now, as an adult, she believes that there are three vulnerable groups we must protect, especially because they can't always take care of themselves -- kids, animals and the elderly.
To watch the full interview, click here.
For more on Jane Lynch's rise to the top, check out her history in the spotlight:
Jane Lynch's Rise To The Top
Jane was part of "The Real Live Brady Bunch" comedy show in 1992. The troupe toured the country, hilariously re-enacting real scenes from the beloved 1970s show.

One of Jane's earliest movie roles was as a doctor, starring alongside Harrison Ford in 1993's "The Fugitive."

Jane starred as a Tony the Tiger-obsessed woman in a '90s Frosted Flakes TV commercial. It was directed by Christopher Guest, who would keep Jane in mind for later projects.

Christopher Guest, who directed Jane in her Frosted Flakes commercial, enlisted Jane to star as a dog handler in his mockumentary "Best In Show." Her portrayal of Christy Cummings would prove to be Jane's breakout movie role.

Jane starred with funnyman Steve Carell in 2005's hit comedy movie "The 40-Year-Old Virgin."

Jane became a household name with her portrayal of cheerleading coach Sue Sylvester on the hit television show "Glee." Though Jane was originally cast as a recurring character, when a TV pilot she was committed to wasn't picked up by the networks, her "Glee" character was expanded -- and the rest is TV history.

Jane brought her comedy skills to the table on "Saturday Night Live" when she hosted -- and stole the show -- in 2010.

Jane hosted television's biggest awards show, The Emmys, in 2011, keeping the audience entertained with her trademark wit and dry humor.

Jane penned a memoir, "Happy Accidents," in 2011. The book looks back on her teen theater geek years through her current successes -- and the chance encounters along the way that helped make it happen.

Here's Jane with fellow "Glee" costars during 2011's People's Choice Awards. Jane won the "Favorite Television Comedy Actress" for her role in the show that year.

Jane made her triumphant Broadway debut in May 2013 to critical acclaim as the orphanage's supervisor -- and resident villain -- Miss Hannigan in "Annie: The Musical."
Add Marlo On Facebook:
Follow Marlo on Twitter:

Weekly Newsletter

Sign up to receive my email newsletter each week - It will keep you up-to-date on upcoming articles, Mondays with Marlo guests, videos, and more!

Sign up here