Marijuana, already legal in two states and on the verge of legitimacy in others, may become a product that can easily be purchased via vending machine.
A Phoenix-based company behind the pot machines, Endexx Corp., envisions a transaction unfolding like this: A woman in Colorado, where recreational pot is legal, uses an app on her iPhone to purchase an ounce of weed, then goes to pick it up at her favorite retail outlet. There, she encounters the vending machine and uses its touch screen to complete her order, adding a book of rolling papers and a cigarette lighter.
"The way we see it, when you walk into a shop, you don't need the expert or aficionado to help with selection," Todd Davis, chief executive officer of Endexx, told The Huffington Post. "The people who are using this in the recreational space -- they know what they want, and they don't want to hear the whole spiel every time."
Davis's company recently bought two smaller firms that provide vending machines to medical marijuana outlets. One, Dispense Labs, produces a card-reading gadget used by the staff at pot clubs to dole out measured portions of cannabis, streamlining the buying process. (The machine is pictured below.) The other acquisition, CannCan, engineered a modified soda machine that dispenses plastic cans full of marijuana.
Davis said he hopes to turn those technologies into what, for the time being, still sounds like a hardcore stoner fantasy: a marijuana vending machine.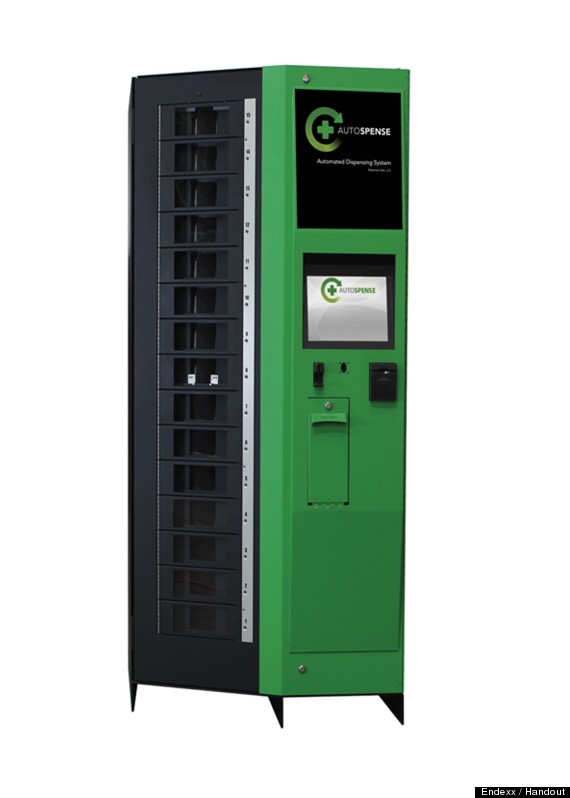 With retail sale of marijuana expected in Colorado by January 2014 –- and shortly thereafter in the state of Washington -- Davis said he believes automated self-service machines ubiquitous in other parts of retail will pop up in weed stores, too. He said he expects his company to be one of perhaps three major players manufacturing those vending machines.
"It's like a gold rush," Davis said. "Once significant investment capital comes to the market, who knows?"
Davis already confronts competition. California-based Medbox Inc. is currently the industry leader in the decidedly small niche of providing machine dispensing systems to medical marijuana dispensaries. For $50,000, a pot shop can buy two state-of-the-art automated dispensing machines from Medbox –- one for marijuana, one for cannabis edibles like cookies and brownies -– as well as a customized software system that keeps track of inventory, sales and patient information. The company had sales of $1.75 million last quarter. Its machines are pictured below.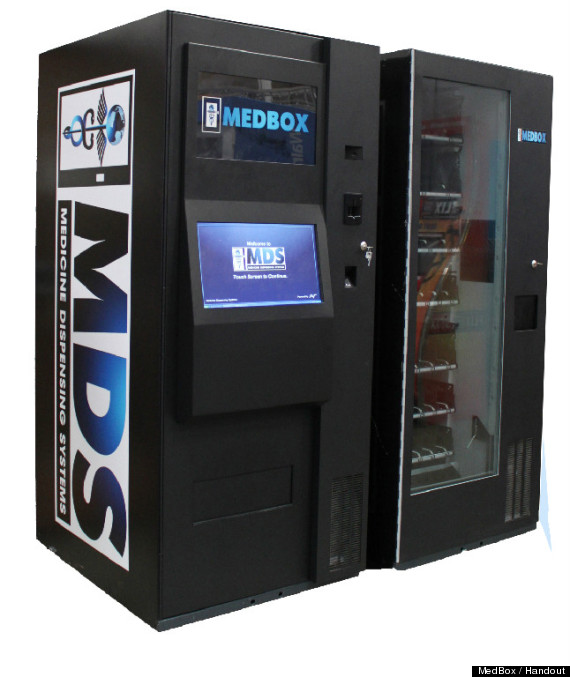 In the fledgling legitimate marijuana trade, Medbox's CEO, Bruce Bedrick is sometimes referred to as "the Steve Jobs of medical marijuana dispensing," a nod to his strategic acumen and supposedly flashy temper.
"We're the only patented game in town," Bedrick told HuffPost. "I'm not concerned necessarily about competition, generally speaking."
Bedrick, a licensed chiropractor, said he doubts Colorado or other states will immediately allow automated self-service vending in a way that customers will find attractive. Regulations in that state are still being finalized.
"I think that's still a couple of years down the road," he said
In the meantime, Bedrick said his company will focus on supplying vending machines for medical dispensaries, as well as adapting the technology for selling conventional medication in pharmacies.
"Some people want to see this free-flowing marijuana," Bedrick said, "They want to go from federal and state ban to marijuana for everybody. We don't believe that can happen. In order to gain respect and trust, it's better to go through gradual, medical adoption."
A third company, Tranzbyte Corp., announced in April that it planned to begin distributing a marijuana vending machine secured with radio-frequency identification tags to dispensaries. Tranzbyte did not respond to repeated requests for comment from The Huffington Post.
David Levine has been a vending machine industry consultant for close to a decade. Earlier this year, he sold his own company, CannCan, to Endexx. In recent years, he has visited medical marijuana trade shows to explore sales of his own vending machine -- basically a modified soda machine. He had figured it would take a long time for such equipment to find a market. But the moment is at hand, he said, as a former outlaw industry is flooded with sober-eyed professionals seeking to cash in.
"Back in 2009, you'd go to these conventions and you'd see people trying to unload 80 pounds of weed," Levine said "Now, you'll see people buttoned up and trying to figure out solutions for what's a real industry."
Also on HuffPost:
Loading Slideshow
$13.7 Billion Saved On Prohibition Enforcement Costs

The government would save an estimated $13.7 billion on prohibition enforcement costs and tax revenue by legalizing marijuana, <a href="http://www.huffingtonpost.com/2012/04/17/economists-marijuana-legalization_n_1431840.html" target="_hplink">according to a paper endorsed by 300 economists</a>.

Marijuana Inmates Cost Prisons $1 Billion A Year

Inmates incarcerated on marijuana-related charges cost U.S. prisons $1 billion annually, according to a 2007 study, <a href="http://www.alternet.org/rights/47815/" target="_hplink">AlterNet reports</a>.

Marijuana Prohibition Costs Taxpayers $41.8 Billion A Year

Including lost tax revenues, a 2007 study found that enforcing the marijuana prohibition costs tax payers $41.8 billion annually, <a href="http://www.forbes.com/2007/09/29/marijuana-laws-work-biz-cx_qh_1001pot.html" target="_hplink">Forbes</a> reports.

California Marijuana Crop Worth $14 Billion A Year

Marijuana growers account for <a href="http://www.time.com/time/nation/article/0,8599,1884956,00.html" target="_hplink">$14 billion a year in sales in California</a>, making it the state's most valuable cash crop, TIME reports.

Illegal Marijuana A $36 Billion A Year Industry

It's estimated that <a href="http://madamenoire.com/106691/capitalizing-on-the-billion-dollar-marijuana-industry/" target="_hplink">illegal marijuana is a $36 billion industry</a> in the U.S., MadameNoire reports.

One-Third Of Americans Think Legalization Would Boost The Economy

About one-third of Americans say they think <a href="http://www.huffingtonpost.com/2010/04/20/legalizing-pot-will-not-b_n_544526.html?" target="_hplink">legalizing marijuana would boost the economy</a>, according to a 2010 poll by Associated Press-CNBC.

Dispensary Ads Boost Newspapers' Revenue

The <em>Sacramento News and Review</em> saw a big boost in ad revenue when it offered advertising space for more than 60 medical marijuana dispensaries, enabling the publication to hire three additional employees, <a href="http://www.news10.net/news/local/article/144285/2/Marijuana-ads-mean-big-money-for-weekly-newspaper" target="_hplink">according to News 10</a>.

Mendocino Zip Tie Program Raised $600,000

Mendocino County, California's zip tie program aimed at regulating medical marijuana growing by charging permits for each plant raised <a href="http://www.huffingtonpost.com/2012/01/09/medical-marijuana-license-mendocino_n_1193198.html" target="_hplink">$600,000 in revenue in for the Sheriff's department</a> in 2011.

Oakland Raised More Than $1 Million In Marijuana Tax Revenue

The city of Oakland, California raised $1.3 million in tax revenue from medical marijuana dispensaries in 2011, 3 percent of the city's total business tax revenue, according to <a href="http://www.nytimes.com/2012/02/12/us/cities-turn-to-a-crop-for-cash-medical-marijuana.html?_r=1" target="_hplink"><em>The New York Times</em></a>.

Colorado Pulls In $5 Million From Pot Sales Tax

In 2011, Colorado pulled in $5 milllion in sales taxes from medical marijuana businesses, <a href="http://www.nytimes.com/2012/02/12/us/cities-turn-to-a-crop-for-cash-medical-marijuana.html?_r=1" target="_hplink"><em>The New York Times</em></a> reports.

Legal Marijuana Could Be $100 Billion Industry

Economist Stephen Easton estimated in 2010 that <a href="http://www.businessweek.com/debateroom/archives/2010/03/legalize_mariju.html" target="_hplink">legal marijuana could be a $45 to $100 billion industry</a>, <em>Bloomberg Businessweek</em> reports.

Each weGrow Center Creates 75 Jobs

When hydroponic marijuana growing supply chain weGrow opens a new store it <a href="http://aznow.biz/small-biz/wegrow-phoenix-opens-cultivates-opportunities-arizona)" target="_hplink">creates an estimated 75 jobs</a> indirectly, according to AZBusiness Magazine.

Majority Of States Support Taxing Marijuana

More than <a href="http://www.huffingtonpost.com/2010/04/20/legalizing-pot-will-not-b_n_544526.html?" target="_hplink">60 percent of states agree with taxing marijuana</a>, according to a poll by Associated Press-CNBC.

Marijuana Affects Workplace Motivation

A Norwegian study 25 years in the making came to the shocking conclusion that <a href="http://www.huffingtonpost.com/2012/02/24/marijuana-use-has-adverse-affect-workplace-motivation_n_1300278.html?" target="_hplink">frequent marijuana use lowers employees' motivation at work</a>.

More Than 1,000 Dispensaries In California

There could be more than 1,000 medical marijuana dispensaries operating in California, <a href="http://www.pasadenaweekly.com/cms/story/detail/how_does_your_pot_grow/8070/" target="_hplink"><em>Pasadena Weekly</em></a> reported in 2009.

Denver Counts More Dispensaries Than Starbucks

As of July 2011, the city of Denver <a href="http://www.huffingtonpost.com/2011/07/06/medical-marijuana-denver-starbucks_n_891796.html" target="_hplink">counted more medical marijuana dispensaries than Starbucks franchises</a>.