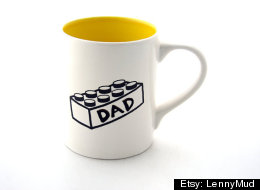 Remember last week when we yelled at everyone to please not buy their father the same old, clichéd, grilling-oriented Father's Day gifts again this year? We realized that we couldn't just tell you what NOT to get your dads for Father's Day 2013, so we're here with a few constructive suggestions.
If your dad does not like to cook, make drinks, eat or drink, you probably won't find his gift here. If he does, prepare yourselves to be in hog heaven, with our twenty-five most favorite Father's Day food gifts of the year. Yes, there are still some grilling-oriented things, but today, we're paying special attention to all the other eating and drinking-related things dads love too. Whether your dad is a bartending hobbyist, a cheese-lover, a heat-seeker or anything in between, we hope we can help you think up a great idea for Father's Day this year.
Want to read more from HuffPost Taste? Follow us on Twitter, Facebook, Pinterest and Tumblr.
Father's Day Food Gifts 2013
Molecular Mixology Kit, $58.95 on Amazon Got a cocktail-loving science nerd for a dad? We've just scored you all the brownie points.

Mozzarella & Ricotta DIY Cheese Kit, $25.00 on Etsy

Men's Work Apron in Herringbone Denim, $50.00 on Etsy

Personalized Custom Lego Brick Mug, $16.00 on Etsy

One Gallon Beer Kit with Two Grain Recipes, $115.00 on Etsy

Big Herm's BBQ Rub Gift Set, $24.00 on Etsy

Chemex Glass Coffeemaker, $34.90 - 42.90 (depending on size), from Chemex No idea how to use these? Check out how we fell in love with pour-over coffee brewing.

Stumptown Father's Day Gift Set, $35.00 from Stumptown

Fleur de Sel Caramels, $14.00 on Etsy

Molcajete, $39.96 from Williams-Sonoma Perfect guacamole, just in time for summer.

DIY Chai Tea Kit, $35.26 on Etsy

Father's Day Hot Sauce Gift Pack, $13.99 on Etsy

Glass Liquor Decanter Bottle, $24.99 on Etsy

Early Times Large Vintage Shot Glasses, $12.00 on Etsy

King Cube Silicone Ice Cube Trays (Set of 2), $16.95 from Williams-Sonoma These make our favorite ice cubes on earth.

The New James Beard Thousand-Recipe Cookbook (1981), $7.95 on Etsy

Wusthof Classic Ikon Chef's Knife, $119.95 from Williams-Sonoma Every food-loving dad should have one really solid chef's knife.

Langdon Wood Barrel-Aged Maple Syrups (Set of 2), $28.00 on Etsy

Artisan Mustard Quintet Gift Set, $39.00 on Etsy You pick from amazing flavors like ghost pepper, masala and habanero tarragon lime.

Lonestar Taco Pickle Gift Set, $12.00 on Etsy

Waring Pro Stainless Steel Ice Crusher, $66.25 on Amazon

The Southern Foodways Alliance Community Cookbook, $16.88 on Amazon

Vintage Inspired Bottle Opener, $8.25 on Etsy

SodaStream Penguin Sparkling Water Maker, $199.95 from Williams-Sonoma Is this a splurge? Totally. But doesn't your dad deserve instant seltzer gratification?

Spalted Red Maple Thick Cutting Board, $94.95 on Etsy We love this rustic cutting board for every day use and also as a serving platter.