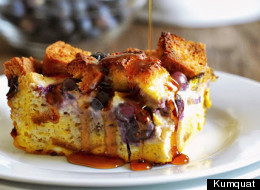 The food blogosphere has definitely been saturated for quite some time now. Not only can you find a food blog that specializes in nothing but gluten-free vegan recipes, but you can find over a hundred of them. And while this might make you feel like food blogs are a dime a dozen, we tend to see this abundance in a different light.
The way we see it is that the more food blogs we have access to, the more opportunities we have to come across amazing new home cooks who are making recipes that will continue to blow our minds. Everyday we discover a new food blog, and every day we're inspired by what we see. Check out our 10 favorite food bloggers for the month of June.
Want to read more from HuffPost Taste? Follow us on Twitter, Facebook, Pinterest and Tumblr.
sallysbakingaddiction.com/ Sally's Baking Addcition is the perfect blog for any of you out there who just can't seem to curb your sugar cravings. From classic chewy chocolate chip cookies to more inventive recipes like cookies n cream cupcakes, Sally has got you covered.

thelittlekitchen.net Julie from The Little Kitchen is proof that no matter what kind of equipment you have available, if you love to cook you can make amazing dishes -- little kitchen or not.

kumquatblog.com For gluten-free recipes that even gluten-lovers will enjoy, Kumquat blog is your best resource. Not only are her images amazing, but the recipes will make your mouth water.

flourishingfoodie.com Flourishing Foodie will make you excited about eating vegetables again. And that isn't always an easy thing to do.

ambitiouskitchen.com Monique of Ambitious Kitchen never ceases to wow us with recipes like these Nutella-swirl blondies.

en.julskitchen.com Any food blogger who's daring enough to make croissants is a keeper in our book. And Jul's Kitchen is definitely a food blog you want to visit regularly.

havecakewilltravel.com/ When a blogger takes the time to make flavored salts, we know we're in good hands.

thevintagemixer.com Becky of The Vintage Mixer values bringing people together around a table with good food. Her recipes and stories reflect that, in the nicest of ways.

givemeflour.com If you eat with your eyes, Give Me Flour is your kind of blog. With comforting recipes and gorgeous food photography, you'll leave this site completely inspired.

lifetasteslikefood.com Stephanie of Life Tastes Like Food is a self-declared Nutella, bacon and kale lover. We trust her tastes -- and her amazing recipes.