Scientists have helped to restore Luigi Cherubini's opera "Médée" to its original glory.
A lost aria, or solo song, from the piece, which Cherubini apparently smudged out in spite more than 200 years ago, has been revealed by x-ray scans.
Cherubini was an Italian composer who worked mostly in France and counted Ludwig van Beethoven among his contemporaries and admirers. When Cherubini's French-language opera "Médée" premiered in 1797, critics whined that the opera was too long, and as legend has it, the composer cut the piece by about 500 bars.
Médée revival
A shortened Italian translation of the opera became the dominant form of that opera into the 20th century. But today, many opera-goers and critics long to see "Médée" — which tells the wrenching Greek myth of Medea — as Cherubini first wrote it.
A well-received bicentennial version of the opera in its original form was produced in New York by Opera Quotannis in 1997; critic Peter G. Davis declared at the time that the doctored form "we've been hearing all these years, should now be permanently set aside." Back in December, an audience displeased with a radical take on Cherubini's "Médée" apparently lobbed obscenities at the performers in Paris and shouted "Stop the desecration of opera," according to the New York Times.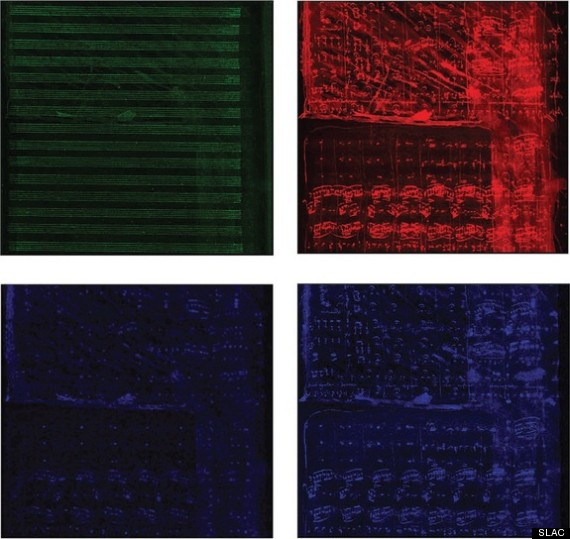 X-ray scans reveal the opera melody that had not been heard for more than 200 years.
Now scientists are taking part in the revival, too. In an original manuscript of Cherubini's "Médée," the closing lines of the aria "Du trouble affreux qui me dévore" ("The terrible disorder that consumes me") are blacked out. Scholars sent the copy to physicists at Stanford University's Linear Accelerator Center (SLAC) in Menlo Park, Calif., where the lost musical notes were recovered with the help of powerful X-rays. [Image Gallery: How Technology Reveals Hidden Art Treasures]
"It was amazing to be able to see the complete aria," SLAC physicist Uwe Bergmann said in a statement. "For me, uncovering the composition of a genius' work that had been lost for centuries is as thrilling as trying to uncover one of the big secrets of nature."
Smudges made invisible
In Cherubini's time, ink often came with a high metal content. Scientists at SLAC determined that the composer's manuscript had preprinted lines made in high-zinc ink, while Cherubini's handwritten notes were scribbled with ink high in iron. The black charcoal smudges covering the aria, meanwhile, contained mostly carbon.
Scientists took advantage of those chemical differences in their analysis of the manuscript. The synchrotron lightsource at SLAC accelerates electrons so fast that they produce a bit of high-energy X-ray light, which can be collected and focused into powerful beams for experiments. Researchers at the lab used X-ray energies associated with zinc and iron to make tiny amounts of these metals fluoresce, allowing them to effectively look through the manuscript's carbon smudges and see the ink underneath.
It took about eight hours to scan each side of the page line-by-line with a beam smaller than the width of a human hair.
"It's similar to a dot matrix printer," Samuel Webb, a beam line scientist at the Stanford Synchrotron Radiation Lightsource (SSRL) at SLAC, who ran the experiment, said in a statement. "Whenever we saw iron we would put a little digital red ink blot down, and whenever we saw zinc we'd put a little green dot down."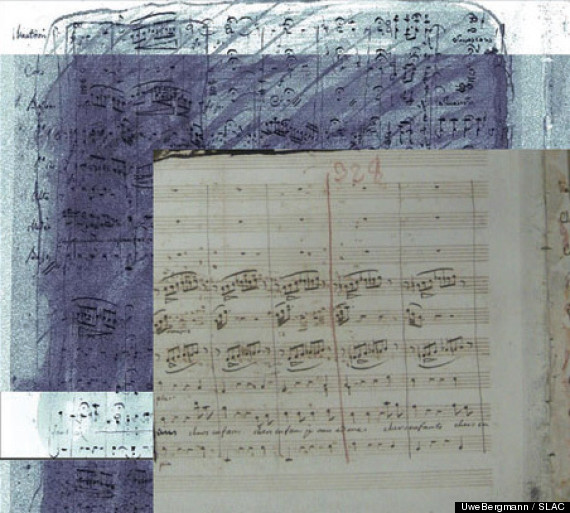 By setting their sensors to look for X-ray energies associated with zinc and iron in the inks on the paper, the scientists were able to reveal the blacked-out music from Luigi Cherubini's 1797 opera.
The scientists did hit one snag in digging up Cherubini's lost composition; the X-rays made the paper invisible, too, meaning both sides of the manuscript were visible in one confusing jumble of notes.
But Cherubini's handwritten musical notes consistently have heads attached to the right side of their stems, the researchers said. By looking at which musical-note heads leaned to the left and leaned to the right, the team reconstructed the two separate pages.
A recording of it the lost aria be heard here.
SLAC scientists previously recovered writings of the ancient Greek mathematician Archimedes covered up by a Christian monk's notes. Art conservationists, too, have been turning noninvasive scanning technologies like X-ray scanners to peek at the underpaintings hidden in masterpieces. Scientists at the J. Paul Getty Museum in Los Angeles, for example, are currently looking for a secret artwork buried underneath 380-year-old Rembrandt painting.
Follow Megan Gannon on Twitter and Google+. Follow us @livescience, Facebook & Google+. Original article on LiveScience.com.
Copyright 2013 LiveScience, a TechMediaNetwork company. All rights reserved. This material may not be published, broadcast, rewritten or redistributed. ]]>
Also on HuffPost:
Loading Slideshow
Caffeine For Imprisoned Twins

In the late 18th century, King Gustavus III of Sweden was rumored to have carried out a strange experiment to determine the harmful health effects of coffee. Two identical twins who had been condemned to death had their sentences commuted to life in prison on the condition that one would drink three pots of coffee per day, and the other three pots of tea, for the rest of their lives. The only problem was that the doctors assigned to monitor the cases died before either of the patients did, their observations lost--as the story goes, the tea drinker died first, and there's no record of the coffee-drinker's death. The experiment proved nothing, suffering from a lack of rigor (to say the least). Source: Uppsala University, "Coffee - rat poison or miracle medicine?"

Simulated Anthrax On The Subway

In June 1966, the U.S. Army's Special Operations Division secretly dispersed harmless bacteria in the New York Subway system to model the effects of an outbreak of more harmful germs. According to Army reports, "Test results show that a large portion of the working population of New York City would be exposed to disease if one or more pathogenic agents were disseminated covertly in several subway lines at a period of peak traffic." Source: Deadly Cultures: Biological Warfare Since 1945. Wheelis, Rózsa, and Dando. Harvard University Press, 2006.

Weaponized Fleas In The Desert

Operation Big Itch, 1954, was an attempt to discover the potential of weaponized fleas. The operation, part of the Cold War-era United States biological weapons program, took place at Dugway Proving Ground in Utah. According to "Using the flea as weapon," an article in the Army Chemical Review, "In the United States, the plague flea concept was competing against the use of mosquitoes, flies, ticks, and lice. Of these concepts, the United States put most of its energies behind weaponizing yellow fever in combination with the Aedes aegypti mosquito."

Food Through A Hole In The Stomach

U.S. Army Surgeon William Beaumont (above) found an extraordinary patient in Alexis St. Martin, a Canadian trapper who was injured in a hunting accident and left with a hole in his belly that led directly into his stomach. Beaumont attached a string to various foods, including oysters and rare roast beef, and introduced them into the wound to observe the rates of digestion. Despite the unorthodox techniques, this research would later lead to the discovery of the importance of stomach acid in digestion, earning Beaumont the epithet "father of gastric physiology." Source: Experiments and observations on the gastric juice, and the physiology of digestion. Beaumont, Martin and Combe. Maclachlan & Stewart, 1838

Candy For Mental Patients

In 1945, Sweden's new National Dental Service commissioned research, now known as the Vipeholm experiments, in which researchers gave subjects large amounts of sticky sugary candy in order to study the development of cavities. This might not have been so controversial, except that the subjects couldn't give consent to their participation: "The use of mentally handicapped subjects was criticized in the Swedish press and all studies on mentally handicapped individuals were stopped in 1954," according to Topics In Dental Biochemistry by Mark Levine (Springer, 2010).