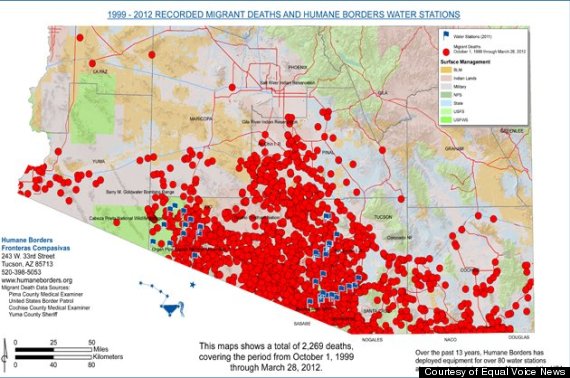 Click image above to enlarge.
TUCSON, Ariz. – As immigration reform debates run hot on Capitol Hill, many members of Congress say a more secure border has to be part of any bill they approve. One of those is Arizona Sen. John McCain, one of the "Gang of Eight" of bipartisan lawmakers pushing reform.
But authors of a just-released report on deaths of undocumented migrants in south-central Arizona argue that increased border security may lead to more people perishing.
"A Continued Humanitarian Crisis at the Border," published by the University of Arizona's Binational Migration Institute and released on June 5, analyzes the trends and demographics of people who died in south-central Arizona from 1990 through 2012 after crossing the U.S.-Mexico border without authorization.
The Pima County Office of the Medical Examiner in Tucson – which investigates the highest number of migrant deaths in the country and handles more unidentified remains per capita than any other medical examiner's office in the United States – provided the statistics on the deaths of undocumented border crossers for the area.
Although the U.S. Border Patrol reported steep drops in undocumented-migrant apprehensions during the past few years – a period of significant increases in immigration enforcement by U.S. authorities – the report points out that the number of deaths of undocumented migrants peaked in 2010. The numbers dropped only slightly in 2011 and 2012.
"We're missing the point. The answers don't lie in border security. The answers lie in understanding the economics [that drive migration]," said Daniel E. Martínez, an assistant professor of sociology at George Washington University and one of the report authors.
Martínez said those factors are usually a combination of poverty and political instability in other countries, along with demand for inexpensive labor in the United States.
The locations of the 2,238 bodies discovered in south-central Arizona from 1990 through 2012 are mapped in the report: Red dots smother hundred-mile swaths, taking in not only uninhabited scrublands and wildlife refuges but areas near Phoenix and Tucson suburbs as well.
During the 22-year period, the lowest number of undocumented-migrant deaths recorded in the area was five during the federal fiscal year of 1992 (Oct. 1 through Sept. 30). The number of deaths reached a high of 225 in 2010.
The high numbers of deaths in the last few years coincide with massive enforcement pushes by federal authorities along the U.S.-Mexico border, which, they say, have reduced the number of undocumented people trying to enter the United States.
The report's authors argue that the federal government's moves – building formidable border fences and strengthening manpower along the border – directly contributed to the spike in deaths as undocumented migrants tried to find ways around stepped-up border security.
The report acknowledges that the high number of deaths could be due partly to the increase in the Border Patrol's "boots on the ground" approach, resulting in more remote areas being searched and more bodies found. Still, the fact that the number of deaths has remained high for more than a decade is a good indication that more undocumented migrants are dying since enforcement has increased.
"People are being pushed into ever more remote areas," said Robin C. Reineke, an anthropology doctoral candidate at the University of Arizona. "They're taking long, dangerous treks through the desert, and they're dying in high numbers."
From the deceased that the Pima County Medical Examiner's Office was able to identify – about one-third could not be identified – the average undocumented migrant was a 30-year-old man from Mexico.
Over the past few years, however, the number of Central Americans – mainly from Guatemala, El Salvador and Honduras – has steadily increased.
Most of the undocumented border crossers – 46 percent – died from exposure, mainly desert heat. The cause of death of 36 percent could not be determined.
The report ends with the authors' hope that Washington, D.C., "policymakers will consider the data presented in this report as they debate what is arguably the single most important piece of immigration legislation in nearly three decades."
One of those authors, Raquel Rubio-Goldsmith, doesn't seem hopeful. Rubio-Goldsmith is an adjunct professor of Mexican American studies at the University of Arizona.
"We don't call this a disaster in a legal sense," she said of the deceased migrants. "But we are dealing with a disaster. …It's something the politicians don't like to talk about. How many people in Washington are talking about deaths on the border? I don't think that comes up a lot."
Juanita Molina, executive director of the nonprofit advocacy group Border Action Network, said the study shows the need for a change in government policy as well as border patrol tactics. Her organization supports these changes. In addition, the group has provided large water barrels in areas where high numbers of deaths have occurred.
Back when the federal government's enforcement crackdown started, "The Border Patrol … imagined that the desert would be a natural barrier that people wouldn't cross," Molina said. "They underestimated the level of desperation and need of the people crossing the desert."
Michael Mello is a freelance writer based in Tucson, Ariz. He is a former staff reporter for the Orange County Register.
This article originally appeared on Equal Voice News.
Also on HuffPost:
Loading Slideshow
The U.S.-Mexico border is violent

It certainly is in some places, but those don't tend to be on the U.S. side. In fact, <a href="http://www.huffingtonpost.com/2013/02/08/2-us-mexico-border-cities_n_2647897.html">El Paso, Texas and San Diego, California are the two safest cities in the country</a>, according to Congressional Quarterly. <a href="http://www.huffingtonpost.com/2013/02/13/jan-brewer-border-enforcement_n_2677777.html">While Arizona Gov. Jan Brewer has repeatedly said the border in her state is dangerous</a>, crime statistics reported by USA Today and The Huffington Post show that violent crime has dropped along the U.S.-Mexico border in Arizona, as well as California, New Mexico and Texas.

The porous U.S.-Mexico border is vulnerable to terrorists

That's not the assessment of the U.S. government. The Mexico section of the most recent <a href="http://www.state.gov/documents/organization/195768.pdf">State Department's Country Reports on Terrorism reads</a>: <blockquote>No known international terrorist organization had an operational presence in Mexico and no terrorist group targeted U.S. citizens in or from Mexican territory. There was no evidence of ties between Mexican criminal organizations and terrorist groups, nor that the criminal organizations had political or territorial control, aside from seeking to protect and expand the impunity with which they conduct their criminal activity.</blockquote> H/T: <a href="http://borderfactcheck.com/">Washington Office on Latin America</a>.

The border is insecure

Depends on how you define "secure." By practically all measurements, the border is at its most secure point in recent history. There's more than <a href="http://www.politifact.com/truth-o-meter/statements/2011/may/10/barack-obama/obama-says-border-patrol-has-doubled-number-agents/">20,000 Border Patrol agents stationed along the border now</a> -- about double the number since 2004. <a href="http://abcnews.go.com/ABC_Univision/Politics/border-funding-needed-immigration-apprehensions/story?id=18465102">Apprehensions along the border, one of the most reliable measures of illegal entry</a>, are at their lowest level in 40 years. But <a href="http://www.huffingtonpost.com/2013/02/23/what-does-a-secure-border_n_2749419.html?utm_hp_ref=world&ir=World">politicians have yet to agree on how to define what "secure" will mean</a> for legal purposes.

Obama has been soft on enforcement

Not so. In fact, it's one of the biggest gripes immigration activists have with him. While Obama has exempted many people who came to the United States as children from deportation, he has also set records, <a href="http://www.nytimes.com/2013/02/23/us/advocates-push-obama-to-halt-aggressive-deportation-efforts.html?_r=0">deporting over 400,000 people last fiscal year and removing more migrants</a> in one term than George W. Bush did in two.

The U.S. hasn't committed enough resources to securing the border

Again, depends on who you ask. The $18 billion the federal government spent on border enforcement in the 2012 fiscal year was more than it spent on than on other law enforcement agencies combined, <a href="http://www.huffingtonpost.com/2013/01/07/immigration-enforcement-cost_n_2425647.html">according to the Migration Policy Institute</a> -- about 15 times more than it did in the mid-1980s. Is that enough, especially in a context in which illegal immigration stands at net zero? If, not, what is?

Illegal immigration continues to skyrocket

Nope. For all the talk from outraged politicians, you'd think that immigration along the U.S.-Mexico border remains at historically high levels. In fact, <a href="http://www.pewhispanic.org/2012/04/23/net-migration-from-mexico-falls-to-zero-and-perhaps-less/">illegal immigration from Mexico has dropped to net zero or less</a>, according to the Pew Hispanic Center.