Longest Stanley Cup Final Games: Blackhawks, Bruins Among Most Lengthy Matches In NHL History (VIDEOS)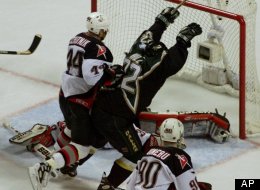 The Chicago Blackhawks and Boston Bruins might force the National Hockey League to reinstate "History Will Be Made" as the official slogan of the Stanley Cup Playoffs. History was made in just one night of the 2013 Stanley Cup finals.
Andrew Shaw's game-winner for Chicago in triple overtime ended what was officially the fifth-longest Stanley Cup final in NHL history. The matchup was the first Game 1 of the Stanley Cup finals to reach double overtime since Mark Messier and the Edmonton Oilers faced off against Cam Neely and the Boston Bruins in 1990, per the Toronto Star.
Game 1 logged a whopping 1 hour and 52 minutes of hockey, and almost half of the contest was played after regulation. Thursday evening also marked Chicago's sixth win in a multiple OT Stanley Cup final, the most all-time for any team, according to ESPN Stats & Info.
Check out the slideshow below for more of the longest Stanley Cup Final contests ever played in the modern era of the NHL.