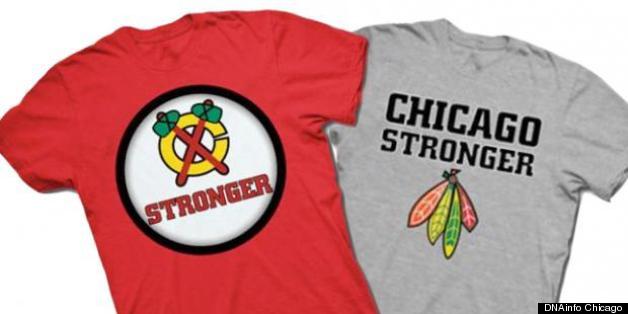 While hockey play is known for its physical roughness, some fans are crying foul over a display of support they say crossed the line.
Chicago-based apparel company Cubby Tees recently pulled designs of its "Chicago Stronger" t-shirt after an intense backlash to the slogan critics say is a tasteless parody on the post-Boston Marathon bombing tagline, "Boston Strong."
The company fired back against detractors before removing the shirts from sale altogether on Friday.
"Anyone who believes that the shirt mocked those injured in the horrible events of Patriots' Day regrettably missed our point and did not read/process our accompanying commentary; nowhere on the shirt's face (or within its subtext or motivation) did we take aim at the victims or make light of the incident -- nor would we ever. The design poked fun at the embarrassing self-congratulatory branding of the tragedy, and its inappropriate adoption by SOME BOSTON FANS AS A MINIMIZING SPORTS ANTHEM, not the sad reality of that day's mayhem."
In the supplemental Wednesday section of the paper, a hand is seen tearing off the Boston logo under the "We Are Chicago Bruins" segment with a legend reading "Yeah, not right now we're not." (See the photo)
Cubby Tees said in its statement it had received "threats" from angry critics, though the entry with, "Here's to a world without violence, to the speedy recovery of all victims, and to a decent hockey series – in that order. Stay strong."
Also on HuffPost:
Blackhawks 2013 Quest For The Cup
SUBSCRIBE AND FOLLOW
Get top stories and blog posts emailed to me each day. Newsletters may offer personalized content or advertisements.
Learn more