One English woman knows she's always on her husband's mind -- because he tattooed a picture of her on the back of his head.
Bob Baker, 68, tattooed a sexy cartoon of his wife, Kelly, 28, wearing a bikini and pushing a lawn mower on the bald spot on his head, the BBC reported Thursday. Bob's daughters paid for the tattoo as a Father's Day gift.
Bob told the BBC that he already has 11 other tattoos, including "Kelly" tattooed on his neck. The couple has been together for nine years and married in 2010. Check it out below, and watch the video above to learn more.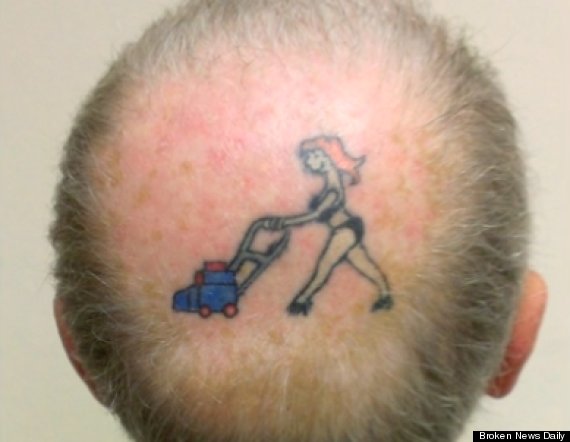 Last week, a woman and her wife got tattoos on their arms that form a heart when they put their arms together. And celebrities have gotten in on the couples' tattoo trend, too -- click through the slideshow below to see which A-listers have inked tributes to their spouses.
Celebs Who Got Tattoos Of Their Spouses
Now-retired soccer hunk David Beckham has a tattoo on his left arm of wife Victoria in a pin-up girl pose.

Former Spice Girl Victoria Beckham has a tattoo of husband David Beckham's initials on the inside of her left wrist.

Model and new mom Amber Rose had the face of her fiancé, rapper Wiz Khalifa, tattooed on the back of her arm.

Talk show host Kelly Ripa had husband Mark Consuelos' last name inked on the inside of her left wrist.

Actor Dean McDermott had a portrait of wife Tori Spelling in a racy bra top tattooed on his left tricep. He also has the words "Truly, Madly, Deeply, Tori" inked on his wrist.

"Frasier" star Kelsey Grammer had his fourth wife Kayte Walsh's name tattooed on his hip bone. (Click here for a photo)

NBA star Kobe Bryant had his wife Vanessa's name tattooed on his right arm along with a crown and two angel wings. Vanessa filed for divorce in December 2011, but the pair announced their reconciliation in January 2013.

"Transformers" actress Megan Fox has her husband Brian Austin Green's name tattooed on her hip bone. (Click here to see a photo).

"Moulin Rouge" actor Ewan McGregor has his wife Eve's name tattooed on his right arm along with a heart and dagger.

Green Day frontman Billie Joe Armstrong has his wife Adrienne's face tattooed on his right forearm in four photo booth-style portraits.

Actress Melanie Griffith tattooed the first name of her husband, actor Antonio Banderas, on her right arm.

Mariah Carey and Nick Cannon got wedding tattoos several weeks before they tied the knot in April 2008. Cannon had "Mariah" tattooed in a large font across his back. Carey incorporated the words "Mrs. Cannon" into a butterfly tattoo on her lower back. (Click here for photos)

Country star Tim McGraw has his wife Faith Hill's first name tattooed on his upper right arm. (Click here to see a photo)

Country singer Keith Urban reportedly had a tattoo with an old flame's initials altered to pay tribute to his wife Nicole Kidman. The tattoo now says "Nicole."

"Rocky" actor Sylvester Stallone has a colorful portrait of his third wife, model Jennifer Flavin, inked on his right shoulder. (Click here to see a photo).
Keep in touch! Check out HuffPost Weddings on Facebook, Twitter and Pinterest.