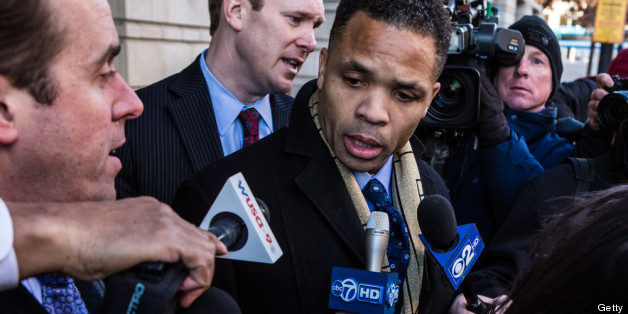 Getty
Former Congressman Jesse Jackson Jr. and his wife Sandi appear to be preparing for the likely possibility that they will both be heading to prison when they are sentenced on July 3 for spending campaign cash on personal items.
The family is described as "in significant financial peril" because Jackson Jr. cannot currently earn income aside from receiving payments from Social Security and his federal pension, according to the Tribune.
The Jacksons both pleaded guilty in February to using $750,000 in campaign funds on lavish personal expenses. Jackson, 48, faces a maximum sentence of five years in prison plus a fine of $250,000. His wife Sandi, 49, could go away for one to two years. They also must repay the approximately $750,000 they illegally spent.
While attorneys have said Sandi, a former Chicago alderman, deserves a break because she was a good public servant, federal prosecutors disagree. As a government document reads, according to NBC Chicago:
"Defendant was also a highly compensated, elected official. … Whose job was to represent and assist her constituents. She … should not get a variance for merely doing her job as a public servant."
Meanwhile, Jackson Jr.'s defense attorneys have also questioned whether their client will be able to access adequate treatment for his bipolar disorder and depression, the conditions which prompted his going on medical leave from Congress several months prior to his resignation last November.
Related on HuffPost:
What The Jacksons Bought With Campaign Cash
FOLLOW HUFFPOST