The Westboro Baptist Church has responded to one little girl's campaign to raise money for peace the only way they seem to know how: with a homophobic jab.
Over the weekend, the story of Jayden Sink and her lemonade stand went viral online, with thousands of people sharing news of how a 5-year-old took on the Westboro Baptist Church.
As The Huffington Post previously reported, Jayden is the daughter of Jon Sink, founder of the philanthropic arts group FRESHCASSETTE - Creative Compassion. The two decided to sell lemonade outside the Equality House -- a rainbow-colored dwelling owned by nonprofit Planting Peace that campaigns for human rights, gay rights and anti-bullying efforts -- to raise money for peace and love Saturday.
The Equality House sits across the street from the Westboro Baptist Church's Topeka, Kan., compound, and the anti-gay, quasi-religious group was none too happy with Jayden's event. Members from the group apparently attempted to call the local police and later stooped to yelling profanities at lemonade drinkers.
On Monday, Westboro members took things to a new low when they posted an anti-gay message on their marquee, reading: "FAGS & ENABLERS ALL BURN IN HELL LEMONADE WON'T COOL ANY TONGUES."
A sign outside the Westboro Baptist Church compound. Story continues below.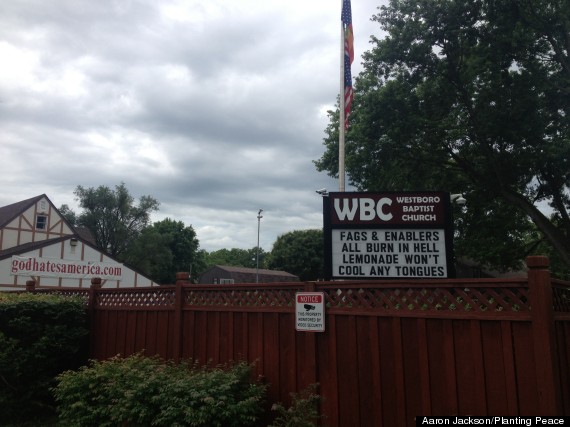 Davis Hammet, Director of Operations at Planting Peace, is not surprised Westboro rejected Jayden's message. The group's messages of hate have been directed at many more people than just Jayden. Just a few days ago, that same marquee had a message thanking God for killing the children in the Oklahoma tornado.
"We don't hate the Westboro Baptist members, we pity them," he told The Huffington Post in an email correspondence Monday. "We see their hateful signs every day and they remind us how important it is to take a stand for equality and justice. The nasty things they say come from a very dark place. We truly pity them and are thrilled that many members are finding their way out of this hate group."
Of course, we all know who the real winner is. To date, Jayden has helped raise more than $16,000 for Planting Peace and the Equality House with an online campaign through Crowdrise. She plans to set up her stand outside the Equality House on more hot summer days in the future.
Planting Peace founder Aaaron Jackson wants everyone to remember this is a story about peace and not about retribution, he told HuffPost in a separate email Monday. Jayden simply sought to spread goodwill, something Westboro chooses not to do,
"I believe that Jayden's story of spreading love and peace by raising awareness and money by way of a little pink lemonade stand is why so many people have embraced the story and felt compelled to take part in the movement."
Also on HuffPost:
Loading Slideshow
Jacob Rudolph

Jacob Rudolph, a high school student in New Jersey, comes <a href="http://www.huffingtonpost.com/2013/01/27/jacob-rudolph-teen-coming-out-video-lgbt_n_2561492.html" target="_blank">out as LGBT </a>during a school assembly in January.

Coy Mathis

Six-year-old Coy Mathis, a transgender girl whose Colorado school refused to let her use the girls' bathroom, <a href="http://www.huffingtonpost.com/2013/03/19/coy-mathis-colo-transgend_n_2910066.html" target="_blank">has helped shed light</a> on transgender youth issues and helped ignite a debate over anti-discrimination laws.

Leo Washington

Leo Washington, a Hollywood Hills High School football captain, was inspired by NBA center Jason Collins to come out and <a href="http://www.outsports.com/2013/5/10/4319208/leo-washington-gay-football-florida-high-school-jason-collins" target="_blank">tell his story</a>.

Katy Butler

Katy Butler, an openly lesbian Michigan teen,<a href="http://www.huffingtonpost.com/2012/03/13/katy-butler-bully-documentary-campaign-leader-interview_n_1342121.html" target="_blank"> started a campaign</a> to get the Motion Picture Association of America to change the R rating of the film "Bully" to PG-13 so that teens could view it.

Jazz

<a href="http://www.huffingtonpost.com/2013/04/03/jazz-transgender-girl-motherhood-_n_3007221.html" target="_blank">Jazz</a>, a 12-year-old transgender girl, makes a speech on behalf of trans youth at the GLAAD Media Awards in April.

Ted Chalfen

In May, Ted Chalfen, a high school student at Fairview High School in Boulder, Colorado, <a href="http://www.huffingtonpost.com/2013/05/22/colorado-gay-teen-graduation-_n_3321214.html" target="_blank">publicly discussed</a> being gay and thanked his class for its support during high school graduation speech.

Tony Zamazal

Tony Zamazal, a Texas transgender teen, <a href="http://www.huffingtonpost.com/2013/04/05/tony-zamazal-transgender-prom-_n_3021109.html" target="_blank">won the right</a> to wear a dress and heels to prom in April.

Devon

Devon, a 19-year-old trans girl who was voted homecoming queen, speaks out on the Katie Couric show in February.

Analouisa Valencia

Analouisa Valencia, an out <a href="http://www.huffingtonpost.com/2013/04/05/analouisa-valencia-lesbian-beauty-queen-_n_3020168.html" target="_blank">lesbian teen beauty queen</a> ran for Miss South Carolina.

Riley Roberts

In May, 18-year-old Riley Roberts gave an <a href="http://www.huffingtonpost.com/2013/05/24/nevada-teen-gay-marriage-speech-_n_3332914.html" target="_blank">impassioned speech </a>before the Nevada Assembly about his two mothers and why gay marriage should be legal in the state.

Calliope Wong

When Calliope Wong, an applicant to Smith College, was rejected for being transgender,<a href="http://www.huffingtonpost.com/2013/05/01/calliope-wong-transgender-petition-_n_3194600.html" target="_blank"> she spoke out </a>and helped to get the school to begin discussions about reconsidering their admission policies.

Constance McMillen

Constance McMillen's prom was cancelled because her high school didn't want her to attend with her girlfriend. The Fulton, Miss., student stood up to the discrimination and received $35,000 from a <a href="http://www.huffingtonpost.com/2010/07/20/constance-mcmillen-settlement_n_653331.html" target="_blank">discrimination settlement</a>, filed by the ACLU and was also honored as <a href="http://www.huffingtonpost.com/2010/06/25/constance-mcmillen-gay-pr_n_625578.html" target="_blank">the Grand Marshal </a>of New York's Gay Pride parade in 2010.

Matthew Lannon

In March, Matthew Lannon, a sixth grade student, gave a beautiful <a href="http://www.huffingtonpost.com/2013/03/22/matthew-lannon-gay-marriage-rhode-island_n_2932947.html" target="_blank">pro-gay marriage speech</a> in front of the Rhode Island Senate judiciary committee.

Damian Garcia

<a href="http://www.huffingtonpost.com/2013/05/20/damian-garcia-transgender_n_3307489.html" target="_blank">Damian Garcia</a>, a transgender student at Saint Pius High School in New Mexico, helped garner attention for transgender youth issues when his school refused to let him participate in his commencement ceremony in a male graduation gown.

Cody Tubman

Cody Tubman became a Middleborough, Mass. high school's<a href="http://www.myfoxboston.com/story/22450749/2013/05/29/middleborough-high-teen-becomes-schools-first-transgender-prom-queen" target="_blank"> first transgender prom queen</a>.

Emma Delsohn

Emma Delsohn, an out <a href="http://www.outsports.com/out-gay-athletes/2013/2/21/4015858/coming-out-relieves-burden-for-high-school-basketball-player" target="_blank">lesbian basketball player </a>and songwriter who attends an all-girls Catholic high school in Southern California, encourages other lesbian, gay, bisexual and transgender (LGBT) youth to come out.

James Spencer

James Spencer, a transgender teen at Clarke High School in Canada, <a href="http://www.huffingtonpost.com/2012/11/14/transgender-student-james-spencer-denied-access-to-restroom-school_n_2130421.html" target="_blank">spoke out against his school when he was barred</a> from using the men's restroom. On a brighter note, Spencer received support from his schoolmates.

Marcel Neergaard

Gay 11-year-old Marcel Neergaard started a <a href="http://petitions.moveon.org/sign/tell-studentsfirst-bullying?source=c.url&r_by=7956426" target="_blank">MoveOn.org petition</a> in hopes of seeing education organization StudentsFirst rescind an award they presented to Tennessee Rep. John Ragan as "reformer of the year." Neergaard, who spent 6th grade being home schooled after bullying became so intense at his former school that he contemplated suicide, did not think that StudentsFirst should honor the man who sponsored the anti-gay "Classroom Protection Act," which included an amendment requiring school officials to inform parents if they have reason to believe the child might be gay. After less than a week the petition received over 50,000 signatures and<a href="http://www.huffingtonpost.com/2013/06/05/gay-11-year-old-petition-john-ragan-_n_3391599.html?utm_hp_ref=gay-voices" target="_blank"> StudentsFirst not only took back Ragan's award</a>, said they did not support the "Classroom Protection Act."