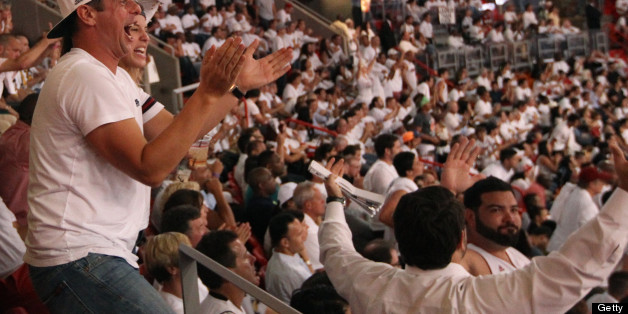 Getty
There are apparently quite a few Miami Heat fans who attended Game 6 of the NBA Finals yet still managed to miss one of the most thrilling comebacks in postseason history. The reason they missed out on the climactic moments of the Heat's unforgettable 103-100 overtime win? Those fans reportedly left early.
Fans began leaving AmericanAirlines Arena with 28 seconds remaining in Game 6 and the Spurs leading by five points, according to Ethan J. Skolnick of The Palm Beach Post.
Miami-based sportswriter and TV host Dan Le Batard also ripped Heat fans for leaving early.
Of course, the knowledge that they missed Ray Allen's game-tying, three-point shot in the final seconds of regulation and the team's overtime effort will likelier be more painful than the laments of sports media members on Twitter.
The scene outside of the arena turned ugly after those fans who prematurely exited learned that the home team had forced overtime, according to WPLG sports anchor and reporter Victor Oquendo.
PHOTOS: NBA Finals Game 6
FOLLOW HUFFPOST