There are few things quite as adorable as royal babies -- except royal babies in Canadian tuxedos. That might just be the cutest thing we've ever seen.
In honor of Canada Day, we've dug up some old photos of Prince William and Prince Harry in our favorite trend, denim on denim. In these 1991 shots, the duo is seen on a tour in Canada, waving to their adoring fans (yep, these brothers have been making us swoon since day one). Thankfully, Prince Harry revived the Canadian tuxedo look rather recently. Now all we need is Prince William to try the rugged jeans look...
PHOTOS: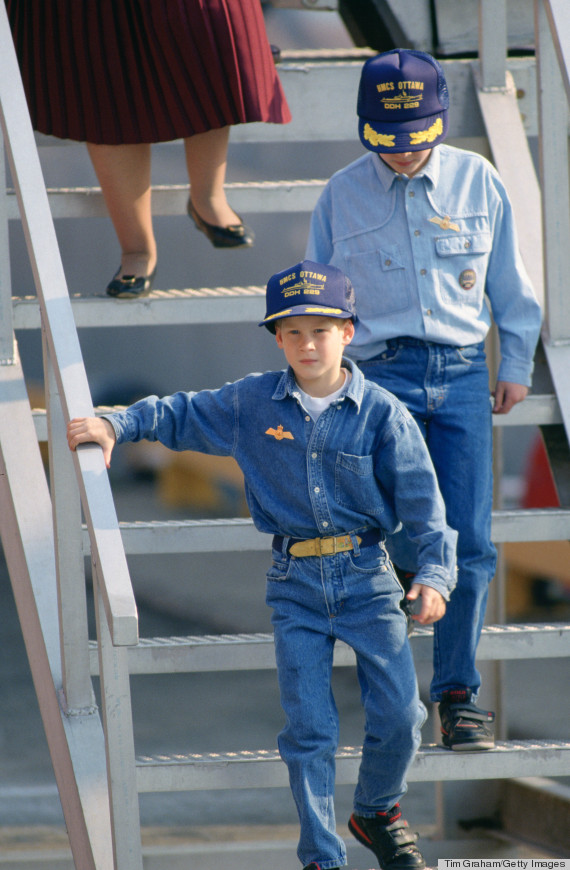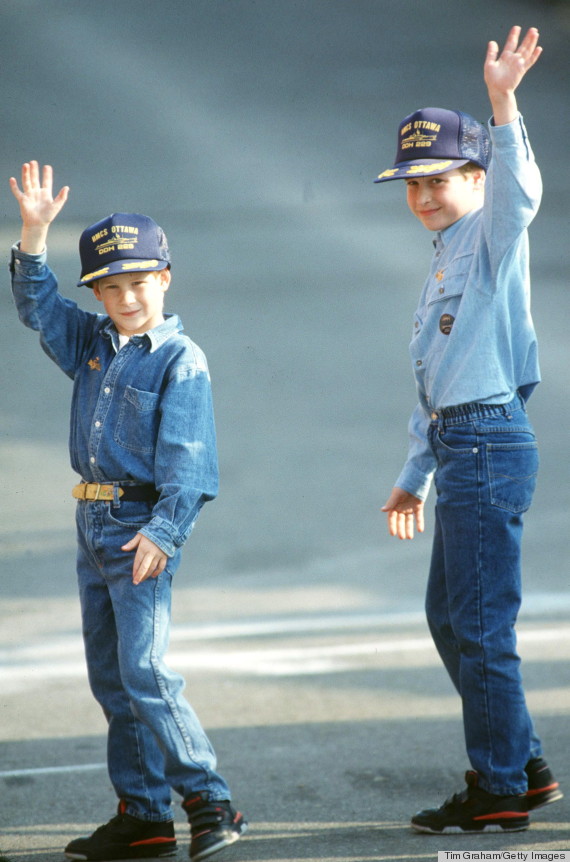 More adorable photos of our favorite princes:
Before a ceremony at the Army Aviation Centre in Middle Wallop, England.

You temptress.

That baby better not wash those gloves.

It only counts if there's tongue.

Baby, it's cold outside.

"What are you thinking about?"

We're winning!

Need a back rub?

Here's one way to stop traffic.

Hugging is a partner sport, Harry.

Atop a noble steed.

Harry cleans up real nice.

The only Harry photo you need.

"What photos?"

We'd trust Harry with our shopping bags any time.

At the launch of The Soldier Challenge at the Imperial War Museum in London.

At the launch of The Soldier Challenge at the Imperial War Museum in London.

Cheering up Ziosia Novak in Berlin, Germany, where he received a Golden Heart Award for his charitable work.

Looking polished and professional.

Looking vulnerable.

Gotta protect that face from frostbite.

We can melt that snow right off your face.

At a rehearsal for Prince William and Kate Middleton's royal wedding at Westminster Abbey in London.

In a carriage procession to Buckingham Palace after the marriage of Prince William and Kate Middleton in London.

Violent.

At the British Formula One Grand Prix in Northampton, England.

At the British Formula One Grand Prix in Northampton, England.

At Ascot Racecourse in Ascot, England.

"How'd you get this number?"

Visiting RAF Honington in Suffolk, England.

Nice moves.

Looking pensive.

You could save our lives any day.

We drew this picture of you.

Hey. Keep your hands to yourselves.

Doing his best Usain Bolt impression at the Usain Bold Track at the University of the West Indies in Kingston, Jamaica.

Visiting Up Park Camp in Kingston, Jamaica.

Two thumbs way up.

At a Thanksgiving service in Windsor, England.

Playing picture-perfect polo in Sao Paulo, Brazil.

Preparing to play polo in Ascot, England.

Traveling to a ceremony at Buckingham Palace in London.

He's smiling just for us

Harry will catch us.

Slow clap.

Hilarious!

"How big?"

Santa's little helper.

The Thinker.

We love a man who's not afraid to get his hands dirty.

Prince Harry seems to be making a habit of challenging Olympic gold medalists. First, Usain Bolt, who, being the good sport he is allowed Harry to win in a race in Jamaica earlier this year and now it's swimmer Ryan Lochte. After a night of partying in Las Vegas, Prince Harry reportedly challenged Lochte to a race in the pool of Wynn hotel's XS nightclub at 3am. And at no surprise at all, Ryan won the breaststroke battle in front of a large group of onlookers.

He always rocked the Mary Janes and had the cutest baby style ever.

He proved his athleticism at a very young age.

He also displayed his penchant for hats at a young age.

He can hang with the boys.

He looked absolutely adorable in a matching outfit with Harry (check out those brown T-strap shoes!)

He's a trendsetter -- we would totally wear that awesome satchel/school bag.

He makes funny faces on Disney rides... like all of us.

He loves to ski.

He's a cover star.

He grew up fast... and became very handsome.

He embraces his fans.. and makes a plaid scarf look amazing.

He even looks breathtaking when playing sports.

Is he a model?

He is smart and well-educated.

And can shoot a bow and arrow blindfolded!

And so begins a series of hats...

That's quite a feather.

So furry...

We must say, we think Will can pull of the vintage look a little bit better than Harry...

He is great with kids.

He'll even take selfies with you.

He knows how to get down.

But when he wants to settle down, he makes the best boyfriend.

He is the only groom who looks better in a royal uniform than a traditional tux.

And he knows how to make a kiss epic.

He isn't embarrassed to dress exactly the same as dad.

And he loves to get chummy with Grandma.

Prince William kissing a puppy = SWOON.

This is starting to get ridiculous. He even looks great with glasses.

He goes out to clubs dressed super-casual and comfortable.

He knows how to make the luckiest girl in the world laugh.
Want more? Be sure to check out HuffPost Style on Twitter, Facebook, Tumblr, Pinterest and Instagram at @HuffPostStyle.