Earlier this week, an anonymous public defender sent Gothamist this photo of an NYPD warrant squad officer wearing a t-shirt with a pretty disturbing quote from Ernest Hemingway: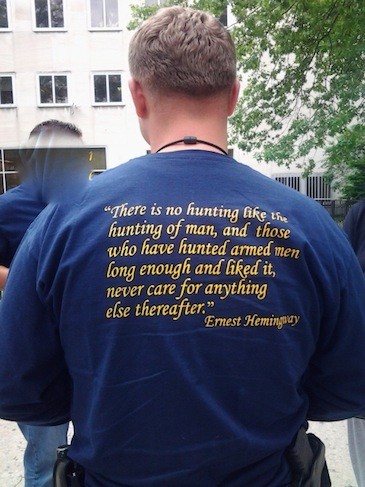 The Village Voice reports that the quote was also printed on t-shirts worn by NYPD's infamous Street Crimes Unit, which was disbanded after shooting unarmed immigrant Amadou Diallo 41 times in 1999 as Diallo reached for his wallet. The Voice also reports that at least two NYPD police commissioners have used the phrase "hunter of men" to describe police work -- Bernard Kerik and Howard Safir.
There have been a number of other incidents over the years in which cops have donned t-shirts that reflect a mentality somewhat less lofty than "protect and serve." Most recently, a Northern California union for school police officers came under fire for printing up and selling these shirts as a fundraiser: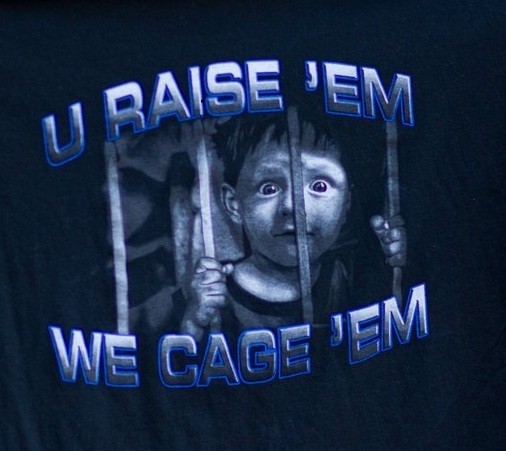 The head of the union later apologized and stopped selling the shirts. In 2008, the Denver police union was caught selling these shirts in advance of the Democratic National Convention, and the accompanying protests the city was expecting: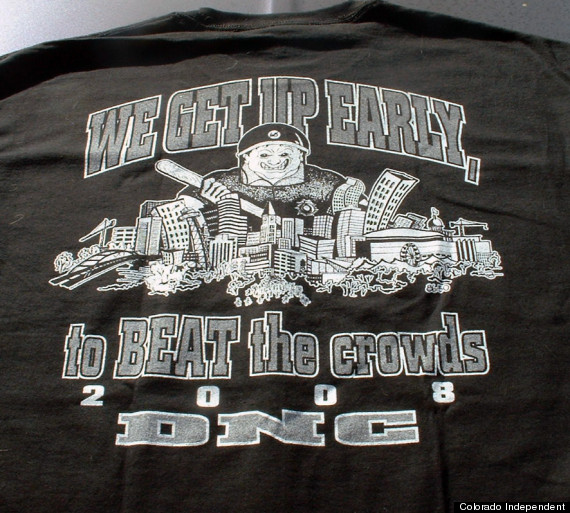 Charming, no? Police were spotted wearing similar shirts at the 2012 NATO summit in Chicago.
Just before the 1996 DNC in Chicago, a local printer made up a batch of shirts that read, "We kicked your father's ass in 1968 . . . Wait 'til you see what we do to you." The front read: "Chicago Police," and then, "Democratic National Convention Chicago--1996." The shirt wasn't endorsed by Chicago PD or the police union, but it became so popular with city cops that Chicago Mayor Richard Daley issued a warning that any officer seen wearing one would be disciplined. And not just in Chicago. The Chicago Tribune reported at the time that the shirts were also a huge hit at "Police Week," the annual convention of cops in Washington, D.C. They were such a hit in fact, that when "a Washington newspaper tried to do a story on them, the only shirt the paper could find [for sale] to photograph was a bootleg version."
In a 2011 investigative series on police shootings, the Las Vegas Review-Journal revisited a 2003 case in which LVPD Officer Brian Hartman shot and killed a man named Orlando Barlow. Hartman shot Barlow in the back, as he was on his knees, unarmed, and attempting to surrender. According to the Review-Journal, Hartman and the other officers in his unit celebrated the shooting by printing up t-shirts "depicting Hartman's rifle and the initials B.D.R.T. (Baby's Daddy Removal Team), a racially charged term and reference to Barlow, who was black and who was watching his girlfriend's children before he was shot."
That phrase, "Baby Daddy Removal Team," lives on in police culture. In 2011, officers with the Panama City, Florida, Police Department adopted the acronym as the name for their police league kickball team. You can still buy a t-shirt with the slogan from a number of online stores that sell police-themed clothing.
In 1997, police in East Haven, Connecticut, called their own softball team "Boys on the Hood," a cop-ified take on the 1991 John Singleton film. According to the New York Times, the shirts included an image of "officers pressing the heads of two grimacing gang members onto a car hood." The shirts became a source of controversy after a white officer with the department shot black motorist Malik Jones four times at close range, killing him. The officer said Jones' car was rolling backward toward him, and he feared for his life. The department has had a slew of racially-tinged incidents since, most notably in 2009, when a video of police harassment taken by a Hispanic priest was posted online and went viral. Latinos in the area had been reporting frequent incidents of police abuse, and the priest was trying to capture one such incident on camera. Instead, he was arrested. The charges were dropped when his video directly contradicted the officers' account of the incident. Meanwhile, "Boys on the Hood" continues to be a popular slogan for cop-themed t-shirts.
In 2003, officers with the Kern County, California ,Sheriff's Department went beyond t-shirts and put the slogan "We'll Kick Your Ass" directly on the department's squad cars. The sheriff later had them removed. That department too has frequently been in the headlines over the years, most recently in March after deputies beat an unarmed man to death, then attempted to seize the cell phones of witnesses who recorded the beating. It has since been alleged that they deleted some of the captured footage.
In the late 2000s, Daytona Beach, Florida, Police Chief Mike Chitwood sold t-shirts depicting his department as a "scumbag eradication team." Proceeds from the shirts went to fund a mentor program for teens who want to become cops. That department too has had its problems, including questionable dog shootings, a cop accused of shaking down a local Starbucks, and a highly-publicized incident in which an officer Tased a woman at a Best Buy store. In 2012, Florida Circuit Judge Joseph Will called Daytona Beach officers "liars" in dismissing evidence obtained during a drug search.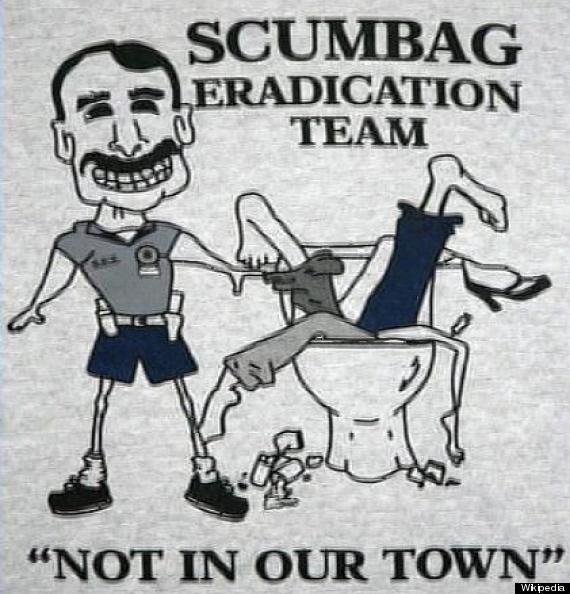 It's no coincidence that the same departments and units caught wearing shirts displaying this sort of attitude tend to also get caught up in controversial beatings, shootings, and other allegations of misconduct and excessive force. The "us vs. them" mindset has become so common in U.S. police culture that we almost take it for granted. In my new book, I argue that this is the result of a generation of incessant rhetoric from politicians who treat cops as if they were soldiers, and policies that train and equip them as if they were fighting a war. The imagery and language depicted on the shirts in these stories are little different than the way pop culture, the military, and government propaganda have depicted the citizens of the countries we've fought in wars over the years.
Within the more militarized units of police departments, the imagery can be even stronger. Former San Jose, California police chief Joseph McNamara told National Journal in 2000 that he was alarmed when he attended a SWAT team conference the previous year and saw "officers . . . wearing these very disturbing shirts. On the front, there were pictures of SWAT officers dressed in dark uniforms, wearing helmets, and holding submachine guns. Below was written: 'We don't do drive-by shootings.' On the back, there was a picture of a demolished house. Below was written: 'We stop.'" In his 1999 ethnography on police culture, criminologist Peter Kraska writes that one SWAT team member he spent time with "wore a T-shirt that carried a picture of a burning city with gunship helicopters flying overhead and the caption Operation Ghetto Storm."
More recently, the San Jose, California PD's tactical unit (McNamara retired in the 1990s) has received criticism for printing up shirts with this logo: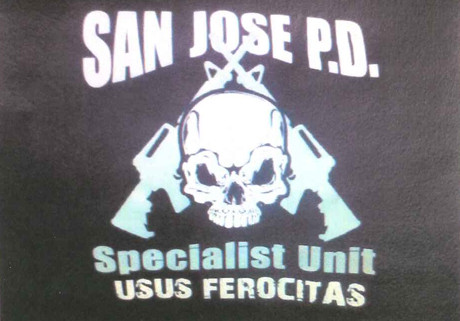 The message gets even more disturbing in the broader police culture with the gear that's marketed to cops. The police-gear retailer Bullet-50, which according to its out-of-date information page is run by San Fransisco PD officer Joseph Salazar, features shirts that label the wearer a "death dealer," and a "thug hunter."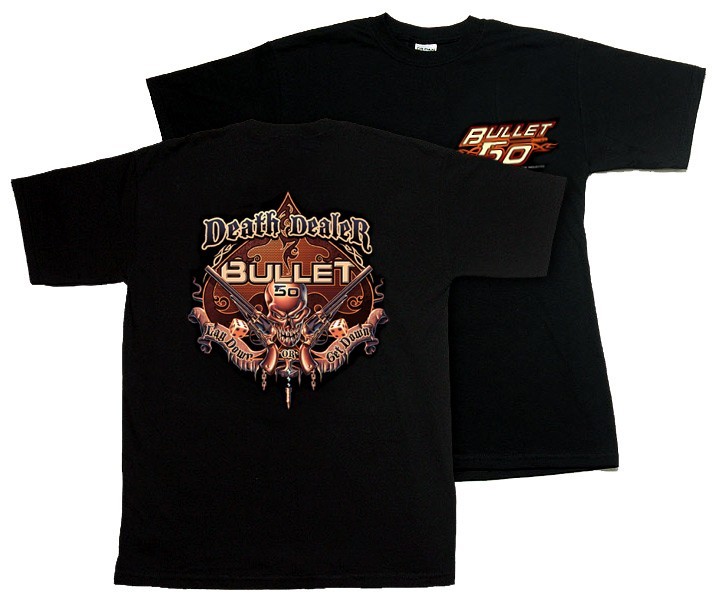 This shirt is for sale at a number of online shops that cater to police, although it's unclear if it actually originated with anyone from the Chicago Police Department: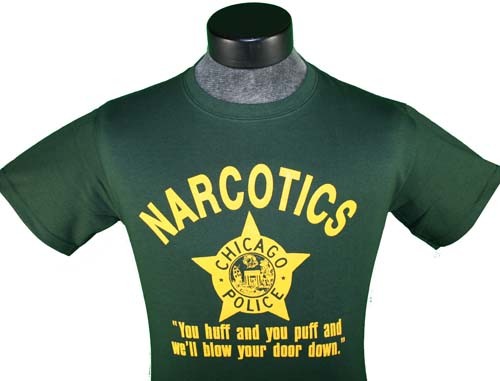 As I've reported here at HuffPost, the shirt isn't wrong -- Chicago cops will indeed blow down your door for smoking pot. And at the same time, it can be difficult to get them interested in, say, investigating an actual assault.
This comment thread at the online police forum PoliceLink has more examples of t-shirts the law enforcement commenters found amusing. Among the comments:
-- "In God we trust, all others get searched,"
-- "A picture of an electric chair with the caption: JUSTICE: Regular or Crispy"
-- "B.D.R.T Baby Daddy Removal Team on the back and the initials on front with handcuffs. You should see peoples faces when I wear it....HAHAHAHA"
-- "Human trash collector. ( above a pair of handcuffs )"
-- "Take No Guff, Cut No Slack, Hook'em, Book'em and Don't Look Back!"
-- "'Boys on the Hood' Pic had two gangbangers jacked up on the hood of a patrol car with two officers."
-- "SWAT T-shirt: 'Happiness is getting the green light!'"
-- "I have one that sates "SWAT SNIPER" on the front and on back it has a picure of a "terrorist" with a shell ripping through his skull and the "pink mist" spraying from the back of his head. Below the picture it reads, "Guerillas in the mist".
-- "Save the police time, beat yourself up"
-- "An ounce of prevention is fine and dandy........ But we prefer 168 grains of cure."
-- "Be good or you might get a visit from the bullet fairy."
-- "Sniper - When you only have 1 shot at an opportunity......We'll make it count"
-- "Law Enforcement......Helping perps slip down stairs since 1766"
-- "Math for Cops.........2 to the chest + 1 to the head = problem solved"
-- "I had a couple of 'em a loooong time ago....1 showed a cop leaning on his rather long nightstick, saying "Police Brutality....the fun part of policework."......obviously not very PC....another was a picture of a LEO with smoke coming from the muzzle of his pistol, with a badguy falling backwards (lookin' like swiss cheese) with the caption.....The best action is OVERREACTION....also not very PC...."
-- "Cops make good roommates...they're used to taking out the trash."
-- "There was also one I saw where there was a big burly looking Sarge behind his desk and the cation read 'It doesn't say kindness and sympathy on the badge.'"
-- "happiness is a confirmed kill"
-- "Park Ranger T-shirt: One of funniest I ever saw: Picture of Smokey the Bear with Riot Gear and he's just poked a protester in the chest with a riot baton. The Caption Reads: "Smokey Don't Play That". Funny!"
-- "My Daddy can Taser your Daddy"
-- "School Patrol - You fail em, we jail em"
-- "Got one that says, "You have the right to remain silent. Anything you say will be misquoted and used against you."

It's worth noting that policing is a high-stress job, and one that often puts officers in contact with some pretty awful things, and in some dangerous situations. Like other high-stress professions, and professions that encounter difficult subject matter -- defense attorneys, medical examiners, emergency room doctors and nurses -- cops often develop a morbid sense of humor. It's a coping mechanism. But it's one thing to crack jokes inside the department, or at the bar after work. It's quite another to openly advertise and promote a culture of abuse. As with most police abuse issues, the real failure here is on the part of the elected officials. They're the ones who can't resist the urge to incessantly declare "war" on things, who are responsible for setting the policies that have given rise to this culture, and who have done little to nothing to rein it in.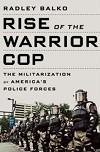 Radley Balko is author of the forthcoming book, Rise of the Warrior Cop: The Militarization of America's Police Forces.
Also on HuffPost:
Loading Slideshow
"Young L.A. Girl Slain; Body Slashed in Two" -L.A.'s Daily News

On January 15, 1947, the remains of Elizabeth Short, were found in a vacant lot in Los Angeles. What made this discovery the stuff of tabloid sensation, however, was the Glasgow smile left on the aspiring actress' face--made with 3-inch slashes on each side. This, coupled with Short's dark hair, fair complexion and reputation for sporting a dahlia in her hair, dubbed her "The Black Dahlia" in headlines. What followed was a media circus filled with rumors and speculation about the promiscuous 22-year-old's checkered past. What haunts theorists to this day, apart from the victim's uniquely nightmarish visage, is that the case remains unsolved after some 200 suspects were interviewed and ultimately released--making it one of Hollywood's most lurid legends.

"I Am Not Guilty - Thus Lizzie Borden Pleads Before Judge Hammond at New Bedford." -Boston Journal

<em>"Lizzie Borden took an axe And gave her mother forty whacks. And when she saw what she had done, She gave her father forty-one."</em> So goes the lurid nursery rhyme to one of the most mystifying crimes of the century. The nature of the deaths of Andrew J. Borden and his wife, Abby, are trumped only by the identity of the alleged perpetrator: their daughter, Lizzie. Inexplicably found "not guilty" in contrast to the era's zeitgeist of swift justice, Lizzie's legacy--guilty or not--has become immortalized as one of the most perplexing cases of parricide in history.

"Texas Mother Charged with Killing Her 5 Children" -CNN

In a case of mother-gone-mad that startled a nation, Andrea Yates, to her few friends and neighbors, was known as a mere recluse suffering from postpartum depression leading up to the birth of her fifth child. That all changed on June 20, 2001, when she snapped, drowning five of her children in their home's bathtub. She was convicted in 2002 of capital murder, carrying a sentence of life in prison with possible parole. As of July 2006, however, a Texas jury found her not guilty by reason of insanity.

"Buttafuoco Admits to Sex with Amy Fisher" -New York Times

Known as the "Long Island Lolita," Fisher became involved with Joey Buttafuoco in May of 1991. Shortly after the two began a sexual relationship (she, 16, while he, 35, was married with two children), his presence and influence in her life became all she cared for. In what he's since denied to this day, Buttafuoco would go on to help an obsessive Fisher plan the murder of his wife, culminating in Fisher putting a bullet in Mary Jo Buttafuoco's head, but failing to kill her. In the highly publicized trial that ensued, Fisher accepted a plea deal for 15 years in prison in exchange for a testimony against Joey, who faced and served out charges of statutory rape.

"Murder of a Little Beauty" -People Magazine

With a face that graced the covers of nearly every news and gossip rag during the winter of '96, it's hard to suggest the death of child beauty pageant queen JonBenét Ramsey had little effect outside the city of Boulder, Colorado. Found dead from a blow to the head and strangulation in the family's basement, coupled with a ransom note left on the staircase asking for $118,000 (conveniently or coincidentally, nearly the same amount Mr. Ramsey received as a bonus that year), as well as no obvious signs of forced entry into the house, the evidence was overwhelmingly stacked against parents John and Patsy, who managed to maintain their innocence throughout the investigation. The case reopened in 2010, but critics cite poor handling of the crime scene as obstructing what remains a mystery regarding the events of that Christmas day.

"F.B.I. Joins Probe in Slaughter of 8 Nurses" -Nashua Telegraph

Tattooed with "Born to Raise Hell" on his arm, Richard Speck made good on his mantra through a history of violence, theft, alcoholism, and spousal abuse, but made his infamy known to all when, on July 13, 1966, he walked into a dormitory armed with a knife. After leaving 8 student nurses dead in his wake, only one, Cora Amurao, was spared--hiding under a bed until 6 a.m. Speck was found guilty of murder and died of a heart attack in prison. As one of the most press-worthy crimes of the decade, the grim events were used most recently as the backdrop for an episode of <em>Mad Men</em>.

"Sharon Tate, Four Others Murdered" -Los Angeles Times

Perhaps the most terrifying figure in American crime to have never actually killed anyone himself, Charles Manson founded a "family" of wayward individuals who hailed him as a prophet. So strong was his manipulation, he ordered, on the night of Aug. 8, 1969, four of his followers to kill everyone at the residence of 10050 Cielo Drive--including Roman Polanski's wife, Sharon Tate, and her unborn child. Tate was stabbed 16 times, and her blood was used to write "pig" on the house's front door. The next night, Manson accompanied six of his family to the residence of supermarket executive Leno LaBianca and his wife, only to help bind them before ordering their deaths. In 1971, Manson and three of his fellow defendants were found guilty of murder in the first-degree and several other crimes. At the time, it was the longest murder trial in American history, spanning nine and a half months, as well as the most expensive, estimating $1 million. Manson was denied parole for the 12th time in April 2012.

"Lindbergh Baby Kidnapped from Home of Parents on Farm Near Princeton; Taken from His Crib; Wide Search on" -The New York Times

Used as the basis for an Agatha Christie novel (<em>Murder on the Orient Express</em>) and dubbed "the biggest story since the Resurrection" by famed journalist H.L. Mencken, the kidnapping and murder of aviator Charles Lindbergh's infant son continues to fascinate theorists today. Charles Jr. was discovered missing from his second-floor bedroom on March 1, 1932, along with a note demanding a then-unimaginable $50,000, igniting a media frenzy like no other. The tabloid pandemonium prompted many tips and leads, but none as concrete as a package containing the boy's pajamas and another message demanding the ransom. After some misdirection from the presumed kidnapper, Lindbergh's child was soon after discovered in the woods along a road near the family residence. Notwithstanding the evidence stockpiled against the easily vilified illegal German immigrant Bruno Hauptmann (who was sentenced), speculation prevails as to the true identity of the caper responsible in this tragic tale of one of America's greatest heroes.

"Not Guilty as Sin" -NY Post

Still fresh in the minds of many and not to easily be forgotten, the trial of Casey Anthony turned Orlando, Florida into anything but the "happiest place on earth." Following a series of lies, misdirection and manipulation by then-22 year old Casey, Caylee's skeletal remains were found five months into the investigation, setting the stage for what could only be described as the most incessantly publicized and shocking trial in recent memory. The media had a field day that went on for months: Highlighting the young, pretty, party girl image used against her in court as the prosecution tore apart an aimless defense--or so it seemed. After resorting to throwing her family under the bus, incriminating people entirely made-up ("Zanny the Nanny"), and fabricating elaborate stories for the police, Casey was found not guilty of murder due to evidence deemed mostly circumstantial and not meeting the burden of "beyond reasonable doubt," inciting much debate regarding whether true justice was served.

"An American Tragedy" -TIME

Known and heralded as the "trial of the century," former football star and actor O.J. Simpson found himself in the middle of the nation's biggest, most-televised trial following the deaths of his ex-wife Nicole Brown Simpson and her friend Ron Goldman, but not before fleeing an all-points bulletin in his Ford Bronco with 20 units in tow, interrupting game 5 of the NBA Finals. By enlisting a dream team including Johnnie Cochran, Robert Shapiro, and Robert Kardashian, the defense claimed Simpson was merely a victim of police fraud with regard to contaminated DNA evidence, while famously quipping "If it [the glove] doesn't fit, you must acquit." On October 3, 1995, an estimated 100 million people from around the world tuned in to watch the jury hand down a verdict of not guilty, consequently resulting in an estimated loss of $480 million in productivity and inciting an ongoing discussion of race in the judicial system that continues to this day.