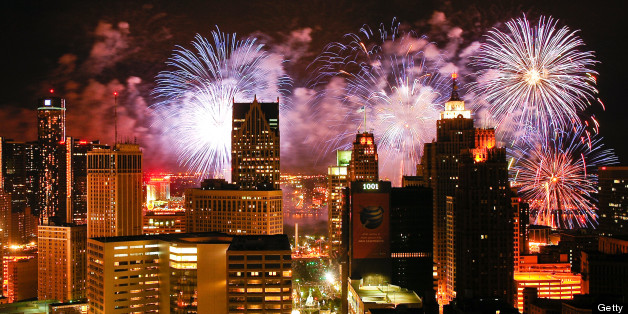 The Motor City has always had a special relationship with Canada, at least after that whole War of 1812 thing. And the 55th annual Detroit fireworks, the traditional spectacle that lights up the sky over the Detroit River, is the perfect example of the city's bond with Windsor.
Case in point: Detroit is lighting the fuses Monday. It might strike some as odd that the Independence Day celebration typically occurs more than a week early, but it's all about compromise. Of of the approximate million spectators watching the sky from both sides of the river, many will be there to celebrate Canada Day, which takes place on Monday, July 1.
This Monday's show, organized by the Parade Company, begins at 10:06 p.m., lasts just over 20 minutes and will include 10,000 fireworks. The ending is a little less certain, however: Parade Company President and CEO Tony Michaels told the Detroit Free Press that people should prepare for a surprise.
"They only thing we can really say is at the end ... you're going to have to make a decision," he told the paper. "Should you stay or should you go? Was that the end or wasn't it?"
The fireworks are newly sponsored by Ford, which announced a multi-year partnership with the Parade Company this year, and presented by Target. But they're helping out across the river too: last week, the Downtown Windsor Business Improvement Association presented Detroit Mayor Dave Bing with a check for $5,200 Canadian. Thanks, Canada!
The Detroit Police Department expects to spend about $144,000 on labor costs, a savings of more than 60 percent over last year. According to the city, that's only possible because new 12-hour shifts for the department result in less overtime costs. In addition, other law enforcement agencies including the Michigan State Police have donated resources, saving another $164,000 for the city.
However, security is tighter this year, with April's Boston Marathon bombing cited as one of the reasons. Belle Isle and Hart Plaza won't be open until 2 p.m., and backpacks and coolers will be searched for weapons and alcohol.
Though there's a chance of thunderstorms Monday, the weather will be plenty hot, with temperatures still possibly as high at the low 80s by the evening.
If all the traffic, excitement and loud noises sound like a headache, you can always watch the fireworks live on WDIV (or listen to them on radio station 760 WJR -- really). But while the fireworks are sure to still look stunning on television -- see last years's show below -- nothing compares to the real deal.
SUBSCRIBE AND FOLLOW
Get top stories and blog posts emailed to me each day. Newsletters may offer personalized content or advertisements.
Learn more