Blackhawks Celebration: Beer, Champagne Flow In Locker Room After Stanley Cup (VIDEO/PHOTOS)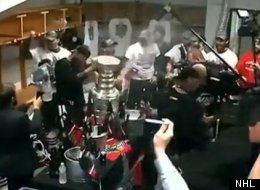 The Chicago Blackhawks may have been far from home when they hoisted the Stanley Cup, but the friendly confines of the visitors' locker room at TD Garden seemed to have provided a suitable spot for a celebration.
After receiving the Cup from NHL Commissioner Gary Bettman on the ice following a stunning rally in the late moments of Game 6, the Blackhawks eventually made their back to their dressing room. With the champagne and beer already on ice, they raised a few bottles, cans and glasses along with that very special Cup.