Here's some advice from a millennial to her parents on the top iPhone apps out there today.
1) Vine
This app allows parents to make home videos from their iPhones and share them with family and friends. Last I checked, parents love making home videos of family events and landmarks so this app is perfect for parents! Plus, each video captures only seven seconds meaning that parents will post only the highlights online. Your Vine profile could eventually become an entire album of family videos! Or parents can make hilarious shorts that will leave their kids rolling over the floor laughing like this hilarious dad did:

2) groupme
Am I the only person who has a family thread that goes off a bazillion times per minute distracting me from whatever I am doing anytime ever? I have long suggested groupme for the family, and my proposal has long been rejected by the adults in my family. PARENTS, get in on this. After you download the app, it's not more complicated than iMessage. Unlike iMessage, which just pops up on your phone, you can separate your group chats into different categories, and look at them when you have time. Downloading this app will definitely be a great gift to your children.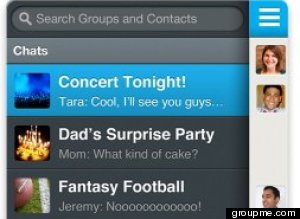 3) Instagram
Everyone on the Internet could really exercise more control. No one wants to see 75 pictures of Tamara in Israel including 30 selflies and another 30 stunning landscape shots. They might want to see one landscape shot and one picture of Tamara. And that, parents, is why so many teenagers have turned to Instagram and left Facebook. You can only download one picture at a time, preventing people from downloading entire albums of entirely boring pictures. A recently added feature that makes Instagram even better: users can now upload 15-second videos... and add filters. Plus, Instagram is a great medium for posting pictures (and now videos) in celebration of birthdays and other holidays including Mother's Day and Father's Day. Follow this father's lead. He posted the picture below on his son's 20th birthday captioning the image, "Shave like a man, son."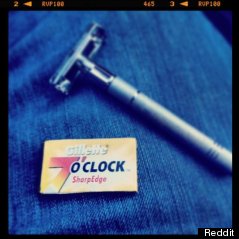 4) snapchat
My mom already jumped on the snapchat bandwagon and more parents should. Snpachat is soooo fun! You can send silly, ridiculous photos to your friends and family that delete after one to 10 seconds depending on how long you set the timer for. It's a really easy and fun way for families to keep in touch. Plus, your kids will be pleasantly surprised when they open up their snapchat account and see this on their iPhone screen: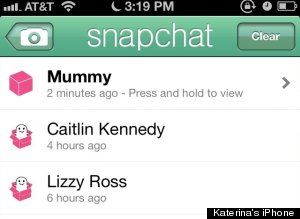 5) foursquare
Moms, dads: this app will revolutionize how you keep track of your children. Your kids can check into locations when they get there using the iPhone's built-in GPS, so you will know where your kids really are all the time. If your kids add #mom to the end of their check-in, mom will receive an automatic phone call or text message alerting her that the kids have arrived at their destination.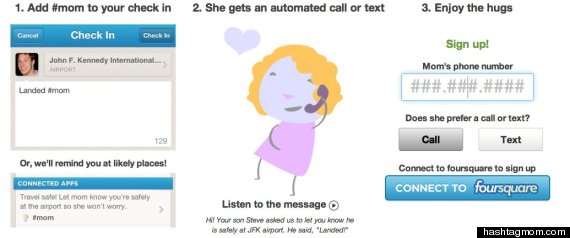 6) Songza
You're really going to say no to thousands of organized playlists? This app spoils you by catering playlists to your specific needs based on the day of the week, the weather, the season, your activity and music preferences. One word: brilliant.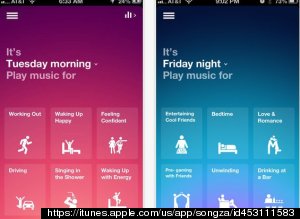 7) Optimum
How often do you struggle to find the remote control in your house? You regularly search your house to no avail. If you have optimum, put an end to that strife. Each member of your family can control the TV from his or her phone through the Optimum app. It's a remote control on your telephone!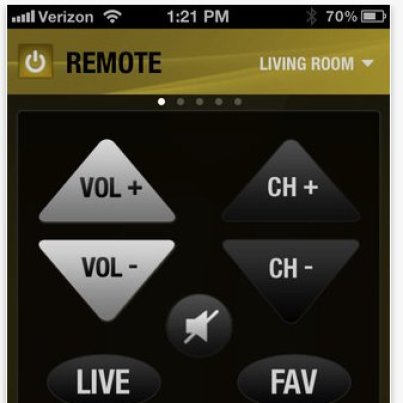 8) Venmo
Talk about a revolutionary app. Using Venmo, you can pay other users with your iPhone by simply linking venmo to your online banking account. Some people pay their bills through Venmo while others use the app send money to their kids at college. What's more? Venmo has a social component that lets you "like" and comment on transactions between friends. Check it out.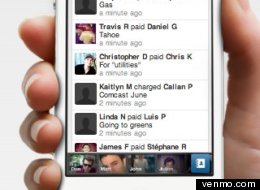 9) Nike Training Club
It's a personal trainer on your iPhone... and unlike any trainer outside the cyber world, it's totally free. This app provides over 100 custom-built workouts. You set your workouts to playlists from your own music library and audio guidance will motivate you while you move.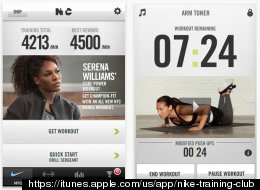 Earlier on HuffPost:
Loading Slideshow
1. Give It To Your Kids So They Stop Taking Yours...

Every parent, aunt and uncle knows that no toy in the history of toys has ever been as appealing to a kid as an iPhone. They are shiny, they have games and grown-ups use them for important things. More importantly, they are either off-limits or doled out in limited quantities as a reward for, say, sitting still for a minute. Load up your old iPhone with games and give it to a deserving child in your life.

2. ...Or To Your Mom So She Can Finally See The Light

Alternately, if a Luddite adult has been thinking of taking the plunge into the world of smartphones, your old iPhone may help him or her get over the hump. If you have an iPhone 4 or 4S, you might also find someone who's still hanging on to an earlier model and give them the gift of an upgrade. You may just buy a friend for life (or at least until iPhone 6 comes out).

3. Use It As A Teeny-Tiny iPad

You'll be able to watch videos, send email and search Wikipedia for random facts to end cocktail-party disagreements with your decommissioned iPhone -- as long as you have a Wi-Fi connection. There's even a camera, which means you can avoid being that guy (or gal) at the concert who's turning heads for taking photos with an iPad.

4. Donate To Charity

Several charities accept old phones for donation, though it's worth remembering that these groups likely won't physically give your old phones to people in need. Rather, they work with phone recyclers and sell your donated phones to them. A nonprofit group called Cell Phones for Soldiers will take your "gently used" phone and sell it to recycling company ReCellular. It will then use the proceeds to buy calling cards for soldiers. The National Coalition Against Domestic Violence works with another recycling group in a similar manner. About 60 percent of the phones it collects are refurbished and resold. The money goes toward supporting the coalition. The remaining 40 percent of the phones are recycled, according to the group's website. It pays for shipping if you are mailing three or more phones. There are a few more suggestions from New York's Department of Environmental Conservation at: http://www.dec.ny.gov/chemical/8818.html .

5. Alarm Clock

Do you still use that old radio alarm you bought for your college dorm room in the 20th century? Join the 21st century by turning your old iPhone into an alarm clock. Hide it in a different spot in your bed each night for an added challenge.

6. Sell, Sell, Sell!

Join the eBay hordes and sell your phone for a few hundred bucks if you can. There will likely be a flood of the gadgets soon after people start getting their new phones, so it might make sense to wait a little. A company called Gazelle, meanwhile, will make an offer for your old phone based on its condition, your phone carrier and other information. A 32 gigabyte iPhone 4S on Verizon Wireless, for example, was recently going for $237 if it's in good condition and $90 if it's broken.

7. Trade In At GameStop

The video game retailer offers cash or store credit for old iPhones (along with iPods and iPads). The service is only available in stores and not online. A 32 gigabyte iPhone 4S on Verizon will get you up to $335 in store credit or up to $268 in cash.

8. Stream Music

Stick that baby in a speaker dock, spring for a Pandora subscription ($36 per year) or Spotify ($10 per month) and bam, you have a stereo. Or try SoundCloud. Although it's meant to let you create and share music with people, it's also a good place to listen to DJs you like or discover new ones. TuneIn, meanwhile, will let you listen to online radio stations playing music, sports, news or talk shows.

9. Keep As A Backup In Case You Lose Your Fancy New One.

Nearly one-third of cellphone owners have had their gadgets lost or stolen, according to a recent survey from Pew Internet & Pew Internet & American Life Project.

10. Use As A Camera

At its core, a decommissioned iPhone is a hard drive with a camera. Snap photos with it. No Canon needed. You can also use the iPhone to move photos and other files from one computer to another.

11. Recycle With Apple

Apple Inc.'s own recycling program will give you an Apple gift card if it is determined to have a "monetary value." A 32 gigabyte iPhone 4S with some light scratches but in good working condition was recently estimated at $280. That's higher than Gazelle, but you'll have to spend the money at Apple. The company also accepts broken phones for recycling but you won't get any money for them.