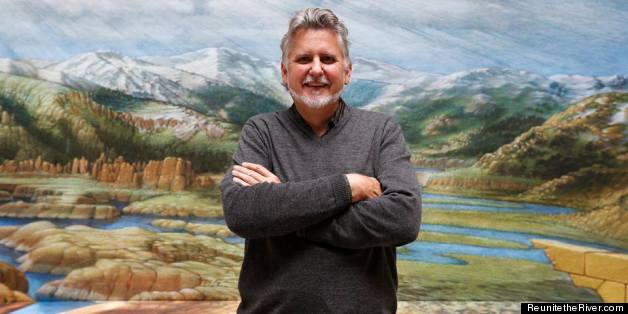 ReunitetheRiver.com
Travelers who spotted the Colorado River running through Chicago's Union Station Wednesday may have thought their eyes were playing tricks on them.
Indeed, trompe l'oeil or tricks of the eye were afoot as famed 3-D artist Kurt Wenner installed his latest whimsical chalk drawing — an enormous representation of the Colorado River — in the Great Hall to raise awareness and support for water conservation efforts.
According to the RedEye, Wenner's piece measuring 32 feet by 64 feet was originally set for a one-day showing in Pioneer Court along the Chicago River on Michigan Avenue, but inclement weather forced the installation indoors.
"The idea is that what is happening is global, many places are getting water shortages. Today we had so much rain here you couldn't believe it, people are flooded out, so it would be easy to say, "Look at all this water, what shortage?"

But at the same time, other places are drying out, regardless if wherever you are standing right now has enough water or not. It's a global issue. If you eat salad with your lunch it could have easily come from California, grown with water from the Colorado River, which is a major reason why the river no longer reaches the ocean. That could be true in New York, Washington, or really anywhere else."
In 2010, Wenner's elaborate depiction of a farm scene helped support Greenpeace's efforts to protest genetically engineered foods in the European Union, according to National Geographic.
FOLLOW HUFFPOST