Just in time for your Fourth of July party, Bayou Bakery brings you... the Boozicle: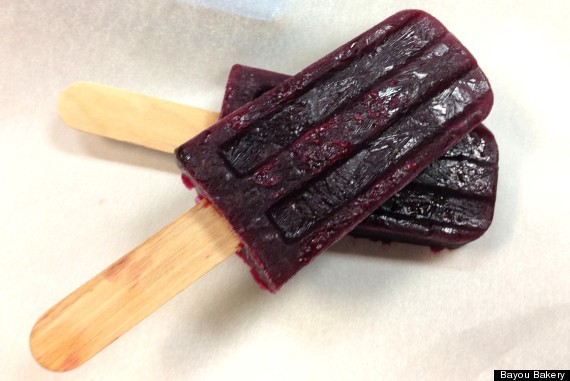 Bayou's boozy popsicle debuted Thursday in "ScrewBerry" (think of a blueberry screwdriver) -- blueberries, oranges and vodka blended and frozen into a perfect summer snack.
Expect more flavors -- Berry Coolada! Rum Bananas Foster! -- to be introduced throughout the summer.
If you decide to make your own boozy popsicles at home, keep in mind that a proper alcohol-to-mixer ratio is key for freezing:
A good rule of thumb is to make your ice pop mixture 15-20% alcohol, or 1 part booze to no more than 4 parts mixer. This measurement is for the hard stuff, so if you're using wine, you can use more.
Get the Melon Berry Diablo Cocktail Popsicle recipe by Bakers Royale With a popsicle this colorful, how could you not want one? And when you know there's booze in them too, they become even more appealing.

Get the Watermelon-Mint Tequila Popsicles recipe by Hungry Girl Por Vida You'll be amazed at how well tequila and watermelon go together -- they make for a refreshing combination.

Get the Red Wine Fudgesicles recipe by A Beautiful Mess This idea is genius. We all know that red wine and chocolate go perfectly together, why wouldn't we add wine to our beloved fudgesicles?

Get the Blueberry Basil Martini Pops recipe by Creative Culinary Blueberry cocktails are great when they're freshly in season, and turning them into frozen popsicles makes them even better.

Get the Watermelon Mojito Pops recipe by The Shiksa in the Kitchen A different take on a fruit popsicle, the watermelon is infused with rum and mint extract and then frozen.

Get the Beet Vodka with Mint Pom-Pop recipe by Metropochri Vodka-infused beets and mint simple syrup make up these lightly boozed, deep red pops.

Get the Dark and Stormy Cocktail Popsicle recipe by Bakers Royale Dark and story fans, you're in luck. There now exists a popsicle with your name all over it.

Get the French 75 Popsicles recipe by Petite Kitchenesse A French 75 is a smooth and elegant drink which translates well into popsicle form.

Get the Honeydew Cucumber Margarita Popsicle recipe by Bakers Royale Refreshing cucumber and soothing melon are mixed with tequila, triple sec and lime juice.

Get the Boozy Blueberry Pop recipe by Channeling Contessa A little bit of lime, orange and vodka, and a whole lot of blueberries, make up this boozy popsicle recipe.

Get the Berry Cocktail Popsicles recipe by Blonde Latte Strawberries shine in this boozy pop. Spiked with blueberry vodka, they're refreshing on a hot summer day.

Get the Boozy Bellini Popsicles recipe by E is for Eat If you love a bellini when served in a tall champagne glass, you'll adore it in the form of a popsicle.

Get the Cherry Limeade Popsicles recipe by spabettie You can make these citrusy pops with ur without the vodka -- but why would you want to omit the booze?