Naan Pizza At Spice 6 Is Worth Leaving The City To Try
We didn't think we needed another reason to love pizza but Spice 6 in Hyattsville, Md., just gave us one: Indian pizza.
The assembly-line concept is familiar to fans of Chipotle, Roti and Sweetgreen: Choose your base, pick a protein, add a curry and vegetable toppings. Sprinkle cheese over the whole thing, pop it in the oven and less than two minutes later -- pizza!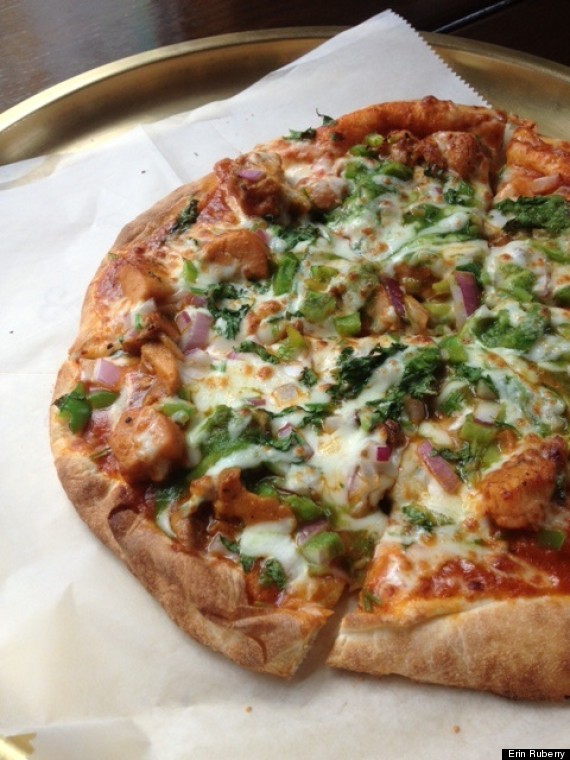 The secret here is the freshness of the ingredients. Naan is baked on-site (and in view of diners) in a tandoori oven, the curries and chutneys are homemade and even the yogurt for mango lassis is made fresh daily.
Spice 6 isn't the first customizable Indian eatery in town -- Merzi in Gallery Place comes to mind -- but the idea of naan pizza is a unique twist. Owner Vik Singh was inspired after working at a pizza place and experimenting with Indian toppings. A year ago, he brought in chef Upendra Thapaliya from Nepal and Spice 6 was born.
The menu also includes wraps, salads and rice bowls, along with samosas and other savory snacks. Right now, the only Spice 6 is in Hyattsville but Singh doesn't rule out expanding to other locations in the future.
Sorry, jumbo slice. This is one pizza worth leaving the city to try.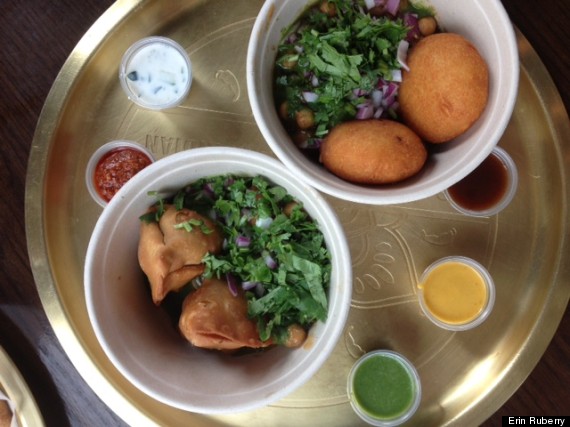 Love pizza? You need this:
The Best Pizza Swag On Etsy
Pizza Pie Rubber Stamp, $12.00 on Etsy

Pizza Cat Tee, $24.00 on Etsy

Pizza Party Shorts, $42.00 on Etsy

Pizza Piñata, $47.00 on Etsy Okay, NOW IT'S A PARTY.

Pizza Necklace, $15.00 on Etsy

All Seeing Eye Pizza Slice Sleeveless T-Shirt, $32.99 on Etsy

Crochet Pizza Fingerless Gloves, $14.00 on Etsy

I Want Pizza Crewneck, $25.00 on Etsy

Pepperoni Pizza Natural Lip Balm, $3.89 on Etsy

Crochet Pizza Rug, $79.36 on Etsy

Whole Pizza Temporary Tattoo, $1.00 on Etsy

Felt Pizza Party Set PDF Pattern, $6.99 on Etsy DIY pizza swag!

Miniature Pizza Slice Earrings, $8.00 on Etsy

New York Style Pizza Slice Soap, $8.50 on Etsy GUYS, THIS IS SOAP.

Pizza With Floating Olive Oil Ring, $18.00 on Etsy We know this is totally impractical. BUT IT'S SO CUTE.

Pepperoni Pizza Scarf, $25.00 on Etsy

Pizza Cameo Ring, $7.77 on Etsy

Pizza Leggings, $56.00 on Etsy Whoa, guys.

Pizza Heart Earrings, $12.00 on Etsy

Pizza Party Nails, $6.00 on Etsy

Pizza Slice Shoes, $18.00 on Etsy Guys, these are only $18.00. Some tiny-footed person, please buy these so we can live vicariously through you!

Pizza Scented Soap, $6.95 on Etsy

Pizza Slice iPhone 5 Case, $15.50 on Etsy

Pizza Thong, $10.00 on Etsy Yep, this is real.

Pizza Tie Clip, $29.75 on Etsy

Silver Pizza Ring, $4.00 on Etsy

Slice of Pizza Sleeping Bag with Optional Veggie Pillows, $200.00 on Etsy Only serious pizza lovers need apply.