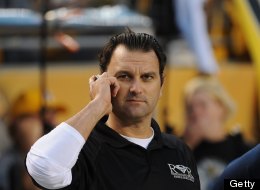 By Jose Martinez, Complex Sports
Let this video be a message to Jay-Z, if he continues to possibly steal away his clients, Drew Rosenhaus isn't Scott Boras. He's not afraid to get down and dirty.
Clearly, Rosenhaus is OK with wrestling sharks, so you know anything is possible.
But for real though, c'mon Drew, with the money you pull in from your clients, why don't you just chill at the beach and enjoy a drink?
WATCH VIDEO ABOVE
[via The Big Lead]