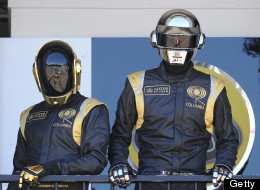 The following article is provided by Rolling Stone.
Nile Rodgers will be collaborating with Daft Punk again to complete previously unreleased Chic and solo material, he has revealed. Rodgers, the Chic guitarist and dance music pioneer, loaned his talents to Daft Punk on their Random Access Memories hit "Get Lucky," which he helped write and record.
LINK: Rolling Stone's List of the 25 DJ's That Rule The Earth: Daft Punk
Rodgers told DJAZZtv that he recently discovered unreleased masters in the Warner Music tape library that include personal solo tracks, film scores and Chic material, along with "Chic tracks that were not designed for any project except for the guys working with me writing songs," he explained. The guitarist/producer says that he plans to finish and release some of the tracks and that Daft Punk will be part of the process.
LINK: Rolling Stone's List of the 25 Greatest Rock Memoirs Of All Time: 'Le Freak'
"Daft Punk wants to do at least one of them with me, so that should be very cool," Rodgers said. "Because they respect the music. They understand."
LINK: Rolling Stone's Most Revealing Interview with Daft Punk
LINK: Rolling Stone's List of the 30 Greatest EDM Albums of All Time
LINK: In Photos: Nile Rodgers: C'est Chic
In this April 17, 2013 photo, Thomas Bangalter, left, and Guy-Manuel de Homem-Christo, from the music group, Daft Punk, pose for a portrait in Los Angeles. The electronic duo's new studio album, "Random Access Memories" releases in the US on May 21, 2013. (Photo by Matt Sayles/Invision/AP)

This picture taken on May 17, 2013 shows fans attending the launch of French group Daft Punk's new album in Australia's tiny town of Wee Waa. Wee Waa, better known for cotton-picking than culture, was relishing the limelight as thousands of electo-pop fans descended for French group Daft Punk's album launch. The cotton town's population will more than double for the event, being billed as an 'official album playback', with 4,000 tickets sold and police expecting crowds of up to 6,000. AFP PHOTO / Shanna Whan (Photo credit should read SHANNA WHAN/AFP/Getty Images)

Fans while wearing Daft Punk helmets arrive at the venue prior to the French group Daft Punk's album launch in Australia's tiny town of Wee Waa on May 17, 2013. Wee Waa better known for cotton-picking than culture was relishing the limelight as thousands of electo-pop fans descended for French group Daft Punk's album launch. The cotton town's population will more than double for the event -- being billed as an 'official album playback' -- with 4,000 tickets sold and police expecting crowds of up to 6,000. AFP PHOTO / Shanna Whan (Photo credit should read SHANNA WHAN/AFP/Getty Images)

Fans arrive at the venue to witness the French group Daft Punk's album launch in Australia's tiny town of Wee Waa on May 17, 2013. Wee Waa better known for cotton-picking than culture, was relishing the limelight as thousands of electo-pop fans descended for French group Daft Punk's album launch. The cotton town's population will more than double for the event -- being billed as an 'official album playback' -- with 4,000 tickets sold and police expecting crowds of up to 6,000. AFP PHOTO / Shanna Whan (Photo credit should read SHANNA WHAN/AFP/Getty Images)

Fans while wearing Daft Punk helmets wait for their order at a cafeteria prior to the French group Daft Punk's album launch in Australia's tiny town of Wee Waa on May 17, 2013. Wee Waa better known for cotton-picking than culture was relishing the limelight as thousands of electo-pop fans descended for French group Daft Punk's album launch. The cotton town's population will more than double for the event -- being billed as an 'official album playback' -- with 4,000 tickets sold and police expecting crowds of up to 6,000. AFP PHOTO / Shanna Whan (Photo credit should read SHANNA WHAN/AFP/Getty Images)

This picture taken on May 17, 2013 shows fans attending the launch of French group Daft Punk's new album in Australia's tiny town of Wee Waa. Wee Waa, better known for cotton-picking than culture, was relishing the limelight as thousands of electo-pop fans descended for French group Daft Punk's album launch. The cotton town's population will more than double for the event, being billed as an 'official album playback', with 4,000 tickets sold and police expecting crowds of up to 6,000. AFP PHOTO / Shanna Whan (Photo credit should read SHANNA WHAN/AFP/Getty Images)

This picture taken on May 17, 2013 shows fans attending the launch of French group Daft Punk's new album in Australia's tiny town of Wee Waa. Wee Waa, better known for cotton-picking than culture, was relishing the limelight as thousands of electo-pop fans descended for French group Daft Punk's album launch. The cotton town's population will more than double for the event, being billed as an 'official album playback', with 4,000 tickets sold and police expecting crowds of up to 6,000. AFP PHOTO / Shanna Whan (Photo credit should read SHANNA WHAN/AFP/Getty Images)

This picture taken on May 17, 2013 shows fans attending the launch of French group Daft Punk's new album in Australia's tiny town of Wee Waa. Wee Waa, better known for cotton-picking than culture, was relishing the limelight as thousands of electo-pop fans descended for French group Daft Punk's album launch. The cotton town's population will more than double for the event, being billed as an 'official album playback', with 4,000 tickets sold and police expecting crowds of up to 6,000. AFP PHOTO / Shanna Whan (Photo credit should read SHANNA WHAN/AFP/Getty Images)

Fans with Daft Punk helmets pose for pictures on the eve of French group Daft Punk's album launch in Australia's tiny town of Wee Waa on May 17, 2013. Wee Waa better known for cotton-picking than culture, was relishing the limelight as thousands of electo-pop fans descended for French group Daft Punk's album launch. The cotton town's population will more than double for the event -- being billed as an 'official album playback' -- with 4,000 tickets sold and police expecting crowds of up to 6,000. AFP PHOTO / Shanna Whan (Photo credit should read SHANNA WHAN/AFP/Getty Images)

Fans arrive at the vanue to witness the French group Daft Punk's album launch in Australia's tiny town of Wee Waa on May 17, 2013. Wee Waa better known for cotton-picking than culture, was relishing the limelight as thousands of electo-pop fans descended for French group Daft Punk's album launch. The cotton town's population will more than double for the event -- being billed as an 'official album playback' -- with 4,000 tickets sold and police expecting crowds of up to 6,000. AFP PHOTO / Shanna Whan (Photo credit should read SHANNA WHAN/AFP/Getty Images)

This CD cover image released by Columbia Records shows "Random Access Memories," the latest release by Daft Punk. (AP Photo/Columbia Records)

FILE - In this Dec. 11, 2010 file photo, musician Guy-Manuel de Homem-Christo, left, and musician Thomas Bangalter of the duo Daft Punk arrive at the premiere of the feature film "Tron: Legacy" in Los Angeles. Daft Punk's "Get Lucky_Radio Edit" was the most viral track on Spotify, based on the number of people who shared it divided by the number who listened to it, from Monday, April 2, to Sunday, April 28, via Facebook, Tumblr, Twitter and Spotify. It was also the most streamed tracks on Spotify. (AP Photo/Dan Steinberg)

Staff of a cafe busy in a customer order while wearing Daft Punk helmets prior to the French group Daft Punk's album launch in Australia's tiny town of Wee Waa on May 17, 2013. Wee Waa better known for cotton-picking than culture, was relishing the limelight as thousands of electo-pop fans descended for French group Daft Punk's album launch. The cotton town's population will more than double for the event -- being billed as an 'official album playback' -- with 4,000 tickets sold and police expecting crowds of up to 6,000. AFP PHOTO / Shanna Whan (Photo credit should read SHANNA WHAN/AFP/Getty Images)

This picture taken on May 17, 2013 shows a fan wearing a helmet during the launch of French group Daft Punk's new album in Australia's tiny town of Wee Waa. Wee Waa, better known for cotton-picking than culture, was relishing the limelight as thousands of electo-pop fans descended for French group Daft Punk's album launch. The cotton town's population will more than double for the event, being billed as an 'official album playback', with 4,000 tickets sold and police expecting crowds of up to 6,000. AFP PHOTO / Shanna Whan (Photo credit should read SHANNA WHAN/AFP/Getty Images)

This picture taken on May 17, 2013 shows fans attending the launch of French group Daft Punk's new album in Australia's tiny town of Wee Waa. Wee Waa, better known for cotton-picking than culture, was relishing the limelight as thousands of electo-pop fans descended for French group Daft Punk's album launch. The cotton town's population will more than double for the event, being billed as an 'official album playback', with 4,000 tickets sold and police expecting crowds of up to 6,000. AFP PHOTO / Shanna Whan (Photo credit should read SHANNA WHAN/AFP/Getty Images)

BRISBANE, AUSTRALIA - DECEMBER 20: Daft Punk performs on stage at the City Botanic Gardens on December 20, 2007 in Brisbane, Australia. (Photo by Bradley Kanaris/Getty Images)

Nominee for Album of the Year, Nominee for Best Rap Solo Performance and Nominee for Best Rap Album Kanye West performs with Daft Punk at the 50th Grammy Awards in Los Angeles on February 10, 2008. AFP PHOTO/Robyn BECK (Photo credit should read ROBYN BECK/AFP/Getty Images)

BRISBANE, AUSTRALIA - DECEMBER 20: Daft Punk performs on stage at the City Botanic Gardens on December 20, 2007 in Brisbane, Australia. (Photo by Bradley Kanaris/Getty Images)

BRISBANE, AUSTRALIA - DECEMBER 20: Daft Punk performs on stage at the City Botanic Gardens on December 20, 2007 in Brisbane, Australia. (Photo by Bradley Kanaris/Getty Images)

BRISBANE, AUSTRALIA - DECEMBER 20: Guy-Manuel de Homem-Christo and Thomas Bangalter of Daft Punk perform on stage at the City Botanic Gardens on December 20, 2007 in Brisbane, Australia. (Photo by Bradley Kanaris/Getty Images)

BRISBANE, AUSTRALIA - DECEMBER 20: Daft Punk performs on stage at the City Botanic Gardens on December 20, 2007 in Brisbane, Australia. (Photo by Bradley Kanaris/Getty Images)

BRISBANE, AUSTRALIA - DECEMBER 20: Guy-Manuel de Homem-Christo and Thomas Bangalter of Daft Punk perform on stage at the City Botanic Gardens on December 20, 2007 in Brisbane, Australia. (Photo by Bradley Kanaris/Getty Images)

BRISBANE, AUSTRALIA - DECEMBER 20: Guy-Manuel de Homem-Christo and Thomas Bangalter of Daft Punk perform on stage at the City Botanic Gardens on December 20, 2007 in Brisbane, Australia. (Photo by Bradley Kanaris/Getty Images)

BRISBANE, AUSTRALIA - DECEMBER 20: Guy-Manuel de Homem-Christo and Thomas Bangalter of Daft Punk perform on stage at the City Botanic Gardens on December 20, 2007 in Brisbane, Australia. (Photo by Bradley Kanaris/Getty Images)

BRISBANE, AUSTRALIA - DECEMBER 20: Daft Punk performs on stage at the City Botanic Gardens on December 20, 2007 in Brisbane, Australia. (Photo by Bradley Kanaris/Getty Images)

LAS VEGAS - OCTOBER 27: The audience watches Daft Punk during the Vegoose music festival at Sam Boyd Stadium's Star Nursery Field October 27, 2007 in Las Vegas, Nevada. (Photo by Karl Walter/Getty Images)