Food Informants is a week-in-the-life series profiling fascinating people in the food world. We hope it will give you a first-hand look at the many different corners of the food industry. Know someone who would make a great Food Informant? Tell us why.
Dominique Ansel served as the Executive Pastry Chef for Restaurant Daniel under chef Daniel Boulud for six years. During his tenure, the restaurant won its first 3-star Michelin rating, a 4-star New York Times review and James Beard's Outstanding Restaurant of the Year Award in 2010. In 2013, Chef Ansel received his own James Beard Award nomination as a finalist for Outstanding Pastry Chef at his eponymous bakery.
It's a long way from home for the chef, who grew up near the north of Paris as the youngest of four children. It was his father, Dominique Ansel (Senior), who first sparked his interest in cooking. At 16-years-old, Dominique (Junior) began his formal culinary training, taking a break for compulsory military training and later returning to joining the ranks of the legendary French pastry institution, Fauchon. At Fauchon, Dominique spent 7 years traveling the world to open shops in places ranging from Egypt to Russia to Kuwait.
Today, Dominique has been named one of the "Top 10 Pastry Chefs in the United States" by Dessert Professional Magazine in 2009. In 2010, Dominique was chosen by Time Out New York as one of the city's "Top Ten Pastry Chefs You Need to Know." He also received the award for the Best Dessert Menu in the US by Pastryscoop.com in 2007. An active part of New York's dining scene, Dominique's work is featured in multiple cookbooks and magazines.
Read more about how Dominique handles the massive crowds waiting in line for a cronut.
Monday, July 1
3:30am: Wake up. When you're up this early, you get to see a lot of suits and miniskirts doing the "walk of shame." Always makes me laugh a bit.
4:00am: When I arrive at the bakery there are two girls lying on the doorstep sleeping and waiting for Cronuts. My landlord tells me that sleeping on the doorway of a building entrance is actually illegal, but it's my entrance and they're not really bothering me so I kind of lightly tiptoe over them. "Did you step over those girls?" asks my Chef de Partie when I get in. Guess he did too.
4:15am – 8:00am: Run, run, run! Between now and when doors open, we are producing all fresh batches of viennoiserie items: the croissants, cannelés, DKA (our version of the kouign amann), more than 10 tarts and cakes to assemble and plate. And yes -- a couple hundred Cronuts. People are so particular about the exact number of Cronuts, but it's not the way cooking works. Sometimes there are casualties in the fryer; sometimes you have a little more. We're not a factory…we're still just a kitchen.
6:30am: The crew from France's Channel M6 arrive to film the line and some b-roll of the kitchen. They tell me I now speak French with an American accent.

7:00am: Starting from 7am at 20 minute intervals, we send staff out to thank the customers waiting in line and explain to them the process. "Two Cronuts per person… Please be kind and quiet to the neighbors…Thank you for visiting us today." By now, the line has gone down half a block and around the corner. We send out piping hot batches of made-to-order madeleines for the customers to try. A pregnant lady in line looks very hot and uncomfortable, and one of the baristas brings out some ice water for her and anyone else. We give her baby one of our bakery bib gifts that say "What the French?!" on it and she cheers right up. It's the first day we're launching the July flavor for Cronut, which is blackberry, so I see a lot of folks in line who already tried the May and June Cronut.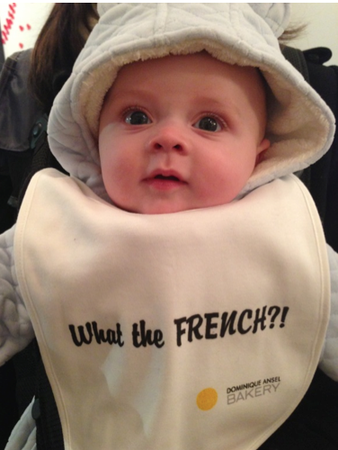 8:00am: Every day at 8am, I open the doors myself and welcome in the line. It's been almost 4 hours of intense kitchen work for us, and I'm a sweaty mess, but I'm always happy to see everybody. Sometimes they applaud, sometimes they just scream "CRONUTSSS!!!" I take some pretty ugly and sleepy photos with my uncombed hair and three day old beard. Just really grateful everyone came out.
8:00am – 9:30am: I help with the front of house staff to package and serve the customers. They're not all there for Cronuts and actually pick up a lot of other pastries and items, so I explain my favorites. Right now, I really love the Sunflower Tart, which has rolled up slices of fresh apricots and a passion fruit curd –- it's this gorgeous sunset-colored dessert that has a hint of exoticism from my friend Lior's Boite D'Epice spice blend, Mish Mish (saffron, honey, lemon peel, and peppercorn). Some folks ask for autographs of their "Keep Calm and Cronut On" posters, which a local group of artists at Coolculinaria made for us.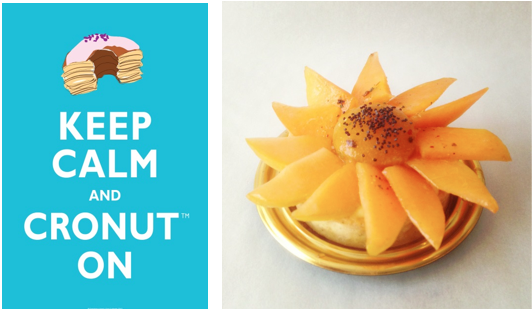 10:00am: I eat a DKA.
11:00am: Mondays are busy days because we start taking pre-orders for two weeks in advance by phone for orders of 6 or less Cronuts. The phones start ringing. Sometimes I pick up and try to help, but most days my managers handle it. Customers are tweeting me screen shots of how many times they've been dialing in. And we also get a barrage of emails saying that phone isn't working. It's working, just busy… The first couple of calls are ecstatically happy, and then we start apologizing.
12pm: This also ends up being the day that we take requests by email for large orders of Cronuts (50 or more) for the month ahead. It's the first time we offered this, and the requests are coming in for August. I log into the account –- there are 60 emails alone that came in at 12:00am sharp, and close to 100 emails for 12:01am. "Don't worry about it, Chef. We'll get through these," my managers tell me. By the end of the day, they have responded personally or by email to 600 requests.
2:00pm – 4:00pm: More kitchen time. We work on tasting some of the items we have planned for fall and add in a few tweaks. We're low on macarons, so I chime in to help pipe.
6:00pm: It's a lot of administrative and logistical work at this point.
8:00pm: Home. I cook up some Taiwanese beef noodles with a smashed cucumber salad. I was taught by a very good teacher, and if you didn't know I was a French pastry chef, I might just fool you into thinking it was the authentic thing.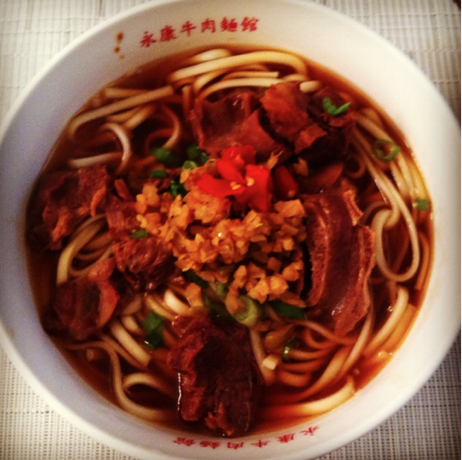 Tuesday, July 2
3:30am: You guessed it, I'm awake.
4:00am – 8:00am: Repeat everything that we do every day. A lot of folks say they're waiting in line by 3:30am, but it's largely exaggerated. I'm here, I don't see anyone.
8:00am: Today the first customer in line gave a victory scream upon purchase of two Cronuts, a 4-piece DKA box, and 5-piece cannelé box. He ran outside to high-five everyone marathon runner-style down the line and disappears into the distance.
10:00am: DKA for breakfast. I really love it. Just really crispy and caramelized on the inside with these super soft tender layers within. Here's a gratuitous food shot.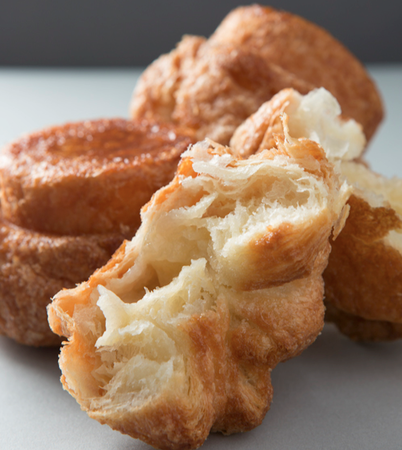 11:00am: We sit down to discuss new fall flavors for Cronuts. The team decides to launch a Facebook contest on what the August flavor should be between two that we're working on: Coconut or Passionfruit. There are 132 comments within the first 2 minutes -– it looks like Coconut is in the lead.
We move on to discuss our ice cream creation –- we do one every summer. I thought about my trip to Istanbul a few years back when I first tasted dondurma ice cream, which had a distinctly chewy consistency. I decide to make a modified marshmallow recipe that's a cross between marshmallow and ice cream and I wrap it around a soft vanilla custard ice cream. "Let's add some crispy feulletine and chocolate on the inside," suggests the team. And then came the spark –- "What about the cone, Chef?" Instead of a cone or cup, we decide we'll be sourcing branches and smoking them so the whole experience feels like eating a s'more, but frozen.
3:00pm: We've got our first try at the Frozen S'more and we're toasting it and smoking the sticks, and the whole kitchen smells like a camp ground. Pretty good stuff.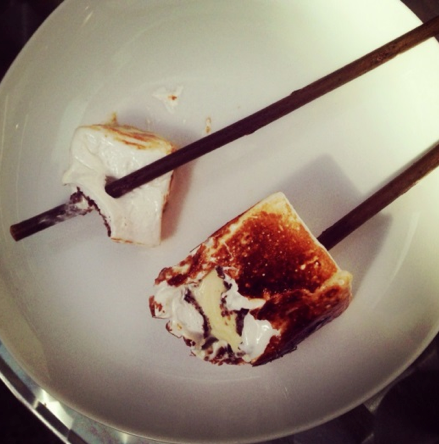 8:00pm: Leave the bakery, get home and decide to buy tickets for Man of Steel. Fell asleep somewhere around the time Russell Crowe came back as a computer animation programmed with his consciousness.
Wednesday, July 3
3:30am: Hello world, it's me again.
4:00am – 8:00am: The Cronut story of the day was an 89-year-old-man who came to wait in line to celebrate his son's 60th birthday. They stood since 6:30am, and took a picture of me with the Cronut. Before I run off, the elder father tells me it's the most amount of quality time they've spent since going to baseball games when his son was young. It was incredibly heart-warming.
8:00am: Over 500 people with a line down two blocks. Huffington Post editor, Andy Campbell, who came by later to say "hello" and is a really nice guy, lives just across the street, took a pic from the fire escape with his girlfriend and it went viral.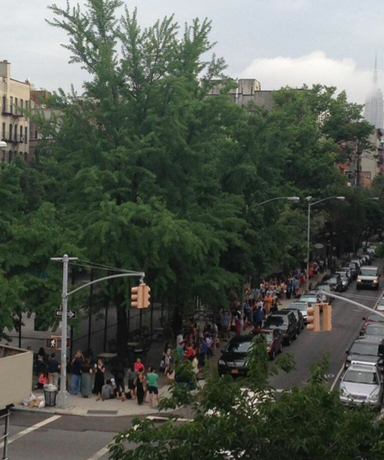 9:00am: A journalist calls from NBC and says she saw a picture of the line floating around Twitter. "Are you guys okay in there?" That's all she wanted to know. And she sent her support.
11:15am: I'm heading up to the Martha Stewart offices to chat with Martha on Sirius XM radio today. I met Martha a few times when I was the Executive Pastry Chef at Daniel, and she has been really supportive of the bakery since we opened. Every year for her Christmas party, she orders a large amount of the DKA's, a type of buttery caramelized croissant that is a specialty in Brittany. The assistants and producers of the show are really on top of things. "Martha's ETA is in about 1 minute," they told. "Thirty seconds…five seconds." And there she was.
We chat about different types of French pastries, including a galettes des sucres that Martha had at Perouges. I'll try making some, I promised her. She offers up some apple branches for our Frozen S'mores after hearing that we test three types of wood: birch, bamboo and willow. We answer a few callers, and were done just before 1pm.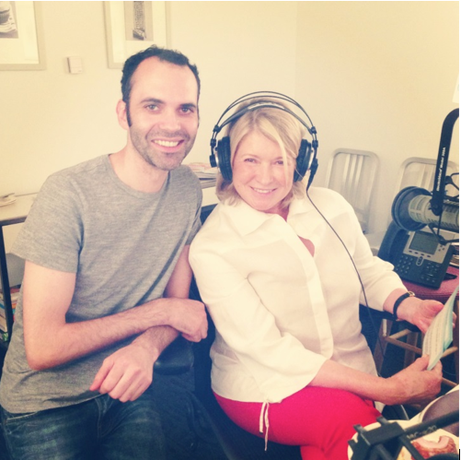 1:00pm: I taste test the savory items that we do in shop. A few days ago, I had some really good brisket sandwiches from Ubon's while I was on The Opie & Anthony Show on Sirius XM. Josh Ozersky made it for me himself, and he's a certified barbecue judge, so nothing but respect. Anyways, it reminded me to taste test our roasted pork sandwich and make sure it was as moist and juicy as it should be. I also taste the soup and a few bites of avocado toast.
3:00pm: I eat a cannelé every day at 3pm and a few days ago Niko Triantafillou from Dessertbuzz -– a very good guy and friend -- brings me a truffle-flavored savory cannelé. It wasn't bad, actually. Today there's another box left here and I look around to find Niko to see if it was him or another secret admirer who left it. Back to the kitchen.
5:00pm: I sit down with my managers again to plan for the week, and follow-up on how the new interns are doing before heading out to the Bowery Hotel for drinks with friends. They are probably the only two friends who haven't asked me for a Cronut, and I really appreciate them for that.
9:00pm: A quick bite at Soba Totto where I order the chicken tail and chicken oyster yakitori with my Dassai 23 Kamo Soba (they use sake lees to make the noodles themselves).
Thursday, July 4

8:00am: Time to give a motivational speech to the team. Happy 4th of July, everyone! We've got three of us inside, and a couple hundred folks outside. Let's do this. Cronut story for today is a family that came from Canada to celebrate the wife being cancer-free. "It's a miracle," she said. "And trying a Cronut was on my bucket list." I give her a hug.
12:00pm: Running low on pastries as this was a much bigger crowd than expected. The Paris-New York, a specialty twist we do on the Paris-Brest was the first to go. Followed by the Will Cotton Fraisier, a strawberry short cake I did in collaboration with artist Will Cotton (you know, the guy who did Katy Perry's "California Gurls" video?). I run back in and help the team make a few more pastry items to last to the afternoon.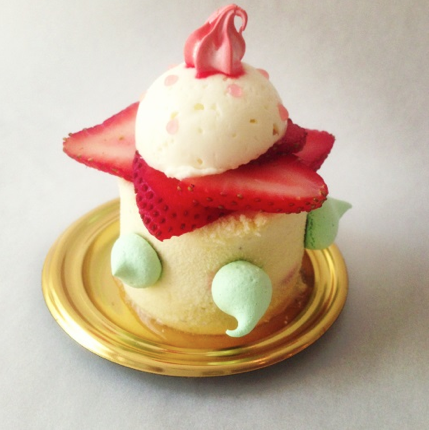 4:00pm: The case looks like this. (The guy in it is Mike, our very first customer ever, and he still comes all the time. We love Mike.)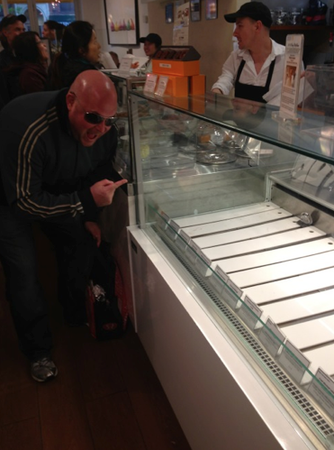 7:30pm: This is the first time I sit down for the whole day, and I'm glad it's for a meal at Salumeria Rosi on the Upper West Side, one of my favorite spots. Chef Cesare Casella is always so full of happiness and sends out some Spritzers and a few delicious dishes. My favorite is the Pontormo salad, which has this amazing blend of soft-scrambled eggs that are warm against the cold vinaigrette-covered salad and that savory crisp pancetta.
8:00pm: Get a few texts from people wanting to meet up on the balcony to see fireworks. Politely decline and roll into bed.
Friday, July 5
3:30am: Pressed the snooze today and got up at 4:00am.
4:30am – 8:00am: We're in full on production mode and just started a late night shift so now there are people in the bakery running the kitchen 24 hours a day. A guy asks me if we could carefully slide in an engagement ring into the Cronut. This is becoming a regular occurrence these days and has happened three times already. I tell him that I wouldn't recommend it because it's a lot more romantic on TV than when she actually chips her teeth on the ring. He laughs nervously, and we wish him luck. I hope she said "yes." I do a quick taste testing of a Yuzu Praline Tart we're doing in collaboration with Chef Francisco Migoya to make sure it's tasty.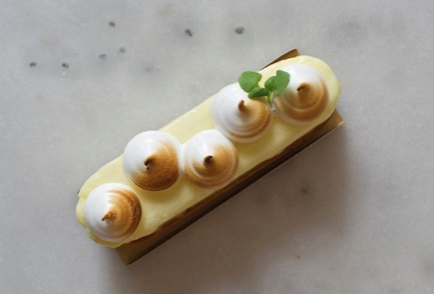 7:00am: A New Zealand TV channel comes to film the bakery and I run to do a quick interview. Ten minutes later and they were done. I run back into the kitchen.
10:00am: Halfway through my DKA when someone tells me the fridge broke. I clean the compressor and fans and fix it.
11:00am: Chef, the door to the bathroom broke. I take out my drill and fix it.
12:00pm: Chef, the AC isn't working. I go up to the roof to look at the compressor and reboot it.
2:00pm: Kitchen time -– more development, more production.
3:00pm: Chef, there's a leak in the basement. Drag out the water vacuum, get down and dirty. Fixed, but will now have to walk in wet socks for the rest of the day.
4:00pm – 6:00pm: I sit down and chat with the team to find out any customer responses and what ideas we have to make the place better. We invest in some new chairs, which have taken a beating since we opened about 1.5 years ago. We look into buying some nice fans for the folks seated outside in this heat. New pitchers for water, and new glass cases for display.
8:00pm: Craving cold nyang-myeung noodles from Kunjip in K-town. Mission accomplished.
10:00pm: Woke up from a pocket dial and a text from my Chef de Partie saying "Sorry for butt dialing you."
Saturday, July 6
3:30am: In desperate need of coffee, but trying to be a better man, so I'm drinking a Juice Generation booster instead.
4:00am - 8:00am: Two drunken scalpers whom were long-time bums in the neighborhood are in line. These days, when I see them, I just call the police, who showed up about 15 minutes later. Got a tweet from someone in line saying, "We were all rooting they'll get arrested." The scalpers leave.
What bothers me the most isn't the reselling, but that they could be selling really old stuff. They don't get rid of their Cronuts every day, and I've seen them hoard stuff for the next day. I wouldn't accept food from a stranger, and I have no idea how people can eat food not stored in a safe environment from two drunken homeless men.
12:00pm: Soho is so serene this weekend with all the local New Yorkers gone, so I take a quick lunch over at The Dutch. I love all of Andrew [Carmellini]'s restaurant, and his team have been really supportive of us. When we first launched Cronuts in May, they sent us provisions –- some kaluah pork and poke from their Luau –- for the entire team. They're the sweetest, and the food is always good there. I order up their turkey sandwich, which has their homemade turkey that was amazingly juicy.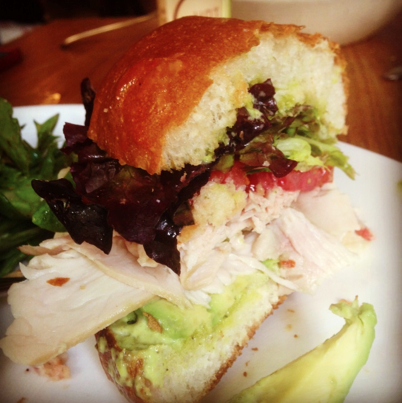 3:00pm: I conduct some interviews as we're hiring more staff to help us out at the bakery.
4:00pm: Nicolas O'Connell from La Colombe drops by and helps us test a bit on the quality of our coffee. Nicolas taught me how to pull my own espresso shots and get the right micro foam for milk when we first opened. Coffee is important for New Yorkers, and very important for me. A few weeks ago one of our regulars told me she thought she was lactose intolerant until she drank organic milk, and realized she had no problems. So here's the funny thing –- I've been feeling a bit lactose intolerant recently. And I decide to test this theory out on myself by liberally downing organic milk lattes. You guys gotta try this…it works! We decide to offer organic milk on the menu.
5:00pm: I speak with my managers a bit about some projects we're thinking of doing, including working with Tee Springs to offer some t-shirts for charity. We discuss a few good charities, and are working with the guys who started the fan site Cronut.org to see what we can do.
8:00pm: I must've bought tickets to see Monkey King for the Lincoln Center Summer Festival months ago. Post-show dinner at Lincoln.
1:00am: The security company calls me to say they received an alarm from the back door. I go back down to the bakery to scout out any intruders, grabbing a rolling pin along the way in case I had to defend myself. Thankfully, nothing to report except the sensors needed some cleaning.
Sunday, July 7

6:00am: This is considered sleeping in for me.
6:30am-9:00am: Kitchen time. The shop opens an hour later at 9:00am on Sundays, but I haven't been able to take a day off for weeks. A customer comes up to and says, "Oh! You're a man! I thought you were a woman from the name." It's fine, it happens to me all the time, and my parents had decided on the name "Dominique" (named after my father) for either a son or a daughter.
10:00am: Bills, bills and more bills. And filling in the forms for new employees and working on payroll. "Chef, I've got a new joke," says my manager. "Why didn't the orange cross the road? …Because it ran out of juice." He has a lot of these jokes.
12:00pm: I catch up on some emails and try to head out early for Luke's Lobster, where I bump into my old sous chef from Daniel and now the executive pastry chef at Le Bernardin, Laurie Moran, and he recommends the shrimp roll.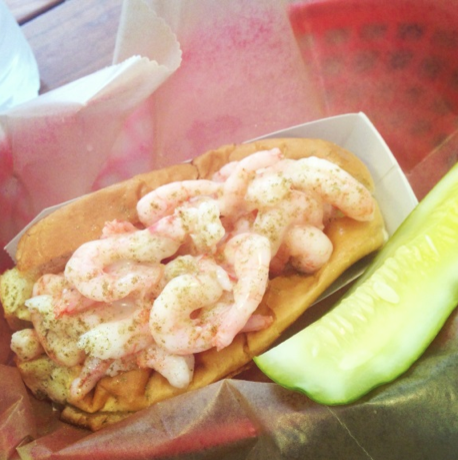 3:00pm: Back at home, I look through a proposal I'm working on for a book with my newly signed book agent, whom I really like since he ate a ton of DKA's and cannelés during our first meeting. I'm NOT doing a Cronut book.
5:00pm: More emails –- we get at least 5 requests for franchises every day. Not planning anything any time soon. This bakery as it stands is my baby… I wouldn't want to see the quality harmed. Still keeping open minded.
6:00pm: Dinner at ABC Cocina. This is the most I've been out for many weeks, and the food was excellent.
11:00pm: Sit down and do my homework for the Huffington Post. This is the longest thing I've ever written I my life. Hope you guys enjoy it!
See more Food Informants below:
PHOTO GALLERY
BEFORE YOU GO
Food Informants
PHOTO GALLERY
Food Informants