Bill Cosby will return to TV with a new concert special titled "Far From Finished," which will air on Comedy Central in November, the network announced Friday.
"Far From Finished" marks Cosby's first television concert special in 30 years, and will air on November 24. The special is comprised of footage taken from the TV icon's recent performance at the Cerritos Performing Arts Center, and is directed by Robert Townsend.
Cosby's last special was "Bill Cosby, Himself" in 1983, which was aptly directed by the comedian. The routines in the concert became the partial basis for "The Cosby Show," the hit series that ran from 1984 to 1992, reinvigorated NBC and gave us a collective cultural obsession with Cliff Huxtable's vast sweater collection.
As for why Cosby chose now to return to the small screen, the 76-year-old actor simply said, "Because ... funny is funny."
In addition to his enduring legacy on "The Cosby Show," the star is best known for breaking down racial barriers by becoming the first African American to costar on a weekly, dramatic television series (winning three consecutive Emmys in the process) on "I Spy," and for creating and producing the Emmy Award-winning cartoon series "Fat Albert and The Cosby Kids."
Can't get enough Cosby? Head over to BillCosby.com to vote for your favorite Cosby sweater now!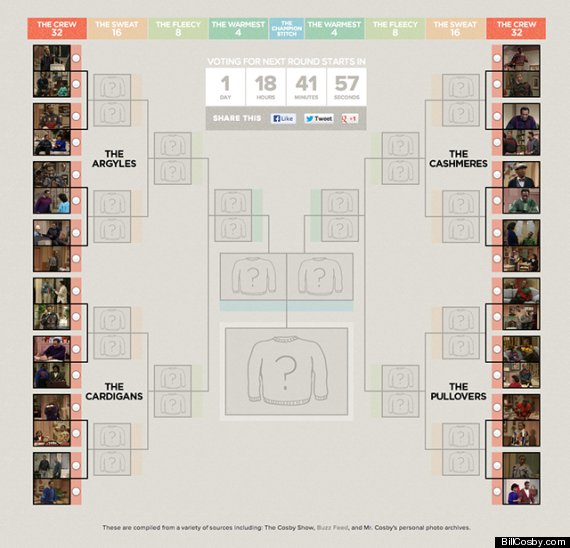 Bill Cosby Says The Darnest Things
Throughout his extensive line of work in comedy, writing, and acting, Cosby has always placed childhood at the center of his work. "What do I need if I am a child today? I need people to guide me. I need the possibility of change," Cosby said in a 2008 interview with The Atlantic. "I need people to stop saying I can't pull myself up by my own bootstraps. They say that's a myth. But these other people have their mythical stories -- why can't we have our own?"

"The lower-economic and lower-middle-economic people are not holding their end in this deal," said Cosby, during his controversial "Pound Cake" speech at an NAACP awards ceremony in 2004.

"These are people going around stealing Coca-Cola. People getting shot in the back of the head over a piece of pound cake," said Cosby in his infamous 2004 "Pound Cake" speech. "Then we all run out and are outraged: 'The cops shouldn't have shot him.' What the hell was he doing with the pound cake in his hand?"

"Are you not paying attention, people with their hat on backwards, pants down around the crack?" Cosby asked audiences during his 2004 "Pound Cake" speech. "Isn't that a sign of something, or are you waiting for Jesus to pull his pants up?"

"My problem is I'm tired of losing to white people. When I say I don't care about white people, I mean let them say what they want to say," said Cosby while addressing his alma mater, the University of Massachusetts. "What can they say to me that's worse than what their grandfather said?"

"We are not a pitiful race of people. We are a bright race, who can move with the best. But we are in a new time, where people are behaving in abnormal ways and calling it normal," said Cosby, speaking at Detroit's St. Paul Church in 2007. "When they used to come into our neighborhoods, we put the kids in the basement, grabbed a rifle, and said, 'By any means necessary.'"