From San Francisco to Sanford, Florida; Atlanta to Washington, late Saturday night and Sunday saw people flooding into the streets. Several cities had braced for riots in the event of an acquittal, but most of the marches were peaceful demonstrations of the verdict.
Here, a look at some of the images and words from impromptu protests, marches, vigils, and gatherings from across the country.
Sticker being handed out at NY march protesting Trayvon Martin trial verdict.
#DontForgetTrayvon pic.twitter.com/k2zNBUVOak

— Meliannos (@meliannos) July 14, 2013
Trayvon Martin protest in Times Square via @TRAPAHOLICS pic.twitter.com/uiVhJfuR1b

— Jim Roberts (@nycjim) July 15, 2013
I left, but looks like Trayvon Martin march made it up to Times Square. pic from Brian Brooks pic.twitter.com/xbSqqFgAgL

— Versha Sharma (@versharma) July 15, 2013
In Washington:
Trayvon Martin Protest March WashDC 7-14-2013... http://t.co/B46xN01UCh <-> pic.twitter.com/GcAi6W5y3v

— LiMiT Images Search (@LiMiTImages) July 15, 2013
Outside Dept. of Justice: a quiet protest for #trayvon. @ABC7News pic.twitter.com/1IEIkKpeQZ

— Hatzel Vela (@hatzelvela) July 15, 2013
In Chicago:
Tonite in Chicago: a rally & march for Trayvon Martin. Another planned for noon Sunday at Daley Plaza, pic.twitter.com/jINgnHQB1r

— Bob Simpson (@BobboSphere) July 14, 2013
#JusticeForTrayvon march in Chicago stretching over a city block chanting "No justice, no peace, no racist police" pic.twitter.com/HwsXDVqPdL

— m_x (@soit_goes) July 14, 2013
In San Francisco:
Hundreds march in #Trayvon Martin protest in San Francisco pic.twitter.com/UegiGAgSAe

— robinwilkey (@robinwilkey) July 14, 2013
In St. Louis:
@blackvoices Rally in St. Louis at the Justice Center pic.twitter.com/3nDl82FAHZ

— Yvonne P. (@yvonnelouise) July 15, 2013
In Newark:
In Los Angeles:

Crowd of 100+ gathered in Leimert Park Plaza to protest Trayvon Martin verdict. pic.twitter.com/wSToJlgxi4 via @kaceymontoya

— LAist (@LAist) July 14, 2013
In Milwaukee:
In Miami: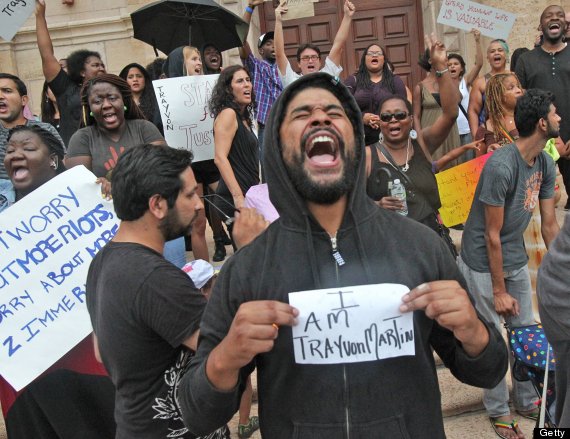 In Charlotte:

In Houston:
@blackvoices Houston pic.twitter.com/iDZXzWsnvw

— Modern Crusades (@MoSoFrio) July 15, 2013
In Oakland, however, the protests were more violent, as HuffPost's Carly Schwartz reported. Some demonstrators broke windows on area businesses, started small fires and vandalized a police car.
Child protester wears sign in Oakland: I am Trayvon #trayvon #trayvonmartin pic.twitter.com/65NKUlOEzl

— HuffPost SF (@HuffPostSF) July 15, 2013
Related on HuffPost:
Protests & Rallies After Zimmerman Trial Verdict
Trayvon Martin New York Protest
FOLLOW HUFFPOST