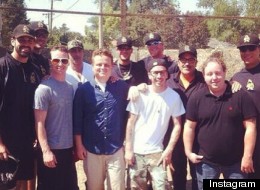 The boys of "The Sandlot" reunited this week to celebrate the movie's 20th anniversary, but without the actors who played the film's two main characters. Benny "The Jet" Rodriguez and Scotty Smalls (a.k.a. Mike Vitar and Tom Guiry) didn't make it to the field. ["You're killing me, Smalls" joke goes here.]
Fortunately for fans, "Sandlot" favorites Patrick Renna (who played Hamilton "Ham" Porter), Chauncey Leopardi (who played Michael "Squints" Palledorous), and Shane Obedzinski (who played Tommy "Repeat" Timmons) hit Salt Lake City to mark a historical film location from the field where a large part of "The Sandlot" was shot.
The Salt Lake City day was the latest stop on the 20th Anniversary "Sandlot" Tour, led by director David Mickey Evans. The tour is scheduled to continue through the summer, hitting cities including Los Angeles, Dayton, Ohio, and Omaha, Neb.
While the film's main character, the lovable nerd Scotty Smalls, was noticeably absent from the reunion, HuffPost Entertainment caught up with Guiry, the actor who played the egghead, earlier this year to talk "Sandlot."
"I think what it does is it brings people back to a time in their lives that it was fun and kind of innocent," Guiry said of the film. "They didn't have to worry about bills and work. It was a carefree time of everyone's life. It's fun to watch people reminisce about it - plus, baseball. That's what's great about baseball, some people are exceptional at the game, but still, even people that aren't very athletic like, me - I played Little League! It's one of those games in sports where even if you're not the greatest, you can still play."
Scroll through below for photos and moments from the big reunion (via BuzzFeed)
20 years ago standing in this same spot. Rebuilt the #sandlot. Thanks for the memories @DMESandlot pic.twitter.com/Ufnxi1kVXQ

— Patrick Renna (@PatrickRenna) July 20, 2013
The Sandlot , 1st historical film location in Utah State history . So yeah that happened . #legendsneverdie pic.twitter.com/29QULjwZ0u

— Chauncey Leopardi (@_squintz) July 22, 2013
Hey @espn! @_squintz still has it! @SandlotMovie #legendsneverdie #skills #nohgh pic.twitter.com/CbqaGCat29

— Chris Shelton (@C_Shelton15) July 24, 2013
Took 20 years but I'm back @SandlotMovie .
The field is beautiful.

— shane (@ShaneObedzinski) July 20, 2013
Scotty Smalls (Tom Guiry) moves to a new neighborhood with his mom and stepdad, and wants to learn to play baseball. The neighborhood baseball guru Rodriguez (Mike Vitar) takes Smalls under his wing, and soon he's part of the local baseball buddies. They fall into adventures involving baseball, treehouse sleep-ins, the desirous lifeguard at the local pool, the snooty rival ball team, and the travelling fair. Beyond the fence at the back of the sandlot, menaces a legendary ball-eating dog called "The Beast", and the kids inevitably must deal with him. Directed by: David M. Evans. Cast: Tom Guiry, Mike Vitar, Patrick Renna, Chauncey Leopardi, Marty York, Brandon Quintin Adams, Grant Gelt, Shane Obedzinski, Victor DiMattio, Denis Leary, Karen Allen, James Earl Jones. Release Date: April 7, 1993.

Disney's The Rookie based on the true story of Jimmy Morris.

Trailer for 'Rookie of the Year' starring Thomas Ian Nicholas, Gary Busey, and Daniel Stern.

www.vladtv.com Aging baseball star who goes by the nickname, Mr. 3000, finds out many years after retirement that he didn't quite reach 3000 hits. Now at age 47 he's back to try and reach that goal.

Check out my newest trailer and tell me what you think ;) There's more coming soon

www.moviespoilersite.com In the farm of Oregon Dottie Henson and Kit Keller are working on the farm. Sisters that do love each other, except when it comes to baseball. Kit wants to play in the league but is upset to hear that it is Dottie who is chosen to play for the AAPGL. (All American Pro Girls League) Dottie refuses to play unless Kit can come along. AAPGL was only made because of the World War II and all of the man were in the war. Along the way to the stadium they meet Marla Hooch who is a great hitter, but to most people not the prettiest girl. When they are going to try out they meet Doris and Mae because Doris threw a baseball at Dottie who caught it impressing Doris. They girls find out their new manager is Jimmy Dugan. Jimmy Dugan drinks a lot and is the worst manager until Dottie get through to him and he becomes a better person. Miss Cuthbert makes sure the rules are followed, no boys, no drinking or smoking until Mae poisons her meal. The girls go to party and Marla who had been overlooked a lot is noticed by a guy named Nelson. Dottie's husband Bob is in the army and when news comes that a man in the army has been killed it turns out to be Betty Spaghetti. After awhile, Kit feels that once again like at home she is behind Dottie's shadow. Dottie notices it to and asks to be transferred to another team. Of course Mr. Lovitz doesn't want the best player to be transferred so he has Kit transferred to Racine. Kit feels that Dottie did this on purpose. Kit ...

Keanu Reeves, Diane Lane and DB Sweeney score in this uplifting story of triumph over adversity that "hits an emotional home run." Conor O'Neill (Reeves) is a down-on-his-luck gambler in debt to dangerous loan sharks. Desperate for cash, Conor reluctantly takes a job coaching a youth baseball team. The "team" turns out to be a ragtag group of tough-talking kids from Chicago's inner city. Secretly, Conor plans to desert the team after he wins a big bet. But the stakes are higher than Conor imagined: The kids need someone to believe in. As Conor wrestles with his past, the kids start to teach him some lessons that will forever change his future -- that responsibility and trust must be earned and hope can appear in the most unlikely places.

For Love of the Game Trailer

Field of Dreams Trailer

Trailer for 'Fever Pitch' Starring Drew Barrymore, Jimmy Fallon, and Kadee Strickland.

Comedia. Drama. Romance. Deporte (béisbol) / Todos los veranos las mejores promesas de la liga universitaria de béisbol se reúnen en una escuela de Cabo Cod, en el estado de Massachussets, con el objetivo de preparar a los mejores para dar el salto a la liga profesional. Un chico del lugar, Ryan Dunne, con fama de ser un excepcional repetidor, se la jugará en un ambiente enrarecido por la rivalidad con uno de sus compañeros y los encantos de una niña rica que pueden distraerle gravemente de sus objetivos. Reparto: Freddie Prinze Jr., Jessica Biel, Brittany Murphy, Matthew Lillard, Fred Ward, Beverly D'Angelo, Jason Gedrick, Wilmer Valderrama, Gabriel Mann, Marc Blucas, Bruce Davison, Brian Dennehy, John C. McGinley, Zena Grey, Hank Aaron.

Film adaptation of the George Abbott Broadway musical about a Washington Senators fan who makes a pact with the Devil to help his baseball team win the league pennant.

posted by taniaraymonde.net found at http IMDb www.imdb.com

Trailer

A major surprise as one of 1976's top grossing films. THE BAD NEWS BEARS is a movie about children that is refreshing, utterly believable, and quite cleverly funny. Walter Matthau is at his absolute best as the grumbling beer-guzzling former minor-league pitcher who gets roped into coaching a band of half-pint misfits somewhat loosely called a team. With this bunch in uniform, it's impossible to get caught up in the suburban competitive spirit that drives other adults to extremes of parental dscipline. So, instead, the Bears have a good time.

"It Could Happen." The trailer for one of my all time favorites, Angels In The Outfield(1994) starring Danny Glover, Brenda Fricker, Tony Danza, Christopher Lloyd, Ben Johnson, Jay O. Sanders, and Joseph Gordon-Levitt. Directed by William Dear.