Wedding Singer Makes Interesting Big Day Fashion Statement
We get it -- nobody likes wearing a full suit at a summer wedding. Especially if that wedding happens to coincide with hotter-than-average temperatures.
That's why one wedding singer decided to take matters into his own hands on Saturday and slip into something a little more comfortable for the reception. On Wednesday, Reddit user flipwhispers posted a photo from her friend's wedding in Halifax, Nova Scotia with the caption "Lead singer of a wedding band goes all out for formal events." Please take note of the Hand Cream frontman's jorts-tastic ensemble: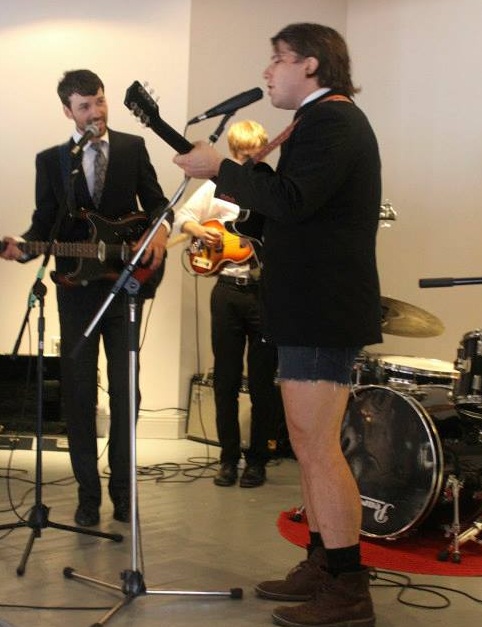 But what did the guests have to say about his, um, casual fashion statement?
"It was a hipster/artsy formal [affair] with lots of vintage and unique looks!" flipwhisper told the Huffington Post. "The only ones reacting to this were the 'normal' guests who were outnumbered!"
Two words for this guy: Rock on.
Click through the slideshow below for 11 outfits (illustrated with stock photos) that you won't believe somebody actually wore to a wedding.
What NOT To Wear To A Wedding
@mrenzi1: "A very tight black maxi dress with no bra. Her nipples were visible. Lovely."

"A man wearing a Hawaiian shirt and shorts to a black tie wedding." - Jennifer Nicole Bates

" Short shorts." - Marjani N. Jones

"My grandmother surprised everyone by showing up in a white, floor length, lacy/crocheted, beaded number after asking us if her beautiful lavender dress was ok. We said 'of course, whatever you're comfortable in.' Well, she took that too literally." - Alyssa Beckmann

"A lady in a lace dress doing the limbo with no panties when I was eight!" - Pachter Jessica

"All velvet suit." - WedSocial

"Honestly jean and tee to a formal wedding." - Sarah Rapp

"CAMO." - Tiffany Bentley Halkitis

"At a wedding I was serving at, a guest wore a trucker cap like Ashton Kutcher wore all the time. But I guess he fit in. The groom and groomsmen had camo-print vests. Shudder." - Maegan Zimmerman

"Grey baggy Sweatpants & a hot pink puffy jacket." - Gina Byrnes

"A mini skirt with flip flops at a formal wedding." - Barb Carey
Keep in touch! Check out HuffPost Weddings on Facebook, Twitter and Pinterest.