Every once in a while, we are reminded of the value in paying it forward.
That's quite true here. An unidentified man walked into a Tim Hortons location in Edmonton, Canada, just after 4 p.m. on Monday and ordered -- wait for it! -- 500 cups of coffee, according to CBC News.
His order totaled $895.28, and if you don't believe us, here is the receipt: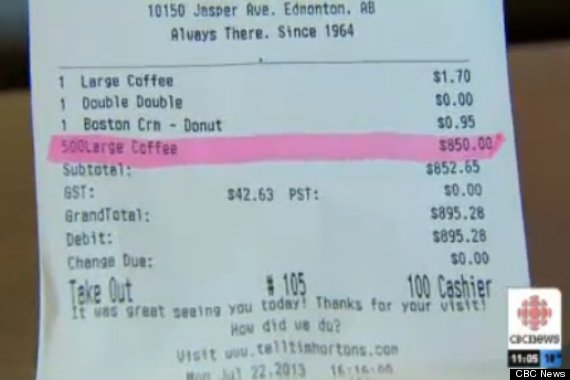 When store manager Joanne Averion asked the man why he was purchasing so many coffees, he reportedly did not give any explanation. He also refused to reveal his name.
For the rest of the day, any customer who came in received their drink order free of charge until all of the money had been used. The money lasted until about 8:30 a.m. the next morning, according to Metro News.
Employees and customers of the Tim Hortons still don't really have an explanation for the man's actions, other than it being a random act of kindness.
"That's pretty awesome just to know people are out there willing to just go 'Hey, let's do something nice for somebody else,'" one customer told CBC News.
(And don't worry America, we still have some very kind people here too: There recently has been a guy going around the country handing out $500 tips in his brother's memory.)
Also on HuffPost:
Loading Slideshow
Mcdonald's - Pizza

That's right, McDonald's actually once served a <a href="http://www.flickr.com/photos/roadsidepictures/1544645159/">pizza</a>. The company <a href="http://www.nytimes.com/1989/09/20/business/mcdonald-s-hopes-pizza-will-be-the-next-mchit.html">hoped the idea would be its next "McHit</a>" around 1989, according to the New York Times. The item was largely considered a <a href="http://finance.yahoo.com/news/pf_article_113424.html">fail</a>, but that hasn't stopped a <a href="https://www.facebook.com/pages/BRING-MCDONALDS-MINI-PIZZAS-BACK/296327889050">cult following</a> from forming around the dish.

Baskin-Robbins - Turkey Cake

It's a turkey, but it's also a cake, but it's also ice cream? This slightly bizarre specialty item became available in November of 2012.

Pizza Hut - Bigfoot Pizza

The pizza debuted in 1993 and was nearly 2 feet long, according to Doug Terfehr, Director of Public Relations for Pizza Hut. What's not to love about 2 feet of pizza?

KFC - Double Down

The <a href="http://www.flickr.com/photos/nyer82/4522189922/">sandwich</a> is rather simple: just chicken cheese and bacon, sans the bread. But that hasn't stopped over <a href="http://www.huffingtonpost.com/2010/05/20/kfc-double-down-success-s_n_583434.html">10 million people from trying it</a>.

McDonald's - Shamrock Shake

McDonald's first introduced this mint-flavored shake topped with whipped cream and a cherry in 1970. Since then, it has garnered somewhat of a cult following at McDonald's. Despite such popularity, it can still only be purchased during certain times of the year.

Taco Bell - Doritos Locos Tacos

After it busted onto the scene in<a href="http://www.huffingtonpost.com/2013/02/13/cool-ranch-doritos-tacos-release-date_n_2672134.html?1360771758&ncid=txtlnkushpmg00000067"> March of 2012</a>, the Doritos locos taco quickly became the <a href="http://www.huffingtonpost.com/2012/06/05/doritos-locos-most-popular_n_1571160.html">most popular item in Taco Bell history</a>. In February, the fast food chain announced that a <a href="http://www.huffingtonpost.com/2013/02/06/doritos-locos-taco-sales-taco-bell_n_2631552.html">whopping 325 million had been sold</a>.

Burger King - Memphis BBQ Sandwich

The Memphis BBQ sandwich, which hit menus last June, includes Sweet Baby Ray's Sweet 'n Spicy BBQ sauce, bringing a bit of country cooking to Burger King's menu. And it may have just inspired other fast food chains, like Carl's Jr and Hardee's, <a href="http://www.huffingtonpost.com/2012/08/21/carls-jr-hardees-bbq-pulled-pork-burger_n_1818619.html">to explore BBQ-themed items as well</a>.

Starbucks - Pumpkin Spice Latte

Every fall, customers begin to crave <a href="http://www.flickr.com/photos/jeffhester/6179580054/">Starbucks' pumpkin spice latte</a>, so much so that the coffee giant struggled with a <a href="http://www.huffingtonpost.com/2012/10/05/pumpkin-spice-latte-shortage-starbucks-limited-supply-high-demand_n_1942289.html">shortage</a> last year due to have demand. (Containers of the syrup sold for as much as $50 on eBay.)

Burger King - Cheesy Tots

The cheesy tots first made their way onto Burger King's menu in 2010, only to disappear later that year. That eventually led to a <a href="https://www.facebook.com/pages/Burger-King-Bring-back-Cheesy-Tots/229469816570">Facebook campaign </a> to bring the tots back, which proved successful when they reappeared last month.

McDonald's - McRib

The barbecue-slathered McRib was such a hit in 1981 that it became a seasonal menu item the next year. The item is so popular, in fact, <a href="http://www.huffingtonpost.com/2013/01/23/mcdonalds-profits-mcrib_n_2532822.html">that it even boosted McDonald's profits at the end of last year</a>.