From riding tiny scooters to dubstepping on the fridge, cockatoos have done some pretty amazing things. And new research shows that these clever birds are able to pick locks even without any prior training -- just watch the video above.
For the study, researchers put 10 untrained Goffin's cockatoos in front of a box that showed a delicious nut behind a transparent door. This door was locked with five different interlocking devices -- a pin, screw, bolt, wheel, and latch. All had to be unlocked before the birds could get their reward.
Sounds complicated, for sure. But five of the birds managed to pick all of the locks after practicing or watching someone else. One super-bright bird, Pipin, got the job done in under two hours without any help at all.
"We cannot prove that the birds understand the physical structure of the problem as an adult human would," study co-author Dr. Alex Kacelnik, a professor of behavioral ecology at the University of Oxford, said in a written statement. "But we can infer from their behavior that they are sensitive to how objects act on each other, and that they can learn to progress towards a distant goal without being rewarded step by step."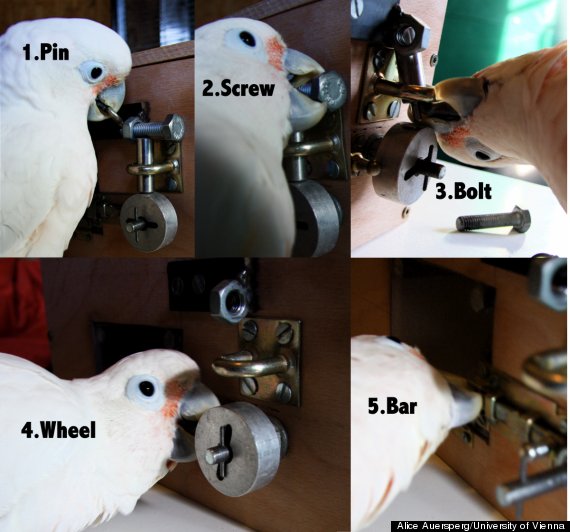 Motor actions required to remove each individual lock: 1. Grab the pin at the top ring and pull up; 2. Unscrew the screw with 25-30 consecutive up and down movements; 3. Push the bolt through the fixation ring; 4. Twist the wheel 90 degrees and pull it towards your own body through the T-bar; 5. push the bar through its fixation.
The study, a collaboration between the Oxford team and scientists from the University of Vienna and the Max Planck Institute, was published online in the journal PLOS ONE on July 3, 2013.
Impressive as these birds were, this isn't the first time Goffin's cockatoos have been observed successfully tackling tough challenges. Last year a cockatoo named Figaro was seen using a tool to reach a nut placed outside his enclosure at the University of Vienna.
Also on HuffPost:
Loading Slideshow
Baboons

Baboons have complex social systems and live in hierarchical troops of up to 300 members.

Pigs

If you watched the movie "Babe" as a kid, you know that pigs are smart enough to be excellent sheep dogs.

Gorillas

Gorillas are famous for their use of tools. Plus, certain animals have been taught to communicate with a subset of sign language.

Killer Whales

Orcas use dialect and pass information down from generation to generation, two practices that scientists have called a form of culture.

Gibbons

Gibbons' calls can be heard from up to a kilometer away. They sing to attract mates to their territory.

Elephants

Elephants never forget... probably because they have the largest brains of any land animal. Some elephants have even been known to make <a title="art" href="http://www.youtube.com/watch?v=He7Ge7Sogrk" id="uq8i">art</a> and music.

Octopus

One famous octopus bamboozled zookeepers by sneaking out of its tank and stealing a midnight snack... out of the dungenous crab aquarium.

Orangutans

Orangutans have extremely high learning and problem solving rates. They use leaves to make rain hats and roofs over their sleeping nests.

Dolphins

Dolphins form strong social bonds and will stay with injured or dying individuals, sometimes helping them breathe by pushing them to the surface - so sweet.

Chimpanzees

Chimps and humans share 98.4% DNA! These smarties use weapons, tools, and medicine, just like humans.