Miami Spice 2013: The Best Deals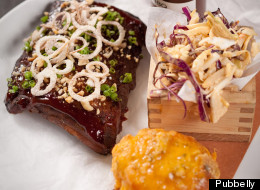 Every summer we look forward to Miami Spice so we can wine and dine at Miami's top restaurants without having to break the bank.
Starting Wednesday, our cheekily-named restaurant "month" -- which actually lasts all the way through September -- will serve up discounted three-course lunches and dinners at 199 restaurants throughout Miami and Miami Beach. Lunches range from $19-$23 and dinners $33-$39.
With so many restaurants to choose from, deciding on the right deal (or four) can be a tedious task. Sure, you could opt for the spontaneous approach, which would involve choosing any restaurant at whim; however, you'll be at risk of having to either settle for a boring and unsatisfying menu or having to pay a little extra for something that's more appealing to your palette -- sometimes, you're better off just ordering off the regular menu, which ultimately defeats the purpose of Miami Spice in the first place.
With the promotion now in its twelfth year, more experienced Miami Spice-ers know that perusing the menus beforehand is requisite to choosing the restaurants worth the best value, while the less experienced can be clueless to where to begin. Here at HuffPost Miami, we are dedicated foodies. We combed through the entire master list of this year's participating Miami Spice restaurants and cherry picked 15 of the best mouth-watering deals and reservation-worthy restaurants to find the most generous offerings and enticing dishes. Bon appétit!
Best Miami Spice 2013 Deals
9700 Collins Ave., Miami Beach; makoto-restaurant.com. Stop at chef Makoto Okuwa's namesake restaurant, tucked inside The Shops of Bal Harbour, for sophisticated Japanese cuisine. To start, the spicy tuna crispy rice is a must. And in honor of Miami Spice, Chef Makoto created new dishes including the shortrib yaki udon with stir fried noodles and the whitefish tiradito in a delicate green foam (trust us, they're delicious!).

820 Alton Rd., Miami Beach; macchialina.com. With over six appetizer options and six entree options on the Spice dinner menu, this rustic taverna in SoBe is pulling out all the stops for choosy foodies. Appetizer highlights include creamy polenta with spicy sausage, veal cheek and pork meatballs, and cavatelli pasta. Dinner entrees include slow roasted porchetta, hangar steak with mushroom fricasse, and tagliolino pasta with mushroom sauce. For dessert, you can indulge in vanilla pana cotta, tiramisu, or banana and chocolate bread pudding.

5132 Biscayne, Blvd.; thefederalmiami.com. It's hard to tell the difference between The Federal's Spice lunch and dinner menus from their regular menus -- and that's a good thing. For dinner appetizer, choose two dishes from the menu, including the famous pig wings, creamy local burrata, and scallop casino. For the next course, choose from BBQ pork shank, cornish hen, the catch of the day, or steak. On top of that, you also get a side of mac and cheese, duck fat potatoes, or handcut fries. Desserts will change daily, but if they're anything like the desserts offered at lunch (i.e. Oreo cookies with whipped ricotta, chocolate syrup, bourbon caramel), the surprise will be worth it.

3252 NE 1st Ave., Miami; mercaditorestaurants.com. For $33, Mercadito's Spice menu offers so many tasty options, you'll forget you're ordering from a promotional menu. Mercadito ups the ante by including an alcoholic beverage to their prix fixe. Start with a margarita or a Modelo to go with one of two types of guacamole or ceviche. For the entree, there's a choice of not two but three tacos, plus one side. If you make it to dessert, there's flan, cheesecake, or warm chocolate cake to tempt you.

1701 Collins Ave., Miami Beach; slshotels.com. A meal from famed chef Jose Andres is now accessible at the Miami Spice price of only $39. For the entree portion alone, select three of 18 dishes, including Mediterranean mussels in olive oil, sherry vinegar, pimento; a cheese platter; sautéed shrim; and ham croquettes -- and that's just the tip of the iceberg. Check out the rest of the tapas-style Spice dinner menu for yourself.

2201 Collins Ave., Miami Beach; thedutchmiami.com. This hot spot at the W hotel South Beach is the place to see and be seen, but it's the food that really demands attention. For Miami Spice, The Dutch put together lunch and dinner menus that puts some others to shame. For dinner, start with an arugula salad with watermelon, feta, and marcona almonds or go for the grilled octopus with local cranberry beans, tomatoes, and black olives. Mains include Smoked ricotta agnolotti, Key West pink shrimp, BBQ smoked pork ribs, and crispy duck confit. Desserts will hit the spot with warm pecan pie, milk chocolate budino, or a selection of ice creams.

1661 Meridian Ave., Miami Beach; www.khongriver.com. The lunch and dinner menu at Khong River House will take you on a veritable trip to Northern Thailand without having to shell out big bucks for the airfare. The Spice dinner menu stands out for the spicy flank steak salad, boat noodles, chicken red curry, and Thai doughnuts that are among the other menu options available to feast on.

100 Chopin Plaza, Miami; torotoromiami.com. Toro Toro, located at Downtown's Intercontinental hotel, is so good they named it twice. The lunch and dinner menus put the spice in Miami Spice with delicious latin flavors. The five appetizer choices on the dinner menu include ground beef empanadas, shrimp cocktail, and smoke swordfish dip. Mains include arroz con mariscos (seafood rice), BBQ salmon, or skirt steak with boniato mash, grilled broccolini, and chimichurri sauce. You can end your meal with a tres leches or cortadito (the latter might come in handy to wake up after such a huge meal).

431 Washington Ave., Miami Beach; tandcmiami.com. With four appetizers and four entrees to pick from on the $33 dinner menu, Spice at Tongue & Cheek is chock full of mouth-watering options. Pan con tomate or cauliflower panna cotta with pickled vegetables are the perfect segue to braised short ribs or fried chicken with pickled ocra. Dessert may be hard to choose when there's a chocolate cookie dough chipwhich and warm chocolate cake among other options. What's more, the Miami Spice dinner menu is being served Monday through Sunday, so you have the choice to dine here any day of the week.

1775 Collins Ave., Miami Beach; raleighhotel.com. Michael Schwartz's newest eatery at The Raleigh Hotel on South Beach is a must-try for lunch and dinner menus that don't skimp on delicious. Spice menu highlights include lobster salad and beef carpaccio for lunch and classic steak tartar and pan-roasted local fish for dinner.

1435 Brickell Ave., Miami; edgerestaurantmiami.com. Located at the Four Seasons Miami, dining here will surely make you feel like a million bucks (without having to actually pay all that much). The $33 Spice menu covers both the carnivores and omnivores with plenty of enticing options. Choose from braised lamb, grilled mahi-mahi, Creekstone Farms butchers filet, and gnocchi with vegetables. The lunch menu is a steal--for $19 you can enjoy grilled avocado salad, shrimp carbonara, and tres leches for dessert, all with sweeping views of downtown Miami.

4441 Collins Ave., Miami Beach; fontainebleau.com. Hakkasan at The Fontainebleau does Miami Spice right with one of the most ample lunch and dinner menus available. The amount of food you get at only $23 (lunch) and $39 (dinner) won't come close to the tab you'll see outside the promotion. For dinner appetizer alone, you get a salad with pickled onion and plum dressing plus a sampler of honey grilled barbecued pork, crispy wheat prawns, and spicy crispy shrimp dumplings.

1418 20th St., Miami Beach; pubbelly.com. Pubbelly's dinner menu is not up on Miami Spice's website, but we'll break things down for you. For appetizer, there's a choice of two dumplings (duck and pumpkin, porkbelly and scallion, pastrami and sauerkraut, or shortrib and corn). For the entree, choose from two pork dishes (BBQ pork wings, porkbelly, pork meatballs, or ham braised pork cheeks). And then to balance everything out, you also get to select a side of veggies (green beans, brussel sprouts, roasted broccoli rabe) -- and all that food is just $33.

180 Aragon Ave., Coral Gables; sushisamba.com. Miami Spice is the perfect time to try Sushi Samba's newest location. Both the lunch and dinner menus offer plenty of options, so you can try a little bit of everything. Highlights include a platter of sushi nigiri of the chef's choice, roasted salmon, and king crab ceviche. Yum!

255 Biscayne Blvd., Miami; www.dbbistro.com. For traditional French bistro fare and contemporary American flavors, this classic downtown eatery located at the JW Marriott Marquis consistently delivers the best in Miami. Executive chef Matthieu Godard is offering a savory three course menu for lunch and dinner that will be refreshed half way through Spice. Items include squab ballotine en croute, lobster and shrimp roll, and short rib ravioli. Last year's highly requested Frenchie burger is also back by popular demand (arugula, tomato compote, rillon, morbier cheese, caramelized onions, and french fries). End your meal with one of db's famed desserts like black forest cake, chocolate cremoso, or coconut panna cotta.