The British royal baby's been born. But we won't know for a while yet if D.C.'s royal-equivalent -- Mei Xiang the panda -- will be bearing a new genetic heir in 2013.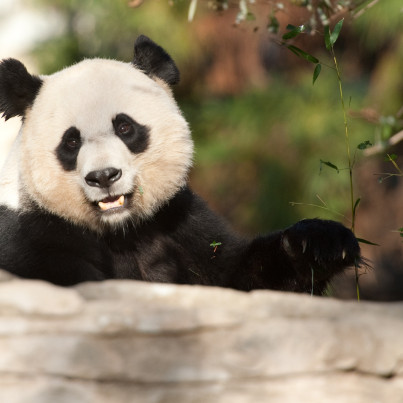 To keep our minds occupied during this long period of waiting, here are some wildly expensive homes in the greater D.C. area to ogle. Each of these puppies -- excuse us, we mean properties -- costs at least $20 million. Some are more than twice that.
Any seem like a good fit for you and your brood?
$20 Million And Up In The Greater D.C. Area
This 10 bedroom, 15 bath house modeled on the palace of Versailles is set to be built on Northern Virginia property previously owned by Ted Kennedy. Here's the listing.

7 bedrooms, 12 baths, this city mansion was once the temporary home of then-president Calvin Coolidge, while the White House was undergoing repairs. Here's the listing.

This 8 bedroom, 12 bath house bears not a small resemblance to the White House. Its name: Chateau La Vie. Here's the listing.

This five bedroom, five bath house is certainly nice -- but you're really buying this property for its 2426 extremely horse-friendly acres. Here's the listing.

The former home of D.C.'s Textile Museum is for sale. What's on the market is 10 bedrooms, 14 baths, two buildings and what's described in the listing as "a garage/former chauffer's residence." Here's the listing.

8 bedrooms, 10 baths on almost 20 acres. It maybe goes without saying that there's a private shooting range on the property -- also a private beach and pier. Here's the listing.

This last one's cheating a little, because it's no longer listed for $20 million -- though that's a recent development; until late July, this property was on the market for $21 million. 6 bedrooms, 7 baths on 61 acres, there's a stream, a guest cottage, a pool and so much more we think that you should just bid the original price. Here's the listing.
And...pandas!
A worker shows of one of the baby pandas at the Giant Panda Research Base in Chengdu, southwest China's Sichuan province on June 24, 2012, to attract visitors for the Duanwu festival or better known as the Dragon Boat festival. China engages in 'panda diplomacy', using the endangered but iconic bears as diplomatic gifts to other countries, and also runs a lucrative trade hiring the animals out to foreign zoos, as only around 1,600 remain in the wild in China, with some 300 others in captivity. AFP PHOTO

In this photo taken Wednesday, July 11, 2012 and made available Sunday, July 15, 2012, the younger of a pair of twin giant panda cubs born at the panda research center in Wolong rests in southwest China's Sichuan province. (AP Photo)

BEAUVAL, FRANCE - JANUARY 25: Yuan Zi, a male giant panda and Huan Huan, a female giant panda, share their life inside their enclosure at Zoo Parc De Beauval on January 25, 2012 in Beauval, France. A pair of giant pandas which have been loaned to the zoo by China, where they hope the pair will reproduce and help boost the world's dwindling panda population. (Photo by Franck Prevel/Getty Images)

Two pandas enjoy a meal of bamboo shoots in a enclosure at the Giant Panda Research Base in Chengdu, southwest China's Sichuan province on June 24, 2012, as thousands of visitors gather for the Duanwu festival or better known as the Dragon Boat festival. China engages in 'panda diplomacy', using the endangered but iconic bears as diplomatic gifts to other countries, and also runs a lucrative trade hiring the animals out to foreign zoos, as only around 1,600 remain in the wild in China, with some 300 others in captivity. AFP PHOTO

BEAUVAL, FRANCE - JANUARY 25: Yuan Zi, a male giant panda sleeps inside his enclosure at Zoo Parc De Beauval on January 25, 2012 in Beauval, France. A pair of giant pandas named Huan Huan and Yuan Zi have been loaned to the zoo by China, where they hope the pair will reproduce and help boost the world's dwindling panda population. (Photo by Franck Prevel/Getty Images)

BEAUVAL, FRANCE - JANUARY 25: Huan Huan, a female giant panda sleeps inside her enclosure at Zoo Parc De Beauval on January 25, 2012 in Beauval, France. A pair of giant pandas named Huan Huan and Yuan Zi have been loaned to the zoo by China, where they hope the pair will reproduce and help boost the world's dwindling panda population. (Photo by Franck Prevel/Getty Images)

Female giant panda Shin Shin eats lunch at Ueno Zoo in Tokyo Wednesday, June 27, 2012. The zoo announced Monday that Shin Shin, who arrived from China with a male partner in Feb, 2011, has shown signs of pregnancy. The zoo plans to suspend public viewing from July 3 to monitor her closely. A zoo official said the status won't be confirmed until the birth of a baby because there are many cases that end in false pregnancy. (AP Photo/Shizuo Kambayashi)

This picture taken on July 11, 2012 shows one of the twin baby Giant Pandas, the first set in 2012, born recently at the China Giant Panda Protection Research Center in Wolong, southwest China's Sichuan province. China is famed for its 'panda diplomacy', using the bears as diplomatic gifts to other countries, with about 1,600 remaining in the wild in China, with some 300 others in captivity worldwide -- with the majority in China. AFP PHOTO

Two pandas enjoy a meal of bamboo shoots in a enclosure at the Giant Panda Research Base in Chengdu, southwest China's Sichuan province on June 24, 2012, as thousands of visitors gather for the Duanwu festival or better known as the Dragon Boat festival. China engages in 'panda diplomacy', using the endangered but iconic bears as diplomatic gifts to other countries, and also runs a lucrative trade hiring the animals out to foreign zoos, as only around 1,600 remain in the wild in China, with some 300 others in captivity. AFP PHOTO

Mei Xiang, the female giant panda at the Smithsonian's National Zoo in Washington, eats breakfast Monday, Dec. 19, 2011. The zoo announced a $4.5 million gift Monday to fund its giant panda reproduction program for five more years. Donator and philanthropist David M. Rubenstein, who is also co-founder and managing director of the Carlyle Group, said in a news conference, "There are probably 10 million species on the face of the earth, and I doubt that any one of those species is more popular and more beloved than the giant panda." "Hopefully this will result in more pandas being born here," he said. (AP Photo/Susan Walsh)

Five-month-old Giant Panda cub, Fu Long, is pictured with his mother Yang Yang in the Schoenbrunn zoo in Vienna, 30 January 2008. AFP PHOTO/DIETER NAGL

BEIJING, CHINA - JUNE 05: A giant panda rests in a tree at the Beijing Zoo on June 5, 2012 in Beijing, China. With an estimated 1,600 living in the wild, the endangered giant panda dwell in a few mountain ranges in central China, in Sichuan, Shaanxi, and Gansu provinces. (Photo by Lintao Zhang/Getty Images)

BEIJING, CHINA - JUNE 05: A giant panda eats bamboo at the Beijing Zoo on June 5, 2012 in Beijing, China. With an estimated 1,600 living in the wild, the endangered giant panda dwell in a few mountain ranges in central China, in Sichuan, Shaanxi, and Gansu provinces. (Photo by Lintao Zhang/Getty Images)

BEIJING, CHINA - JUNE 05: A giant panda walks through foliage at the Beijing Zoo on June 5, 2012 in Beijing, China. With an estimated 1,600 living in the wild, the endangered giant panda dwell in a few mountain ranges in central China, in Sichuan, Shaanxi, and Gansu provinces. (Photo by Lintao Zhang/Getty Images)

Two Giant Pandas at an enclosure before they are taken back to the wild, at the Wolong National Nature Reserve in Wolong, southwest China's Sichaun province on May 3, 2012. The bears will be left to fend for themselves to learn crucial survival skills, and scientists plan to gradually reduce human interactions until they can live in the wild without any assistance, and while there have already been 10 attempts at setting pandas free over the past 30 years, and only two are thought to have been successful as the bears find it very hard to survive on their own. AFP PHOTO

Jia Jia the giant panda eats at Ocean Park in Hong Kong on April 2, 2012. Ocean Park, which was founded in 1977 and was selected to be one of the World's Most Popular Amusement Parks by Forbes website in 2006, is famous for its giant panda habitat and also for its four-story aquarium. AFP PHOTO / AARON TAM

The female panda Huan-Huan, one of the two giant pandas recently arrived from China, is pictured on February 18, 2012 at the Beauval zoo in Saint-Aignan, central France, as part of the public opening. AFP PHOTO / ALAIN JOCARD

BEAUVAL, FRANCE - JANUARY 25: Yuan Zi, a male giant panda and Huan Huan, a female giant panda, share their life inside their enclosure at Zoo Parc De Beauval on January 25, 2012 in Beauval, France. A pair of giant pandas which have been loaned to the zoo by China, where they hope the pair will reproduce and help boost the world's dwindling panda population. (Photo by Franck Prevel/Getty Images)

BEAUVAL, FRANCE - JANUARY 25: Yuan Zi, a male giant panda eats bamboo inside his enclosure at Zoo Parc De Beauval on January 25, 2012 in Beauval, France. A pair of giant pandas named Huan Huan and Yuan Zi have been loaned to the zoo by China, where they hope the pair will reproduce and help boost the world's dwindling panda population. (Photo by Franck Prevel/Getty Images)

BEAUVAL, FRANCE - JANUARY 25: Yuan Zi, a male giant panda and Huan Huan, a female giant panda, share their life inside their enclosure at Zoo Parc De Beauval on January 25, 2012 in Beauval, France. A pair of giant pandas which have been loaned to the zoo by China, where they hope the pair will reproduce and help boost the world's dwindling panda population. (Photo by Franck Prevel/Getty Images)

Giant panda Shuan Shuan eats bamboo in her inclosure at the Chapultepec Zoo in Mexico City, Thursday, July 5, 2012. Shuan Shuan is the aunt of giant panda Xin Xin, who was selected to be be artificially inseminated next year in hopes of adding to the zoo's panda family, Mexico City Environment Secretary Martha Delgado announced Thursday. (AP Photo/Eduardo Verdugo)

Panda Er Shun eats bamboo at the Panda House at the Chongqing Zoo in Chongqing, China, Saturday, Feb. 11, 2012. Two giant pandas including Er Shun will call Canada home for the next 10 years. (AP Photo/The Canadian Press, Adrian Wyld)

A panda chews bamboo in Panda Valley natural reserve in Dujiangyan city, in southwestern China's Sichuan province, Wednesday, Jan. 11, 2012. Six pandas bred in captivity wandered into the enclosed nature preserve in their native central China on Wednesday, a step toward eventually being reintroduced to the wild. (AP Photo)

Chengdu, CHINA: A giant panda takes a nap on a tree at the Chengdu Research Base of Giant Panda Breeding in China's southwestern Sichuan province, 04 January 2007. With a record 34 giant pandas born by way of artificial insemination in 2006, Chinese experts are now focusing on releasing the endangered animals back into natural habitats, state press said. AFP PHOTO/LIU Jin

WOLONG, CHINA - AUGUST 8: Sixteen year-old Bai Xue holds her newly-born panda cub as she eats bread at the Wolong Giant Panda Protection and Research Centre on August 8, 2006 in Wolong Nature Reserve of Sichuan Province, China. Bai Xue gave birth to the 160 gram female cub on July 22. The panda cub was the first to be born at the Wolong center this year. The number of panda cubs born in captivity in the Chinese Mainland so far this year has reached six. (Photo by China Photos/Getty Images)

Giant pandas Mei Xiang, left, and Tian Tian play together at the China Research and Conservation Center for the Giant Panda in Wolong in Sichuan Province, China. The pandas arrived at Washington''s National Zoo December 6, 2000 on loan from China. The bears are replacements for the late Ling-Ling and Hsing-Hsing panda bears who had resided at the zoo since 1972. (Photo by Jessie Cohen/Smithsonian National Zoo/Newsmakers)

Giant pandas Mei Xiang, left, and Tian Tian play together at the China Research and Conservation Center for the Giant Panda in Wolong in Sichuan Province, China. The pandas arrived at Washington''s National Zoo December 6, 2000 on loan from China. The bears are replacements for the late Ling-Ling and Hsing-Hsing panda bears who had resided at the zoo since 1972. (Photo by Jessie Cohen/Smithsonian National Zoo/Newsmakers)