Kitten season, indeed.
There was something just a little bit off about the home page of the Chicago Tribune's website for a brief period Tuesday morning.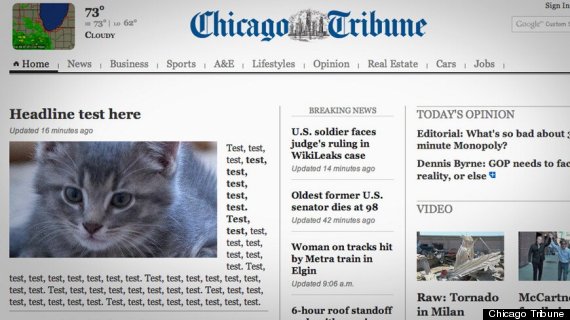 The kitten image clicked through to a "test, test, test"-filled "story" and the same pic of the anonymous, adorable pet.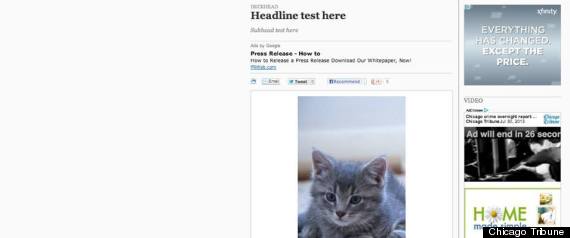 "It's like the internet swallowed a Gertrude Stein poem and pooped this out 16 minutes later," Gizmodo's Brian Barrett wrote of what the Tribune's Scott Kleinberg explained had been a glitch.
"Even dog lovers weren't upset. We do apologize, and we're working to make sure it doesn't happen again," Kleinberg continued.
Trib rival the Sun-Times weighed in too:
Woof. RT @ourmaninchicago: Sun-Times: Cats are nice, but we're more of a dog paper.

— Suntimes (@Suntimes) July 30, 2013
UPDATE: Anonymous no more: The kitten who made a cameo appearance on the Tribune's home page Tuesday is named Benton and he's up for adoption from Feline Friends, a no-kill cat rescue organization based in Chicago.
Also on HuffPost:
Loading Slideshow
"That Is NOT Natural"

"Can You Believe Who Gossip Girl Is!?"

Each Cat Is Reacting To The Season Finale Of "Homeland"

"Um, Excuse Me?"

"Oh No, Not The Tickle Monster"

"Just Please Don't Put A Wacky Newspaper In Front Of Me"

"Is That A New Camera?"

"Is That Catnip?"

"Wait, We're Not Going To Disney World?"

"I Look THIS Cute And You Come Out With A Paper Ball?"

"Is That A Slice Of Bologna?"

"You Last Washed Your Sheets When?"

"That Is An Impressive Zoom"

"That Can't Be Right"

"I Do NOT Want To Go To There"

"SANTA?"

"Stop, Just Stop"

"Is That A Dog?"

"You Remembered My Birthday!"

"Girl, Do Not Even Start!"

"Is That A Grey Hair?"

"It's A Bird, It's A Plane..."

"Is The Photo Shoot Over?"

"Have You Seen Our Electricity Bill?"

"Oh No! A Caterpillar!"

"What Did You Do To Your Hair?!"

"Are You Going To Pick Me Up?"