The first airport lounge inside JFK airport's T5, which serves JetBlue, Hawaiian and Aer Lingus, opened quietly earlier this month.
Airspace Lounge is billing itself as a "new-generation" airport lounge because it's open to all travelers, not just ones with spiffy perks. It's opened post-security near Gate 24.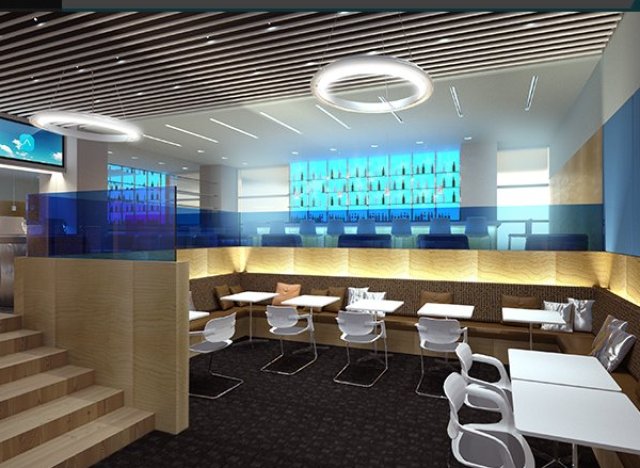 The lounge, which is open daily essentially from before sun-up to past sun-down, has power outlets at every seat and complimentary Wi-Fi, a stocked bar (plus a pay-per menu), business services like scanning and printing, and shower facilities. Unlike other members clubs, such as the Admirals Club or United Club, no membership is required and it costs roughly $25 to enter (longer-term memberships are available).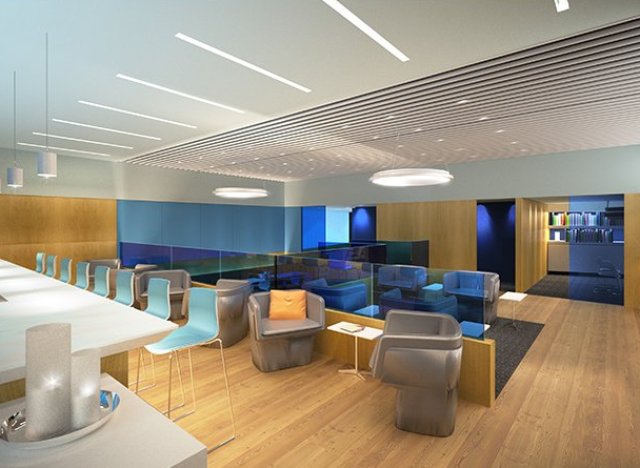 The lounge already has counterparts at the Cleveland airport (where entry starts at $20) and Baltimore's D Concourse. If this all sounds a wee bit familiar, it's because it is. Earlier this month, Club ATL opened at Atlanta's Hartsfield-Jackson airport. Like Airspace, the lounge offers WiFi, snacks & beverages, printers, and showers for $35 to any traveler.
What do you think? Would you pay for a respite from the rest of the airport? Leave it in comments below.
Embedded photos courtesy of Airspace.

Loading Slideshow
Qantas, Sydney: Vertical Gardens

Refreshed by Marc Newsom in 2010, the Qantas business class lounge in Sydney has three, count 'em, three different types of lounge chairs specifically tailored for the space, along with Alessi silverware, a Payot Paris Day Spa and an entryway made of Italian marble. (Think of that the next time you walk on some old lounge carpeting). Despite the big names, it's hardly sterile thanks to the vertical garden with 8,400 plants and a soaring, arched design in the main seating area.

BMI, London Heathrow: British Pub

Sure, sleek design is nice, but shouldn't a lounge be cushy and relaxing? That's the theory behind the BMI Lounge in Heathrow's Terminal One, which endeavors to replicate a cozy British pub. How do they do it? With a section of lounge dubbed "the Local" that boasts a curved bar, <em>de rigeur</em> photos of dogs and a working fireplace just nearby in the "Living Room" section.

ANA, Tokyo Narita: Noodle Bar

Most important: Yes, there's an automatic beer dispenser here. You'll also find a noodle bar -- complimented by a rotating monthly selection of donburi, or Japanese rice bowls -- plus a sake bar. Yes, guests at ANA's lounge in Narita eat and drink well. And with privacy to boot: the lounge boasts "personal" rooms with leather chairs and 32-inch flat-screen TVs and desks.

Cathay Pacific, Hong Kong: Private Bathtubs

Reopened in April of this year by Norman Foster, the Wing in Hong Kong is Cathay Pacific's lounge slash "balcony with a view." Beyond the pun of the name, the space is divided into several distinct and snazzy sections, such as the Cabanas, which boast baths and private relaxation suites with gardens and a view of the planes taxiing outside, and the Haven, an a la carte restaurant to supplement the standard buffet.

Thai Airways, Bangkok: Free Massages

It's one thing to treat yourself to a pre-flight spa treatment, but first-class passengers on Thai Airways get a 60-minute massage as part of their fare and lounge access. The lounge's private rooms also have jacuzzis to bubble away any last minute kinks before you take off.

Etihad, Abu Dhabi: Six Senses Spa

Etihad's First Class lounge boasts a Six Senses spa -- they're usually found in luxe hotels throughout the region -- along with a champagne bar and cigar lounge, if you so choose to undo all the detoxing that happened in the Six Senses spa. The flatscreens here have Bang and Olufsen headsets for private viewing as well, making the environment especially serene.

Lufthansa, Boston Logan: Free German Beer

Lufthansa's newest lounges in the US, the $2.5 million Boston Logan Senator and Business class outposts are done like a Gentlemen's club with leather chairs, free beer, German oak finishings and a "relaxation zone." You WILL relax, as it's a German carrier and they won't have anyone doing anything differently.

Finnair, Helsinki: Sauna

Of course Finnair's sleek two-year-old lounge in Helsinki has a sauna -- don't worry, you don't have to jump into an icy lake afterwards before your flight -- along with a "stone bath" as part of the facilities. There's also a wine cellar, a bar with cognac and, in the spa, swimsuits available to rent.

Swiss, New York JFK: Massage Chairs

Swiss' JFK lounge is a paragon of simple, clean design that stands in stark contrast to the rest of the airport. The lounge (which contains spaces for both business and first class fliers) has dark wood floors, walls made of Jura stone and, most cushily, 20 leather recliners that double as massage chairs. And, as it <em>is</em> the Swiss lounge, the wall clocks are provided by Omega.

American Airlines, Denver: Touchsmart PCs

Jointly operated with British Airways, AA's new lounge at DIA goes a long way towards proving that domestic airlines can play the lounge game nearly as well as their international counterparts. Equipped with HP Touchsmart PCs for use, the lounge has chiseled stone walls and even a separate kids area (with separate computers).