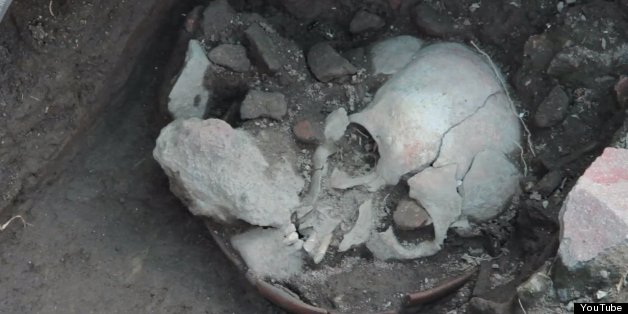 For more than 500 years, the skull of a person who had been made into a human sacrifice by the Aztecs lay buried under Mexico City -- until now.
"We're marking of the space to see if the offering is composed of only the skull and the vessel, or if we have more associated remains," Guilliem said, according to a translation by The Huffington Post.
"First, the top of the skull was found, and apart from that, because of its position beneath the last stage of the Construction VII-A [a part of the temple] in reality, it's considered very likely to be an offering," Silva said, according to a translation by The Huffington Post. "Then began the probing work. It started with freeing the skull, but because there's a concentration of material and many fragments ... it has to be done slowly."
For decades, Tlatelolco has proven to be a treasure trove of artifacts and skeletons that have offered researchers a rare glimpse into the fascinating, vibrant and sometimes violent culture of the Aztecs. Ritual offerings to an Aztec goddesses of fertility known as Quilaztli Cihuacóatl were displayed during an INAH presentation on the site given in February, according to Past Horizons. Archaeologist Diego Jimenez Badilla discussed the offerings -- some of them human -- which were originally discovered in 1979 and 1980.
SUBSCRIBE AND FOLLOW
Get top stories and blog posts emailed to me each day. Newsletters may offer personalized content or advertisements.
Learn more