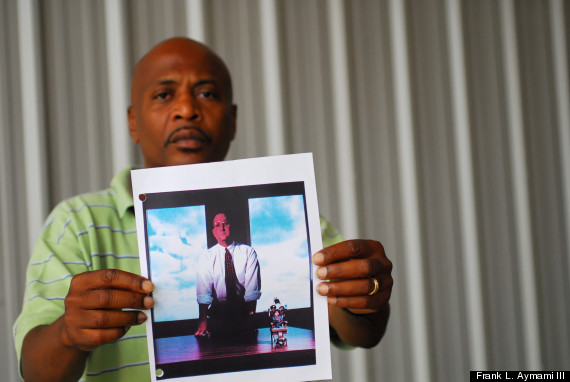 John Thompson holds a copy of an Esquire photo in which one of his prosecutors posed with the miniature electric chair he kept on his desk. (Photo courtesy of Frank Aymami Photography.) Angola Prison, home to Louisiana's death row.
In 2003, the Center for Public Integrity looked at more than 11,000 cases involving misconduct since 1970. Among those, the center found a little over 2,012 instances in which an appeals court found the misconduct material to the conviction and overturned it. Less than 50 cases resulted in any professional sanction for the prosecutor.

In 2010, USA Today published a six-month investigation of 201 cases involving misconduct by federal prosecutors. Of those, only one prosecutor "was barred even temporarily from practicing law for misconduct." The Justice Department wouldn't even tell the paper which case it was, citing concern for the prosecutor's privacy.

A 2006 review in the Yale Law Journal concluded that "[a] prosecutor's violation of the obligation to disclose favorable evidence accounts for more miscarriages of justice than any other type of malpractice, but is rarely sanctioned by courts, and almost never by disciplinary bodies."

An Innocence Project study of 75 DNA exonerations -- that is, cases where the defendant was later found to be unquestionably innocent -- found that prosecutorial misconduct factored into just under half of those wrongful convictions. According to a spokesman for the organization, none of the prosecutors in those cases faced any serious professional sanction.

A 2009 study (PDF) by the Northern California Innocence Project found 707 cases in which appeals courts had found prosecutor misconduct in the state between 1997 and 2009. But of the 4,741 attorneys the state bar disciplined over that period, just 10 were prosecutors. The study also found 67 prosecutors whom appeals courts had cited for multiple infractions. Only six were ever disciplined.

Most recently, in April, ProPublica published an investigation of 30 cases in New York City in which prosecutor misconduct had caused a conviction to be overturned. Only one prosecutor was significantly disciplined.
U.S. Attorney General Eric Holder on the Aaron Swartz case.
Yes, the prosecutors tried to force a plea deal by scaring the defendant with arguments that he would be locked away for a long time if he was convicted at trial. Yes, the prosecutors filed a superseding indictment designed to scare Swartz even more into pleading guilty (it actually had no effect on the likely sentence, but it's a powerful scare tactic). Yes, the prosecutors insisted on jail time and a felony conviction as part of a plea. But it is not particularly surprising for federal prosecutors to use those tactics. What's unusual about the Swartz case is that it involved a highly charismatic defendant with very powerful friends in a position to object to these common practices.
Also on HuffPost:
U.S. State Capitol Buildings
FOLLOW HUFFPOST