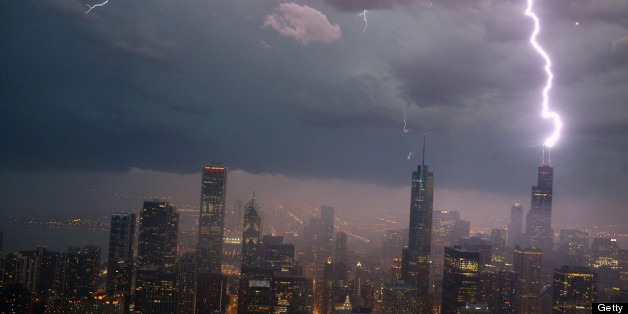 After heavy rains late Thursday night, Chicago is headed into the the 2013 Lollapalooza weekend with threats of isolated severe storms and heavy rain before conditions dry out for Saturday and Sunday.
"You might get rained on for 20, 30 minutes, but the vast majority of the time will be dry," ABC 7 meteorologist Phil Schwarz said. "The weekend looks dry with mild temperatures."
Friday afternoon and evening could see on-and-off storms, which NBC Chicago via the National Weather Service reports may produce occasional cloud-to-ground lightning, torrential downpours, strong gusts of up to 55 mph and penny-size hail.
The potential for flash floods and severe storms will last only until Friday night, making it unlikely fest-goers will need to know how to survive a lightning strike.
After storms ripped through the area on the second day of the fest in 2012 -- prompting a frenzied evacuation of about 60,000 fest-goers from Grant Park for several hours -- festival organizers have re-tooled their weather evacuation plans for this year.
According to the Chicago Tribune, festivalgoers will be directed by city workers to three underground garages near Grant Park in the event of an evacuation. Promoter C3 Presents says it is making more of an effort to spread information about the shelters' locations via new video screens at the fest's main Michigan Avenue entrance and via its website, dedicated app and social media.
Here's a time-lapse of the 2012 storm during Lolla that brought the rain-soaked Day 2 to a halt.
SUBSCRIBE TO & FOLLOW THE MORNING EMAIL
Start your workday the right way with the news that matters most. Learn more