'Unemployed' Sweatshirt From French Brand Le Léon Riles Customers (PHOTOS)
Fashion always finds a way to offend... even in France.
Women's Wear Daily reports that the latest shirt to ruffle feathers is a sweatshirt by French brand Le Léon, which just launched this week. To kick things off, they posted a set of cutesy sweatshirts with slogans on their website with phrases like "Purée Jambon," "Grande Gueule," "Salopette," "Cocotte Minute"... and "Chômeur."
Chômeur, for those whose French is très rusty, means "unemployed," or more specifically "unemployed person." This, emblazoned on a cashmere sweater priced at 285 euros (around $378), did not sit well with many on Twitter. "C'est une Incitation au poing dans la gueule envoyé par un vrai #chômeur," tweeted one, meaning, "It's incitement to get a punch in the mouth from an actual unemployed person."
Take into account that France's unemployment rate has been rapidly climbing recently, reaching its highest level this summer since 1998, and you can see how many might see a cheeky unemployment sweatshirt to be in bad taste.
The sweatshirt no longer appears online at LeLeon.fr, but you can see it via Twitter. Do you think the sweatshirt is offensive or no big deal?
Love #leleon Jumper! #chômeur, #jobless... Pure fun! #enjoyLife #EnjoyFashion pic.twitter.com/zUgSKSY0PC

— PUTO! Magazine (@putomagazine) August 2, 2013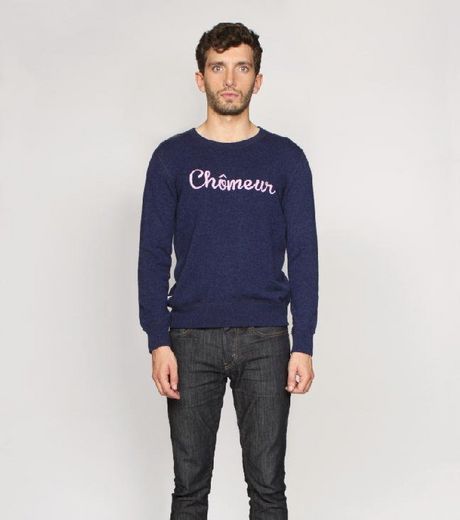 Products that raises some eyebrows:
St. Patrick's Day-themed SB Dunk Low "Black and Tan" sneakers by Nike incite outrage from Irish community.

As part of the brand's "Far East" collection, the "Sexy Little Geisha" outfit came complete with a removable obi belt.

"Eat Less" t-shirts aren't well received by, well, most people.

"Truly Madly Deeply Kiss Me" t-shirt offends Irish groups.

Asian caricature t-shirts caused outrage in California.

Some Irish groups aren't pleased with this "Irish Yoga" trucker hat.

Retailer gets in trouble for its "Jewish Star" t-shirt.

"Wink Wink" and "Eye Candy" thongs for 10-year olds isn't a hit with all parents.

"New Mexico, Cleaner than Regular Mexico" t-shirts didn't go over well. (AP photo)

Ditto this "Truly Madly Deeply Irish Drunk" scoop tank.

"Color for the hair down there" is not received well.

"How to catch an illegal immigrant" shirt

"Cuntier" hats spoof Cartier logo.

Jeremy Scott designed these "handcuffs" sneakers for Adidas. However, after many complained that the cuffs looked more like shackles, Adidas canceled its plans to sell the shoes.

Urban Outfitters thought it was a good idea to sell this shirt to its young demographic (with a lot of them being younger than 21).

Skin-lightening wash targets consumers with dark colored privates.
Want more? Be sure to check out HuffPost Style on Twitter, Facebook, Tumblr, Pinterest and Instagram at @HuffPostStyle.