NEW YORK -- It's 3 a.m. Do you know where your candidate for mayor is?
Maybe poll leader and City Council Speaker Christine Quinn is dreaming about moving into Gracie Mansion. Comptroller John Liu could be pacing the halls, devising ways to break through to the front of the pack. Anthony Weiner? Better not think about it.
But early Friday morning Bill Thompson was in the midst of a torrid 24 hours of campaigning across all five boroughs -- and the former comptroller, seeking the Democratic nomination for mayor of New York City, was hyperactive. At times, he pressed livery cab drivers and nurses for their support and then at an emotional 3 a.m. vigil, he offered support to the family and friends of Olivia Brown, 23, who was fatally shot near her home in an East Harlem housing project.
Recent polls put Thompson in third place behind Quinn and Public Advocate Bill de Blasio (with Weiner falling to fourth after his most recent sexting revelations).
In a race dominated by Weiner headlines, Thompson's gimmick to campaign for 24 hours straight -- starting at 7 a.m. with a ride on the Staten Island ferry -- generated increased media exposure if only temporarily. The Huffington Post joined him for the overnight stretch, including stops at a television studio, a hamburger processing factory, some coffee joints and the somber memorial for Brown in the middle of the night.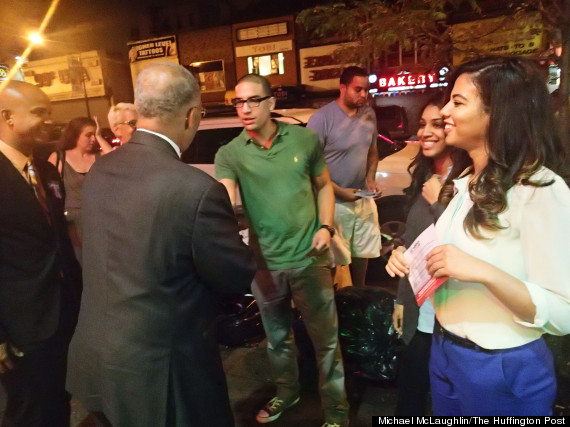 9:30 p.m -- Greenpoint, Brooklyn
Thompson popped in on the set of "Blue Bloods," a police television show on CBS filmed at Broadway Stages.
He hasn't seen the show before, Thompson said, but he admires its star. "I was always a big [Tom] Selleck fan." Unfortunately for him, the mustachioed leading man had left the set about an hour before.
The crew, busy setting up a scene between actors Will Estes and Vanessa Ray in a police cruiser, didn't interact much with the campaign staff and press, but Thompson mingled anyway, praising the economic development filming has sparked in the formerly industrial area.
10:50 p.m. -- Long Island City, Queens
Across from the toll plaza at the entrance to the Queens-Midtown Tunnel, Thompson got a much warmer reception from the security officers who patrol the city's bridges and tunnels.
Julio Lopez, 35, who has worked there for five years, had the day off but brought his wife and three young children from their Bronx home to meet Thompson. "It was important to us," Lopez told HuffPost. "I wanted to show them how life works."
Several workers punching out at the office adjacent to the toll plaza shared their priorities for the next mayor with Thompson, including one woman who said she homeschools her daughter because she's disappointed by the quality of the public schools.
12:14 a.m. -- Inwood, Upper Manhattan
At the Dyckman Express, a Dominican restaurant, Thompson dined on roasted chicken, brown rice and salad while chatting with restaurant workers and other supporters. He also drank the first of four cups of coffee that he'd down over the course of the night.
The bill totaled $10.50, and Thompson paid in cash.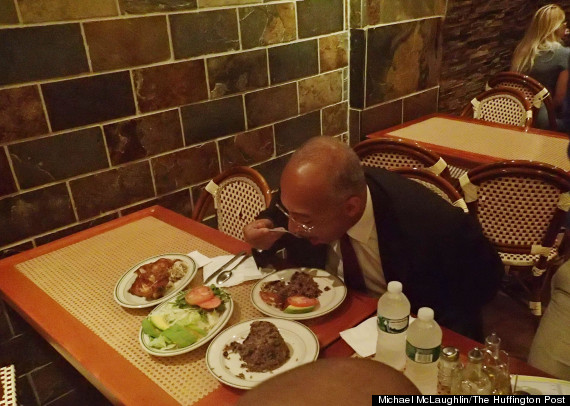 12:35 -- Inwood, Upper Manhattan ... still
At the firehouse for Engine 95 Ladder 36, Thompson noted that his marathon night was nothing compared to the long hours some New Yorkers log just to make a living, like firefighters who often work for 24 hours straight.
"You guys want to talk about long shifts," he said. "You guys are doing hard work."
The firefighters bestowed an oversized New York City fire department T-shirt on the candidate who their union has officially endorsed.
"I'd need to lose weight if that were my size," Thompson joked, holding up the 2XL short-sleeved shirt.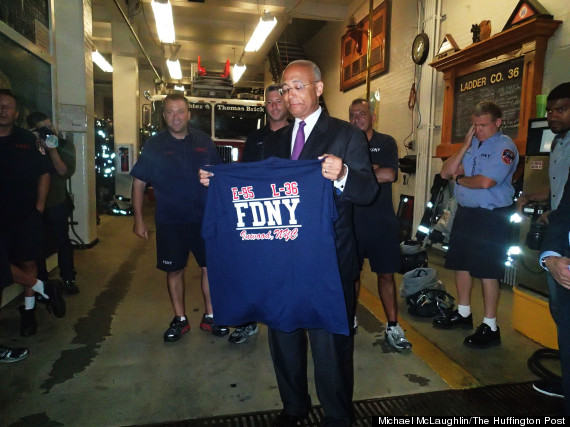 1:08 a.m. -- Washington Heights, Manhattan
Paramedics confronted Thompson in the kitchen of a trailer that serves as their home base. Seizing on low pay, cheap office facilities and antiquated equipment, the workers appeared to be the most frustrated of all the graveyard-shift workers Thompson met.
"A torture museum will have the rack, the iron maiden -- and the 2-man stretcher," said Kellene Mullen. Carrying patients on the outdated stretcher led to a back injury that sidelined her for two months, she said. "It's how everyone ruins their back on this job."
Thompson listened sympathetically, but was noncommittal. "We may not always agree," he said, "but we're always going to be able to talk."
3 a.m -- East Harlem, Manhattan
The candlelight vigil, held at the public housing project where a young woman who was fatally cut and shot last month lived, contrasted sharply with the rest of the night's itinerary.
The early morning memorial was for Olivia Brown, who was killed near the Lincoln Houses, just days after several candidates, including Thompson, had a "sleepover" there to draw attention to the city's crumbling low-income housing stock.
"We're going to fight for y'all," Thompson said to family and friends of the slain 23-year-old. "We're not going to walk away."
The memorial, planned to coincide roughly with the time Brown died, ended with a prayer outside a liquor store nearby, where first responders had found Brown on the ground dying. Her mother, Crystal Brown, pointed out a trail of blood stains on the sidewalk as residents complained that police were more inclined to arrest them than protect them.
"That was a hard dose of reality," Thompson said of the crime scene. "People have a right to be pissed off or angry."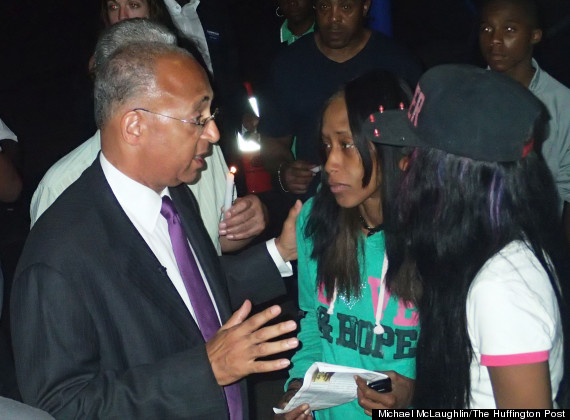 3:58 a.m. -- Corona, Queens
When the campaign briefly dropped by the third livery cab office of the night, Thompson grabbed another cup of java.
"It's been like half-cups," he said.
Throughout the night, Thompson never admitted being tired and never showed visible signs of exhaustion. "I'm fine. I'm fine," he said.
4:46 a.m. -- Hunts Point, The Bronx
Best photo-op of the night: Thompson, his aides and members of the press don hair nets and white butcher coats for a tour of a frigid ground beef processing plant.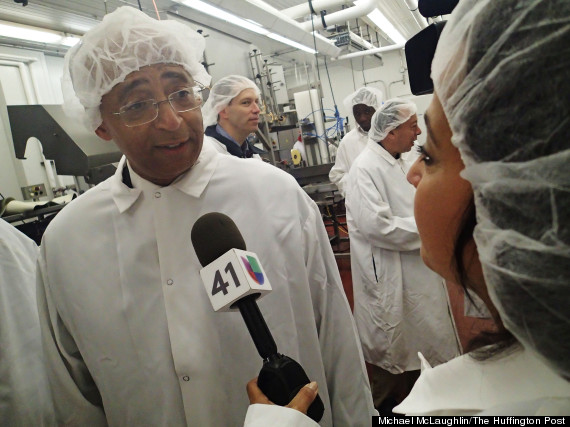 6:27 a.m. -- Canarsie, Brooklyn
Another quick cup of coffee at a deli before touring two pickle production factories in Brooklyn Terminal Market
8:19 a.m. -- Harlem, Manhattan
A large crowd of supporters gathered outside a busy subway station on 125th Street for the finale of Thompson's restless day, more than 25 hours after it began. He remained buoyant even at the finish line.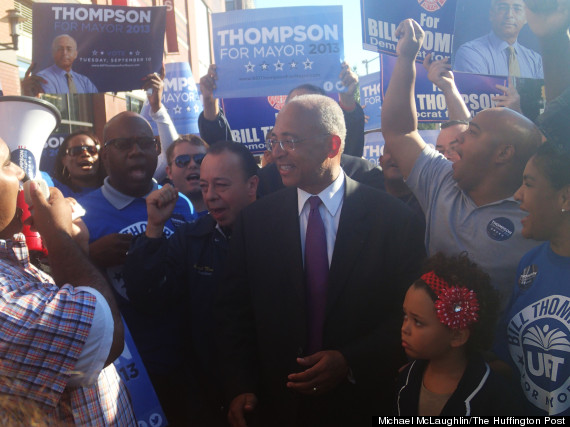 "It was kind of a rousing reception. People are receptive," said Thompson, who said he hadn't pulled an all-nighter since the 1980s when he helped negotiate city budgets. "I feel energized."
PHOTO GALLERY
BEFORE YOU GO
2013 NYC Mayoral Candidates
PHOTO GALLERY
2013 NYC Mayoral Candidates