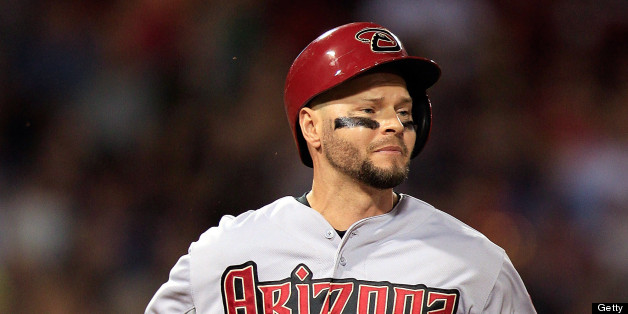 Diamondbacks outfielder Cody Ross didn't have many nice things to say about the Red Sox organization on Friday.
Ross, who played for the Red Sox last season and signed with Arizona in December, told Mut and Merloni of WEEI that he wanted to stay in Boston and accused the front office of lying to him.
"They told me that they didn't want to sign guys to long-term deals, and then they gave [Shane] Victorino a three-year deal, and then [Mike] Napoli a three-year deal or four-year deal, whatever it was [later shortened to a one-year deal after health issues popped up]," Ross said, via WEEI.com. "So, basically they lied to my face. At that point, I kind of got a bad taste in my mouth and wanted to move on, and that was it."
The Red Sox finished in last place in the AL East last year with just 69 wins. Bobby Valentine was fired as manager a day after the season ended.
Ross said while he was one of the few who "didn't have issues" with Valentine, the way he ran the team "sort of rubbed a lot of people the wrong way."
The 32-year-old signed a three-year deal worth $26 million with the Diamondbacks.
"I don't know what happened, but we could never agree on terms," Ross told The Boston Globe after signing with Arizona. "They thought I'd come back no matter what because they thought I loved playing there. And I did. Who wouldn't love playing at Fenway Park? I just wanted a fair deal. I told them what I wanted. I wasn't trying to break the bank. They weren't willing to do it."
ALSO ON HUFFPOST:
PHOTO GALLERY
BEFORE YOU GO
2013 MLB Season Highlights
PHOTO GALLERY
2013 MLB Season Highlights