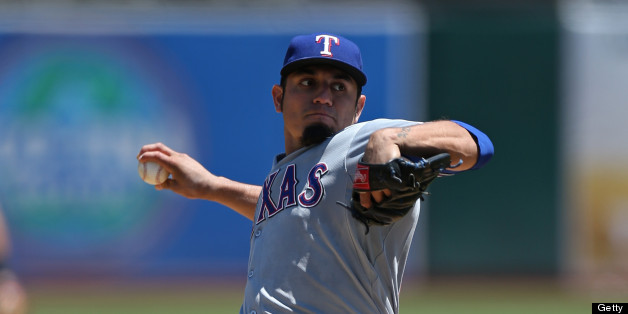 Texas Rangers pitcher Matt Garza went on an angry Twitter rant directed at Oakland A's second baseman Eric Sogard and his wife, Kaycee, following an incident involving the two players during a game on Saturday.
Garza did not look happy after Sogard dropped a squeeze bunt to drive in a run on Saturday in the seventh inning. After throwing Sogard out at first base, Garza started yelling something as the A's took a 4-2 lead in the seventh inning.
In an apparent attempt to downplay the incident after Oakland's 4-2 win, Garza told reporters that he had merely asked Sogard "if there were any good places to eat in Oakland" after the bunt, via Jeff Wilson of the Fort Worth Star-Telegram.
After Sogard's wife, Kaycee, commented on the play, Garza had things on his mind other than fine dining. The pitcher went on a misogynistic Twitter rant from his protected account, referring to baseball as a "man's game" in his comments.
Not sure where my last tweet went, but I find it funny ;) Eric is probably the last person to respond to getting called names.

— Kaycee Sogard (@KayceeSogard) August 3, 2013
no no no no no no no no no pic.twitter.com/464l62XjYF

— Lana Berry (@Lana) August 4, 2013
(H/T
@Lana
for tweets)
Garza later issued what was essentially a non-apology on Twitter, according to CBSSports.com. The 29-year-old would later express his regret a bit more formally to MLBlogs.com
"All I want to say is I let my competitive spirit cross outside the lines, and that shouldn't happen," Garza said. "I let my passion, my fire carry over, and that's not how this game should be played. And for that I apologize to the Sogards for anything that was said through my Twitter. That's all I have. I regret what happened, and I'm just looking forward to a great game today."
ALSO ON HUFFPOST:
PHOTO GALLERY
BEFORE YOU GO
2013 MLB Season Highlights
PHOTO GALLERY
2013 MLB Season Highlights