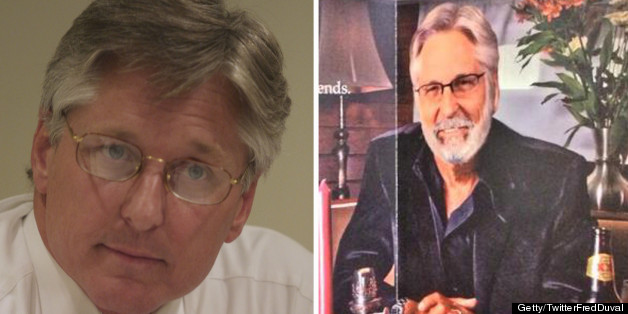 It may be over a year before the 2014 Arizona gubernatorial election but things are already getting "interesting" between parties.
Last Thursday, in response to being named "the most uninteresting man in the world" by the Arizona Republican Party, Democrat gubernatorial nominee Fred DuVal released a photo of himself with what appears to be darkened skin and an attire emulating Dos Equis' Latino character dubbed "The Most Interesting Man in the World," the Arizona Daily Independent reports.
(This Story Has Been Updated Below)
Media outlets have described the doctored image as DuVal's attempt to look "more Hispanic" while critics have labeled the jest a "racially motivated minstrel show."
In a July 26 press release titled "Democrat Candidate Nominated 'Most Uninteresting Man in the World,'" the Arizona Republican Party denounced the state's Democratic party for being unable to "find candidates that people can relate to."
DuVal responded almost a week later with another press release announcing he had delivered a case of Dos Equis beer to Republican Chairman Robert Graham and Executive Director Chad Heyward with a "tongue-in-cheek thank-you card."
The special card featured the message "Stay desperate, my friends" with a seemingly darker skinned DuVal attempting to mirror actor Jonathan Goldsmith's DosEquis character. The beer company's famous Latino persona was inspired by Goldsmith's friend and Argentine actor Fernando Lamas and is known for his confidence and Spanish accent.
The Democratic candidate also stated he had been "flattered" that the Republican Party would begin targeting him a year before the election and wanted to do something different to show he was "a good sport." The statement continued by saying the GOP's remarks have helped DuVal raise nearly 12,000 dollars in website contributions.
The candidate also shared the photo on his Twitter account:
.@RobertSGraham & @AZGOP said I'm "The Most Uninteresting Man in the World." Thanks for boosting our fundraising! pic.twitter.com/TfFB0O9wvk

— Fred DuVal (@FredDuVal) August 1, 2013
The stunt has prompted mixed reactions in Arizona, with some believing the photo should not be considered amusing because of its racial overtones.
"I don't care how desperate for media coverage and attention you are; a gubernatorial campaign is no place for a racially motivated minstrel show," Yolanda Weinberger, a contributor to the Arizona Daily Independent, told the newspaper. "I cannot believe that my Latino brothers and sisters–even those with good senses of humor–would encourage this type of activity when we need substance to make informed voting decisions. The Democratic Party should be ashamed to monetarily reward such behavior."
Still, it seems Latino politicians within the state disagree.

"As a Latino, I was not offended at all by the allusion to the Dos Equis commercial guy. It was a very stupid prank by someone who wants to be taken seriously as a gubernatorial candidate. But one must admit, it was amusing." Jose Borrajero, of the Arizona Latino Republican Association, told the Arizona Daily Independent.
UPDATED on August 6, 2013 at 1 p.m.:
A spokesperson from the Fred DuVal campaign e-mailed a statement to The Huffington Post after publication to clarify the methods used to make the Democratic candidate resemble the Latino persona:
"Fred's skin was NOT darkened. To make Fred DuVal's photo accurately resemble Dos Equis' Most Interesting Man In The World, a beard was added to his picture, but his skin was not darkened."
ALSO ON HUFFPOST:
PHOTO GALLERY
BEFORE YOU GO
Dumbest Commentary About Latinos In 2012
PHOTO GALLERY
Dumbest Commentary About Latinos In 2012