From his public personal life to his spotty clutch hitting, Alex Rodriguez has been an easy target for the media in New York. When Major League Baseball levied a 211-game suspension against A-Rod on Monday, MLB Commissioner Bud Selig might as well have painted a bullseye on the 38-year-old slugger, too. Not surprisingly, the New York Post and the New York Daily News both ran with -- and over -- A-Rod on their front and back covers on Tuesday.
The Post went with a literal twist on the 1950s musical comedy "Damn Yankees" for its front page. Be sure to note the horns.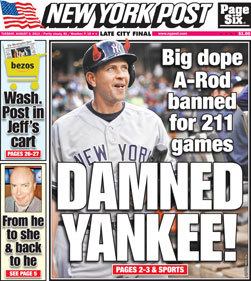 For its cover, the News simply went with the familiar and reliable formula of A-[Insert Derogatory Noun Here].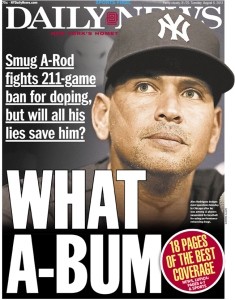 Meanwhile on the back covers, both New York tabloids picked up right where they left off in the 2012 American League Championship Series, ripping A-Rod over his performance in a Yankees' loss. The three-time American League MVP managed just a bloop single in four at-bats on Monday night as the Yankees were throttled by the Chicago White Sox, 8-1.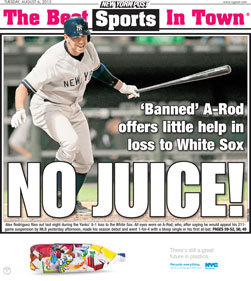 Also on HuffPost:
Media Reactions to Biogenesis Suspensions
SUBSCRIBE AND FOLLOW
Get top stories and blog posts emailed to me each day. Newsletters may offer personalized content or advertisements.
Learn more